20 Questions with a Disneyland Paris Fan – Dominik Lohmar
1. When did you first visit Disneyland Paris?
April 1992
2. How many times have you been in total?
9 times (the 10th visit will be end of Feb 2013)
3. What's your first memory of Disneyland Paris?
The big and beautiful Disneyland Hotel and my excitement on my way to and into the park.
4. What's your favourite attraction and why?
My favourite attraction is the Phantom Manor. I love haunted houses and the theming of Phantom Manor is perfect from the beginning to the end. I am also a big fan of the Pirates of the Caribbean and the Tower of Terror.
5. Where do you stay when you visit Disneyland Paris?
The last visits I stayed off-site (Torcy and Serris), but I also slept one time in the Sequoia Lodge and 2 times in the Newport Bay Club Hotel.
6. Where's your favourite place to eat?
The Blue Lagoon restaurant. Again, the theming is great and I really like the food.
7. What you do first when you get to Disneyland Paris?
Entering the park and feeling like coming home! Normally I start with a nice visit of Phantom Manor after enjoying the view of the castle for some minutes.
8. Pins, Vinylmations or neither?
Definitely PINS! I have started to collect them some years ago, but only the Pins I really like…and I like a lot of them 🙂
9. Do you want to see the Captain Jack Sparrow brought to the Disneyland Paris Pirates of the Caribbean like they have in Walt Disney World and Disneyland?
I love the original attraction, but why not? I think a lot of people expect to see him in the attraction.
10. Is there anything in Disneyland Paris you have never done that still would like to do?
Autopia. It was always closed or too crowded.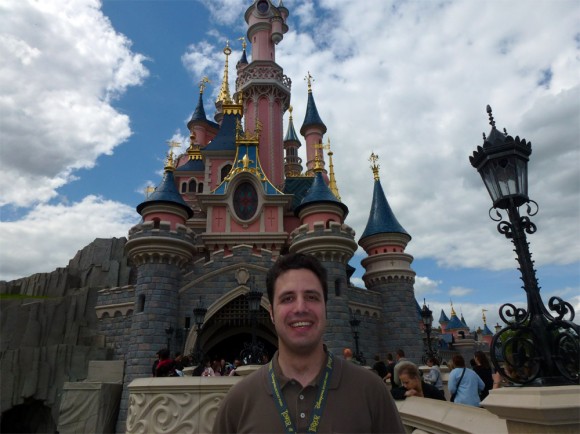 11. Before you do you plan yours days or just see what happens when you are there?
I have some favourite attractions but normally I do not have a specific plan.
12. What piece of music or song do you most associate with Disneyland Paris and why?
"It's a small world". The song is a catchy song and I could get it out of my mind after my first visit. My parents had to suffer a lot. *G*
13. If you had to make someone a fan of Disneyland Paris by showing them 5 attractions/buildings/shows – what would they be?
Sleeping Beauty's Castle, Phantom Manor, Big Thunder Mountain, The Tower of Terror and Pirates of the Caribbean
14. If you could add one new attraction to Disneyland Paris what would it be and where would you put it?
That's a difficult question. A new attraction in Discoveryland would be nice, perhaps a new Star Wars attraction. I am not a great imagineering…I am better in enjoying attractions.
15. If you could spend one night anywhere in Disneyland Paris, except the hotels, where would it be?
In a tent of the island of Big Thunder Mountain.
16. Are you planning to visit Disneyland Paris during the 20th Anniversary Celebrations, if so when?
Already been there last year in June and will visit the park in February 2013.
17. If you could be a Cast Member for a day in Disneyland Paris, where would you work?
The Tower of Terror. I would like to play the bellboy who is responsible for the loading and security instructions/checks.
18. Is there anything you dislike about Disneyland Paris or would change?
Better weather 🙂
19. What's your single greatest memory of Disneyland Paris?
My first visit in general and my first Mickey Mouse plush toy I got in 1992.
20. In no more than 20 words I love Disneyland Paris because…
…it's a completely different world full of happiness, fun and excitement and a source of great and precious memories
Dominik is from Germany and you can follow him on Twitter: @OUTTdlp
Want to be featured in 20 Questions with a Disneyland Paris Fan? Just email the answers to the questions, which can be found here, to dlp@dedicatedtodlp.com and let everyone know what you love about Disneyland Paris and why it's the happiest place on Earth.