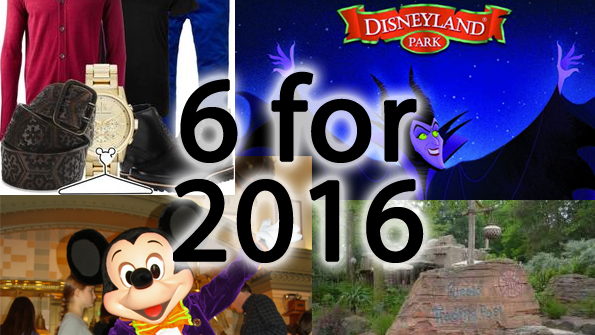 6 Things For 2016 I've Never Done in Disneyland Paris, But Will
Back in 2011 I wrote an article called 10 Things I've Never Done in Disneyland Paris. Now some of those I will never be able to do, like visit a one park resort, or use Francs, unless something drastic happens to the French economy. Some I have ticked off, as I've conquered thrill rides by doing both Big Thunder Mountain and Tower of Terror. I've also been on 2 of the 3 rides in Toy Story Playland, and RC Racer will remain forever on my not done, not going to do list. Planning my trip was done to a certain extent in March, though that was more having my trip planned for me, but in August we will plan, and it'll be me doing the planning. The rest I don't see myself doing this year, so I've had to come up with a brand new list of never dones to change to done, for my two upcoming trips in 2016.
Disneybound
Google tells us that DisneyBounding is when Disney fans dress up as contemporary versions of their favorite characters. So for us adults who aren't allowed to dress in character outfits in the parks, it's as close as we can get, but a fun way to pay homage to our favourite characters. This is not just something I've never done but something I've never even considered, and I'm not sure what made me want to do it this year.
The family trip in August to Disneyland Paris is when I plan to bound and I really should have started gathering bits for my outfit(s), but as yet I haven't. I also am not sure who I am going to Disneybound as yet, though I'd quite like to do a male bound version of Anna from Frozen. She's one of my favourite characters from recent Disney films and it being Frozen Summer Fun in Disneyland Paris when we are there, it would make sense. If anyone has experience of Disneybounding and can give some advice and point to some resources, then please leave a comment – I need all the help I can get.
Inventions Brunch
If you read the articles after my recent trip to Disneyland Paris in March then you'll know that I loved Inventions after returning there for the first time on 10 years, and I'm now a fully fledged member of the character meet and greet community. Add those two things together and you get the weekly Character Brunch events held at Inventions.

Photo used with kind permission from Character Central
The only problem, for me, is that they are held on a Sunday, and I am generally in Disneyland Paris during the week. However, fast forward to October and I will be there for the weekend before Halloween, so am going to attend my very first Inventions Brunch. Inventions usually has characters but these brunches differ in that they always have a theme, which unsurprisingly will be Halloween themed for my visit! Having left early during that March trip to Inventions I'm going to stay until the very last moment and get as many character experiences as possible, whilst stuffing my belly full of crab claws and giant prawns.
Halloween Soiree
This is a double box ticker as I have not only never been to the Soiree but I've never actually been in Disneyland Paris on the actual October 31st day of Halloween itself. The Soiree is a party in Disneyland Park that for one night a year sees adults not allowed, but encourage to dress as characters – just no masks. As well as the dressing up there are also shows, a Halloween infused parade and some ghoulish character meets. I've heard these events are very busy, especially if you want to meet the characters, but just being there on this one night that has eluded me will be good enough.
Now, what do I wear? Much like my Disneybounding aspirations, I have some work to do here. My initial idea was to do a male interpretations of Rey from Star Wars, but now I'm leaning towards unmasked Kylo Ren, also from the latest Star Wars The Force Awakens film. For the latter, and as my son so innocently pointed out, I'll need a wig as my locks aren't exactly flowing, to put it mildly. I have a bit longer to sort out my Soiree costume given that it's not for 5 months, but that time will go and before I now it, it'll be mid October and I'll be panicking.
Pueblo Trading Post
Pueblo Trading Post is the mecca for pins in Disneyland Paris, and though I can't be 100% sure, I'm almost certain I've never been inside. Much like the Inventions Brunch, this shop is only open on a weekend and select random days. This counts me out and means I've never been there when the limited edition pins are traditionally put on sale. So my plans for Saturday 29th October are to visit Pueblo Trading Post and if I'm lucky get a limited edition pin. I don't arrive until 2pm, so releases for that day may have sold out already, but I'll give it a go, and it'll be nice just to be in there, at last.
Extra Magic Hours Gate Opening
Only just having got the meeting characters bug, enjoying a leisurely breakfast has always been more important to me than getting to the gates of Disneyland Park before they open for Extra Magic Hours. That was then and this is now, and this summer I will be running through Disney Village from Hotel Santa Fe, so as to get to those gates BEFORE 8am, and try to be one of the first people in line for the characters that morning. In fact my podcast co-host Mark has set me a challenge to take a photo of myself at the gates before they open.
I'll need to perfect this early morning ritual during the summer, and if all goes well I may try to do it a few mornings during that August trip. Come October and I'll put my newly honed skills to the test, as not only will the resort be busy, but characters in Halloween costumes are going to be even more sought after than usual, so being at the gates when they open will be an absolute must.
Over To You
I did have a few other things that could have filled this 6th spot, but I decided to open this up to all of you, and I'd like you to give me ideas of things that you think I might not have done and should. I can tell you now, I absolutely won't be ticking any more thrill rides off of my list, so stop typing Space Mountain and Rock n Roller Coaster right now. It could be absolutely anything, but I always like to do new things even after visiting 20+ times, so I'd be grateful for your input and I'll do as many as I can. Just leave a comment below with your ideas and suggestions – thanks!