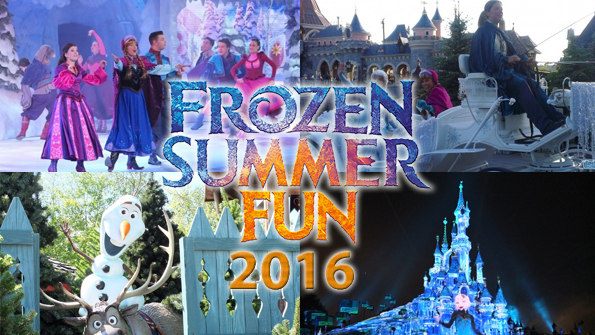 What to Expect from Frozen Summer Fun 2016 in Disneyland Paris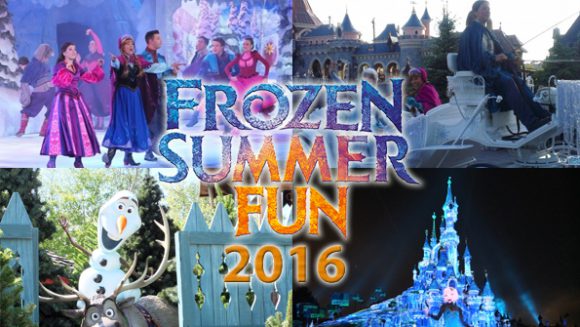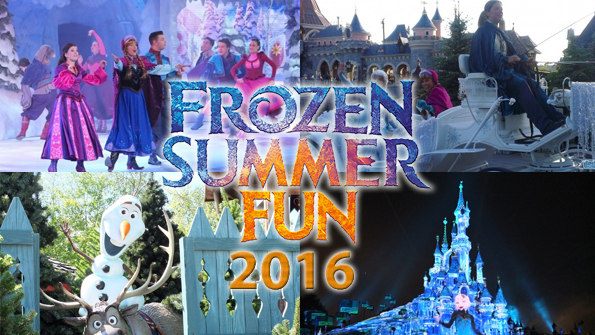 A few days ago Disneyland Paris published an article on their news website about Frozen Summer Fun 2016 and what is on offer. It was only in French though and I've been unsuccessful in sourcing an English press release. Fear not, as with Google Translate at my side and having experienced Frozen Summer Fun last year, I can not only tell you what will be going on in Disneyland Paris this summer, I can also give you the opinion of someone who has experienced the various Frozen festivities on offer. This year Frozen Summer Fun runs from June 4 to September 18 inclusive.
I know many are still mourning the loss of The Forest of Enchantment, and a number of people out there have put themselves firmly in the anti-Frozen camp, but the Frozen sing-along is actually a really great show, and worthy of its place at the centre of Frozen Summer Fun, epitomising the fun part.
The set is fantastic and takes you instantly into the Arendelle land of Frozen, with a landscape that is very immersive, complete with snow capped mountains, trees and a stage that has snow dripping over the side. The performers are decked out in picture perfect costumes and the music is stunning, with some live and some pre-recorded. One of my favourite aspects of the show is the audience participation, as we are invited to sing-along (hence the show name) and at times bat over-sized beach balls around the theatre.
The Frozen sing-along is a feel good show that has you smiling from start to finish, and one year on I still won't spoil Elsa's entrance in case you haven't seen it, as this takes the show to the next level and is a real wow-factor moment. My one tip is to try to sit in the centre, as is always the way with The Chaparral Theater, but even more so with the Frozen sing-along if you don't know all the words, as you'll want an unhindered view of the screens.
The area that you may know from visiting Santa in years gone by is transformed into a scene from Arendelle during Frozen Summer Fun. There's Oaken's Trading Post selling a range of Frozen merchandise, the Royal Couturier (by appointment of the House of Arendelle) to transform girls into Princesses and Snow Queens, a photo location to get a photo with model Sven and Olaf and even the bins are themed with the crest of Arendelle.
There are two highlights of this area for me and the first is the Frozen snack van, selling all kinds of themed goodies, from cupcakes to drinks, and more marshmallows than you have seen since Ghostbusters! Better even than that though is the music, which is not Frozen songs from the film but background orchestral pieces that are fitting of the Norwegian roots of Frozen. With the woodland landscape and the sun blazing down, the music transforms the area into an oasis of calm and contentment, until the crowds arrive anyway.
Frozen: A Royal Welcome (Full Review)
This isn't something I saw last year, so for me this will be new when I visit later in 2016. Luckily Dedicated to DLP writer Jane did see it when she was there and wrote all about it. In a nutsehll it's Ann and Elsa in themed a horse drawn carriage parading through the Park while Let It Go is blasted over the sound system.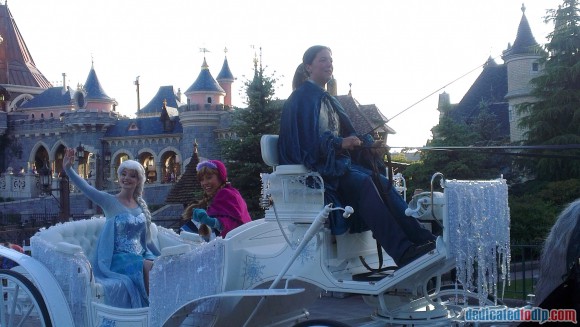 While may still not be able to meet the Frozen sisters in Disneyland Park, this is as close as we are going to get and it's nice that they have their own moment away from the parade, in which they also feature, and with the backdrop of Sleeping Beauty Castle and Main Street U.S.A. I can imagine getting a wave from Anna or Elsa as they go by would make any little girls day, and mine too if I'm successful in doing just that this summer.
Frozen in Disney Dreams!
This is nothing new, and didn't even debut at last year's Frozen Summer Fun, as Frozen has been part of Disney Dreams! since Christmas 2013. However, it's not there all the time, these days it replaces the Brave scene during Frozen Summer Fun and during the Christmas season.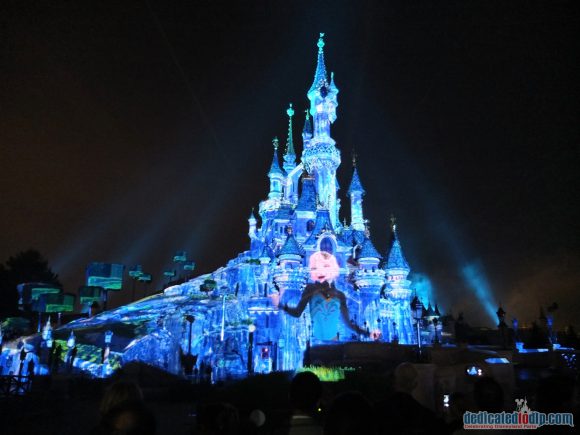 For those who want to believe that the Frozen wave has passed, put yourself in among the crowds when Let it Go blasts though Disneyland Park and the Frozen scenes are projected onto Sleeping Beauty Castle. What you will witness is the loudest singing and guest participation of any section of Disney Dreams!, bar none. This is a song that when released on YouTube gave the Frozen a massive shot of exposure which catapulted it to become the biggest grossing animated of film of all time, and as part of Disney Dreams! it does the same thing, taking an already world beating show to the next level.
httpvh://www.youtube.com/watch?v=zh0JyK3HIok
I am a huge fan of Disneyland Paris in the summer anyway, what with long park hours and nice weather, but this injection of Frozen Summer Fun increases the enjoyment that can be had tenfold. I can't wait to be back in just 3 short months, and this time I get to experience Frozen Summer Fun for a whole 5 days with my family – perfect! Last year it gave me Frozen Fever and I've been a huge fan of Frozen ever since – I guarantee it'll do the same for you too, as ironically Frozen Summer Fun can thaw even the coldest of hearts.