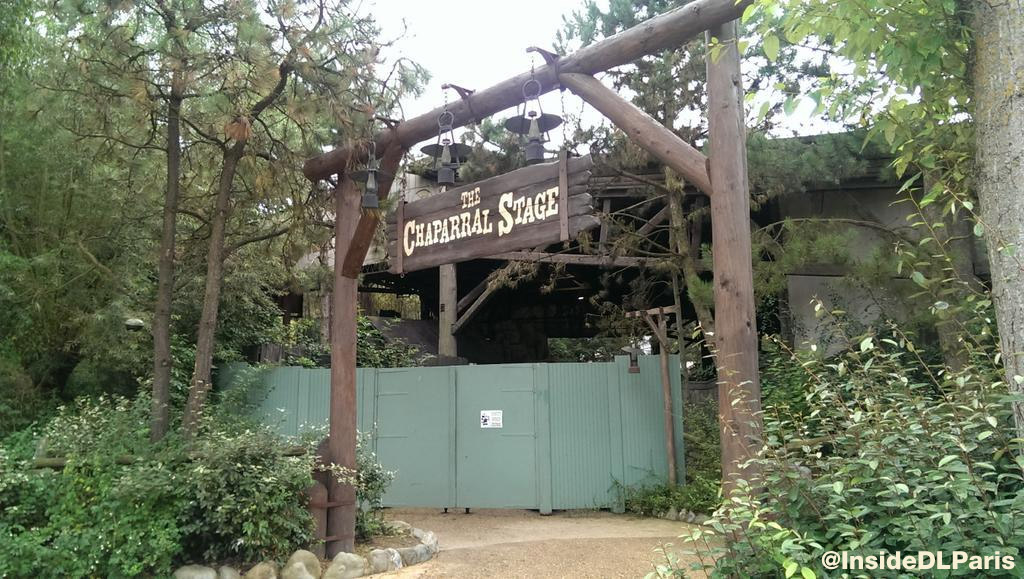 Disneyland Paris Rumour: A New Frozen Show Coming To The Chaparral Theatre?
Most recently the Chaparral Theatre saw The Tarzan Encounter running in the summer, and Mickey's Winter Wonderland running during the Christmas season. Before that we had Goofy's Summer Camp, Pocahontas le Spectacle and Hill Billy Hoedown*, which was the first show when the theatre opened in 1995. Currently there is nothing, not in summer nor winter, nor any other time of the year. This is such a shame, because not only is it a great venue for a show, but we have no others currently running in Disneyland Park. However, is there hope?
Just a few days ago @InsideDLParis posted this photo: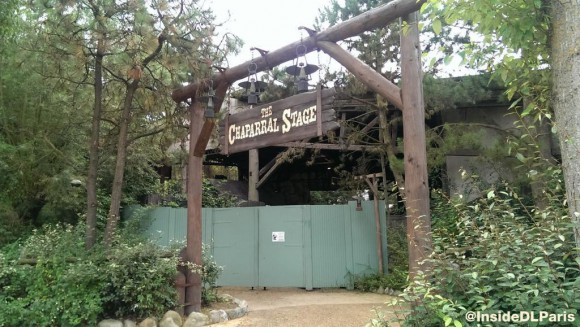 Now why would they be working on something they have no intention of using? The simple answer is they wouldn't, so that begs the question of what exactly is coming – the return of Tarzan, a new show or something completely different? They'd be fools not to keep it as a location for shows, as that is what is purpose built for and can accommodate the most complex of entertainment extravaganzas, with full multi media capabilities. We've seen from Tarzan and Mickey's Winter Wonderland how flexible they can be from one season to the next, and how versatile the stage is.
The easiest thing in the world would surely be just to bring back The Tarzan Encounter – with the stage set up to open it up once again, wouldn't that at least be a short term solution? There were rumours that this was to happen last summer, but it never materialised. Maybe the timing just wasn't right, or maybe it's an indication that Tarzan is gone for good from this rustic Frontierland stage. So if we are not getting Tarzan, then what? The show has to reflect its surroundings, so that does rather limit the films, characters or brands Disneyland Paris can pull from, unless they go for a completely original show? I'm thinking that's a no on the original story, marketing like to have familiar brands to use, and part of me understands that completely, from a business standpoint.
What if they went back to on old classic, like Jungle Book? It would would fit the location perfectly, has a bunch of familiar characters and songs that every knows like the back of their hand. The Jungle Book scene is gone from Dreams! and once Animagique has closed, it'll be gone from there too. Jungle Book is one of those films that appeals to all ages and has huge longevity, as the last 47 years have proven. If not a classic, then maybe something like Princess and the Frog, which again, would fit in perfectly, especially given the New Orleans location of the film, and the Mark Twain Riverboat also in Frontierland.
At Christmas Frozen would be an obvious choice. It doesn't obviously fit the location, but then a variation rather than a direct copy of the story could see them work around that. Of course they may choose to bring back Mickey's Winter Wonderland which was always popular, or maybe they want a show they can put on all year round rather than go to the expense of switching every 6 months.
This all assumes they will keep it as a theatre, and not turn into a giant meet and greet location for whatever Princess is the flavour of the month. No, I'm pretty sure a show is what they have in mind – it defies all logic to not go down that route. So now it's over to you – what would you like to see in Chaparral Theatre, that would revitalise a quiet and lonely part of Frontierland?
UPDATE: So according to the aforementioned @InsideDLParis, we might get a hint in about two weeks and it's NOT going to be a Halloween or Frozen Christmas show. Intriguing! I had previously said it wouldn't be a Frozen show, but @InsideDLParis corrected me by saying he'd said it wouldn't be a Frozen Christmas Show, so does that mean we could have a Frozen show coming? By it not being a Christmas show that does give it legs and means it can run past the 7th January end to the Christmas season.
Almost a year on and Frozen is still hugely popular, so I can see why they would put on a show with the characters from Arendelle. This would mean that during the Christmas months Anna & Elsa would be doing meet and greets in the Princess Pavilion whilst a Frozen show wowed crowds in the Chaparral Theatre. One commenter did allude to photo locations in the theatre, so could this be a location for Anna and Elsa once they leave the Princess Pavilion in January?
*Show history information from DLPGuide.com