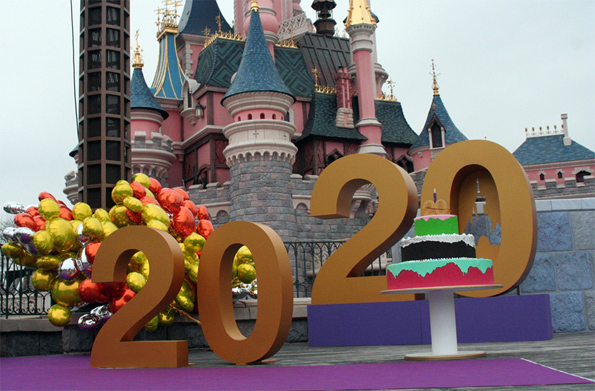 The Disneyland Paris Year in Review Top 12 for 2012
As the year comes to a close I thought I'd look back on 2012 and all the amazing things that have made Disneyland Paris great and what we have to look forward to. I could have listed 20, 30 or maybe even more, but I had to give it a limit, and 12 seemed apt given what year we are in. If you disagree, that's what the comments section is for, and I welcome your feedback and opinions. So, without further a do, let the countdown commence…
#12 – Disneyland Paris Generations
You can find Generations over at disneylandparis-generations.com and is a collection of stories and experiences written by guests and cast members alike. It's a wonderful place to read about what Disneyland Paris has meant to people over the last 20 years and has some fantastic contributions from people who were involved in the development of the resort in that time. Anyone can share their story and it's something I've been meaning to do for months now. Maybe this time of reflection is the perfect opportunity to do just that.
11 – Disney Store Website Sells Disneyland Paris Merchandise
This is something I have been championing for a couple of years now, and I was delighted when the Disney Store website started selling select pieces of merchandise from Disneyland Paris. It started off with just a few items but as you can see now by visiting Disney Store Online
the range has grown a lot over the year and now gives you the opportunity to buy many Disneyland Paris souvenirs without having to be in the resort. This is perfect for when you can't carry everything you want home, or don't have enough money to get everything you'd like to at the time of your visit. It's also a great way to bring the magic of Disneyland Paris home for people who can't visit for a while. Let's not forget it's also fantastic advertising for Disneyland Paris and another revenue stream. So far I've bought some Disneyland Paris 20th Anniversary Christmas baubles
and the Disneyland Paris vinylmations
, but I'm certain I'll be back for more!
#10 – World of Disney Store
World of Disney opened on 12th July 2012 and to date is the biggest store in Disneyland Paris. It resides in Disney Village and guests are now directed right by it when exiting the parks. This does mean a little more walking, but it has also meant the almost total eradication of street traders in that area. The shop itself is very grand looking on the outside, but once inside you do get that feeling that it's just another Disney shop. The exclusive merchandise items are few and far between and I believe they could and should have done more to make it special, rather than just use every available piece of floor space for selling the same items available elsewhere in the resort. It's for that reason that it doesn't rank higher, that and the fact that the revolving globe on the roof rarely works. Photos from inside World of Disney.
#9 – Meet Mickey Mouse
It looks great from the outside, and it's very well themed on the inside with lots of attention to detail and hidden treasures. So as a new addition to Parc Disneyland in 2012 why doesn't it feature higher than number 9? Because when all is said and done it's just a meet and greet with Mickey Mouse that has taken over a building that has in the past been used for live entertainment, something that is severely lacking in both parks. It even has a stage in the queuing area – it would be great if it was used for more than just the elaborate frame for a big TV screen. For some people having their photo taken with characters is a huge deal, not for me I'm afraid. It's a credit to the theming that it's placed this high.
#8 – Disneyland Paris: 20 Years of Dreams Book
For years we've been able to buy travel guide style books from Disneyland Paris. They are usually few in pages and words, and with little more than marketing photos available in any high street travel agent brochure. When 20 Years of Dreams was announced it sounded like the book we fans had been asking for for years, and it was. This is a book that charts the resort's developments and achievements from its opening in 1992 right up to the present day. It's stacked full of amazing images and fascinating stories, and all housed in a masterfully designed hardback book which should be the pride of any Disneyland Paris aficionado's collection. It's available to buy in selected shops in Disneyland Paris as well as via Disneyland Paris mail order (phone +33 164744486 or +33 164744848 or email dlp.mail.order@disney.com). Just writing this makes me want to pick it up and flick through the glorious over-sized pages once more.
httpvh://www.youtube.com/watch?v=toWaqUJctwg&hd=1
#7 – Disney's Magic on Parade
It had been 5 years since Disney's Once Upon a Dream Parade had debuted for the start of the 15th Anniversary of Disneyland Paris and in 2012 we got both a brand new parade and a brand new parade song. We got to hear Magic Everywhere, the new parade song, first, and while I wasn't keen on it at first it quickly grew on me. On seeing it as part of the actual Disney's Magic on Parade it soon rated very highly with me, as the did the parade itself. The theme for the 20th Anniversary seemed to one of magic, and the characters wore wizard and witch inspired outfits while we were treated to some new floats, topped off by the amazing final float. It's somewhat risky but necessary to replace parades, as people fall in love and become very attached to them, as did I with the Wonderful World of Disney parade and Dancin' (A Catchy Rhythm). However, Disneyland Paris hit a home run with both the parade and song in 2012 – job very well done.
#6 – The Christmas Cavalcade
I've only recently written about this and published a whole bunch of photos, so rather than repeat those words I'll just direct you to that article. While many bemoaned the removal of Christmas favourites such as Mickey's Winter Woonderland, the addition of the Christmas Cavalcade more than makes up for it and is only the start of much more to come.
#5 – Ratatouille Construction Begins
It was back in mid January that we got news that The Walt Disney Company had agreed to loan Disneyland Paris a massive €150 million to help fund the expansion of the resort. Then just 2 days after this news a construction permit for Ratatouille was in place and we all sat and waited, but actually took quite a while for any actual construction to start. The Ratatouille attraction, rumoured to be called Ratatouille Kitchen Calamity, will be an e-tciket dark trackless ride making use of 3D projection technology. The official word from Disneyland Paris reads as follows:
The development of a new Ratatouille themed attraction is the first step in the multiyear development plan of the Walt Disney Studios Park.

This new attraction is expected to open in 2014. It should use a new technology and have the highest guest capacity at Disneyland Paris. Based on a reconstitution of Paris, the attraction will also feature a restaurant with a theme centered on the Parisian bistro dining experience.
It's very exciting to think that Disneyland Paris will be getting a completely new attraction of this scale, and not one that has just been adapted from one of the other parks around the world. The film being set in Paris lends itself perfectly to Europe's number one tourist destination. It's not just an attraction though, there's going to be a restaurant and a whole themed area as well. It will add a great deal to Walt Disney Studios and go someway to making it the all day park that Disneyland Paris so dearly want it to be. Make sure to regularly check in on the discussion at the magicforum you'll see all the latest news and construction photos, including this one from DLRP Welcome, which shows it really beginning to take shape now:
#4 – Resort Refurbishments
Leading up to the 20th Anniversary there were a number of refurbishment projects that were undertaken across Disneyland Paris. For me this was one of the most important and pleasing things to happen in the resort this year. Seeing Captain Hook's Ship back to it's original glory was a sight to behold, and I was equally thrilled to see the huge craters in the area between the parks and Disney Village had been repaired. The Discoveryland Lagoon got a much needed clean up, as did Nautilous which resides in it. The hotels refurbs have started with Santa Fe looking great in what they've done so far. Main Street, U.S.A. though looks absolutely phenomenal, and when I walked down it in May I could imagine that's what it looked like in April 1992 when Disneyland Paris first opened. I just hope they keep this going and give equal attention to other parts of the park, especially the rest of Discoveryland.
#3 – 20th Anniversary Launch Weekend
Though officially the 20th Anniversary was April 12th, the 20th Anniversary had its big launch on the weekend of March 31st and April 1st, and wow, did it go off in style. The Flash Mob on Main Street, U.S.A. was amazing and there was also some talks from those most involved such as Kat De Blois, Katy Harris and Steve Davison. On the Sunday was the first public showing of the aforementioned Disney Magic on Parade which was 1 day behind the arrival of the 20th Anniversary Celebration Train which seemed to polarise opinions. However, it was the talk over in Videopolis by original Disneyland Paris imagineer Tony Baxter that was the highlight for me, and luckily you can watch it in its entirety right here:
httpvh://www.youtube.com/watch?v=gbFerLxaPoE&hd=1
There was one other thing that happened that weekend, but we'll come to that later. All in all that weekend in Spring was a huge success in showcasing what we could expect from the 20th Anniversary in Disneyland Paris, and seemed to be very well received by all.
#2 – €1.3 billion Euro Disney refinancing
This came from The Walt Disney Company and news of it hit in September. What this means is that €1.3 billion of Euro Disney S.C.A.'s (the operating group for Disneyland Paris) debt had been refinanced by The Walt Disney Company themselves. This should mean that future developments will not have so many restrictions from the banks that did hold the debts and the freedom to expand the parks will be present. You could spend days talking of the posibilities that this may bring and just recently there has been talk of new hotels coming to Disneyland Paris in 2017. The much rumoured Star Wars Land in Discoveryland may come to fruition and maybe even a Marvel presence in Walt Disney Studios. The future for Disneyland Paris looks very promising, and Ratatouille may just be the start a very exciting preiod over in Marne-la-Vallée.
#1 – Disney Dreams!
I was very tempted to put the refinancing at number 1, but as immense as that news is, it's about the future and Dreams! is very much about the present. With Dreams! we have a night time spectacular that has the whole world talking and for once it's people who usually gloat over the American parks that are looking rather jealously at the amazing show currently featured in Disneyland Paris. We all knew that something special was going to appear in front of the castle, and we knew there would be a combination of lasers, music, fountains, fireworks, music and video mapping. What nobody could have predicted is just how incredibly moving and exciting it is to stand and witness it live. This is a piece of entertainment not just on par with anything in any Disney park around the world, but it's up there with the elite of any form of entertainment anywhere. On the night of Saturday 31st March the whole of the Disney online community came together to watch a special online broadcast of Dreams! and the reaction was universally positive and at the highest level. Never before have I witnessed such a huge gathering of Disney fans online, all awaiting and then experiencing something together like we all did that night for Dreams! It is rightly the jewel in the crown for Disneyland Paris and we have only seen the start, as scenes are to be changed which will give the show a whole new feel and a new experience for us to discover.
httpvh://youtu.be/hGqLJfyIxmc
It's been a landmark year in Disneyland Paris and I'm lucky enough to have visited twice to celebrate the 20th Anniversary. These are my 12 highlights of a mighty year – let me know if you agree or disagree and what has stood out most for you in Disneyland Paris in 2012.
Update
One omission that came to me in the early hours of this Monday morning when I couldn't sleep, was when Disneyland Paris was featured on the X-Factor in mid November. This was fantastic publicity to a huge mainstream audience and the resort looked amazing, especially the Castle Stage on which the contestants performed.