Brave and The Lion King to be added to Dreams! in Disneyland Paris
This latest news is yet to be confirmed by Disneyland Paris, but it is being said that we will see scenes from The Lion King and Brave added to Disney Dreams! at some point in 2013. We don't yet know when they will be appearing though rumours are circulating that it will be April 1st, to coincide with the start of the 6 month 20th Anniversary extension period. This news does come with an accompanying image which as follows:
Simba was featured in the original artwork which was used to promote Dreams! in the Disneyland Paris Brochure back in November of last year. In fact his pose is almost a mirror image of what appeared in that image, which you can see below: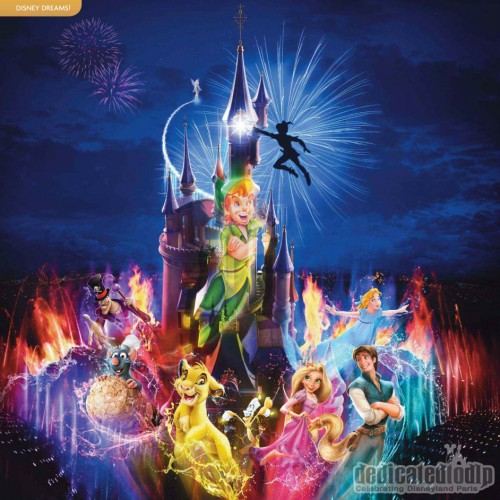 I'm actually quite surprised that Brave is being added as it didn't seem to be met with a great deal of enthusiasm from people who have seen the film. Many said they liked it, but not with same gusto as when talking about previous Disney/Pixar releases such as Toy Story, Finding Nemo or Monsters, Inc. However, the Dreams! show does have more of a classic feel to it, so using Merida from the film fits in quite well with the scenes already in place.
The next question is obviously which scenes should they replace? While the whole show is magnificent, if I had to get rid of two it would be the Mary Poppins scene – the film has never been a favourite of mine and I think that scene is the weakest of the lot. The second scene is a lot harder to place, but rumours are suggesting Jungle Book (along with Mary Poppins), which would be a shame given that whenever I've watched Dreams! the whole crowd seems to come alive and dance to I Wan'na Be Like You. That said, the Castle visuals aren't as impressive during this scene as in others.
As much as I am not keen on Mary Poppins, it's a shame to see that it's two classic era Disney films that are being replaced by 2 more modern films and that now leaves only Peter Pan as the pre-Renaissance era film in Dreams! There's no chance that Peter Pan is going anywhere as he is involved in the main arc of the story and is in every scene, but I do hope going forward it's not just newer films being added as new scenes. I personally would love to see a Pinocchio scene added, and I think Alice In Wonderland (not the awful Tim Burton remake) would work really well as part of Dreams! Still, it's good to see evidence that Dreams! will be an ever-changing spectacular, giving people more reason to return to Disneyland Paris.