Disneyland Paris gets €150,000,000 from The Walt Disney Company – time to restart construction of Ratatouille
This is the news we have all been waiting for, it has been announced today that on January 6th 2012 The Walt Disney Company gave Disneyland Paris a new line of credit to the value of €150,000,000. It also states that there has been approval from their lenders to extend current borrowing by up to €250,000,000 – presumably this is the group of 65 banks that approval was needed from in order for expansion to go ahead. The official document can be found here and the full text is below.
(Marne-la-Vallée, January 10, 2012) Euro Disney S.C.A. (the "Company"), parent company of Euro Disney Associés S.C.A., operator of Disneyland® Paris (together the "Group"), announces that, on January 6, 2012, it has obtained an additional standby revolving credit facility (the "Additional Facility") of €150 million from The Walt Disney Company. This Additional Facility expires on September 30, 2018 and was advanced in connection with the approval from its lenders to increase the Group's investments by up to €250 million. These investments correspond to the annual recurring investment budget for fiscal year 2012 and a multi-year expansion of the Walt Disney Studios® Park, which includes a new attraction. The Additional Facility is separate from the €100 million existing standby revolving credit facility (the "Existing Facility"), which expires on September 30, 2014 and is still undrawn. The other terms and conditions of the Additional Facility are substantially the same as the Existing Facility.

Although no assurances can be given, the Group believes it has sufficient funds to finance these and other necessary investments and repay its borrowings consistent with the scheduled maturities, based on its existing cash position, liquidity from the Existing Facility and the benefit of certain conditional deferrals
permitted under the Group's existing debt agreements.
These investments correspond to the annual recurring investment budget for fiscal year 2012 and a multi-year expansion of the Walt Disney Studios® Park, which includes a new attraction. That is the really exciting bit as one can surely only assume that the attraction to be built in Walt Disney Studios is Ratatouille, one that has been started, but one that also had construction halted last year.
If you didn't already know, the plans for Ratatouille are for a brand new dark ride, the first in Disneyland Paris since Buzz Lightyear Laser Blast opened in April 2006. Not only is there the ride but also a themed restaurant, gift shop and in fact the whole area would be themed like the streets of Paris that are featured in the film.
The plans for this area were revealed by Disney Central Plaza in October of last year and can be seen below.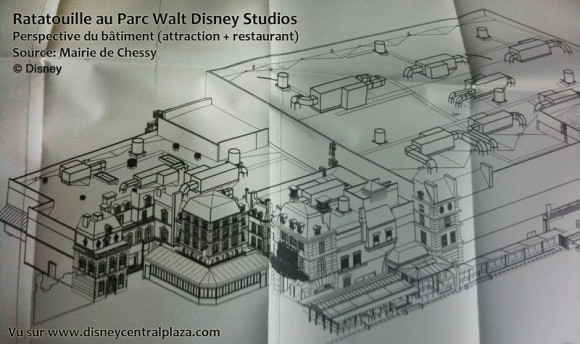 In fact, when I was in Disneyland Paris in November you can see the area where Ratatouille is under construction changes radically from the bright colours of Toy Story Playland to a classy Parisian area. The following photos show the fences surrounding the area of construction as well as the Parisian street with some great attention to detail like chef hats on the top of the posts.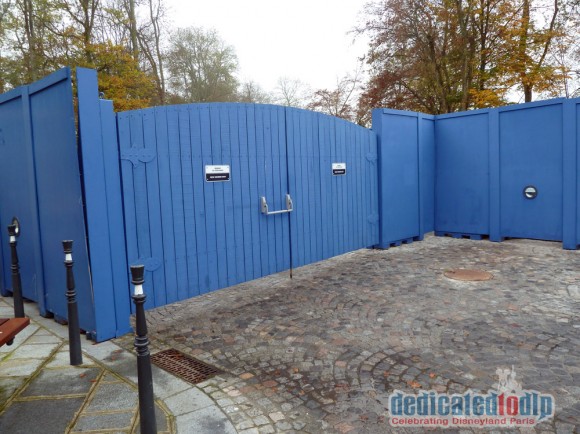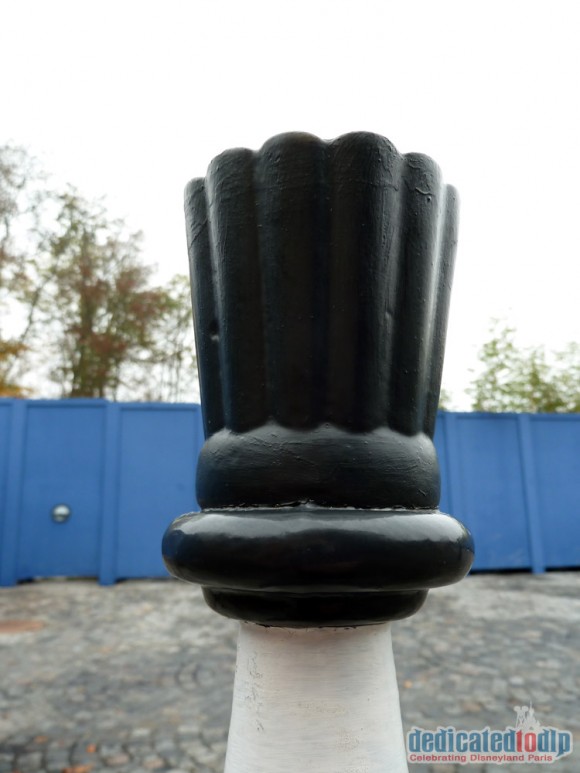 When the project will actually be completed is anyone's guess. It's the kind of thing you'd expect Disneyland Paris to want be be launched at some point during the 20th Anniversary celebrations, but maybe like the 15th Anniversary, they'll need to make that a 2 year celebration for that to be achieved. All eyes will be on that corner of Walt Disney Studios as construction of the Ratatouille area gets going and it's fantastic that Disneyland Paris will be getting an original ride that isn't in any of the other Disney parks around the world.
Of course, they could throw a curve ball and announce that they are building a new ride entirely and that Ratatouille is still on hold, but that would be crazy – right? On top of Ratatouille it will be fascinating to see what else they have planned for Walt Disney Studios as the intention is for it be an equal to Disneyland Park eventually.
UPDATE – 12th January 2012
This construction notice arrived in Walt Disney Studios today, photo credit to Disney Central Plaza:
It would appear that Ratatouille is a go – hooray! This exciting, in spite of the wrong year being written on the notice!