Disneyland Paris Pins for September 2012 – First bit of Dreams! merchandise plus Halloween & Duffy
This is very exciting, because not only are there are a massive 18 pins being released in September, but we have the very first piece of Dreams! merchanise. Feast your eyes on this eclectic selection upcoming of Disneyland Paris pin releases.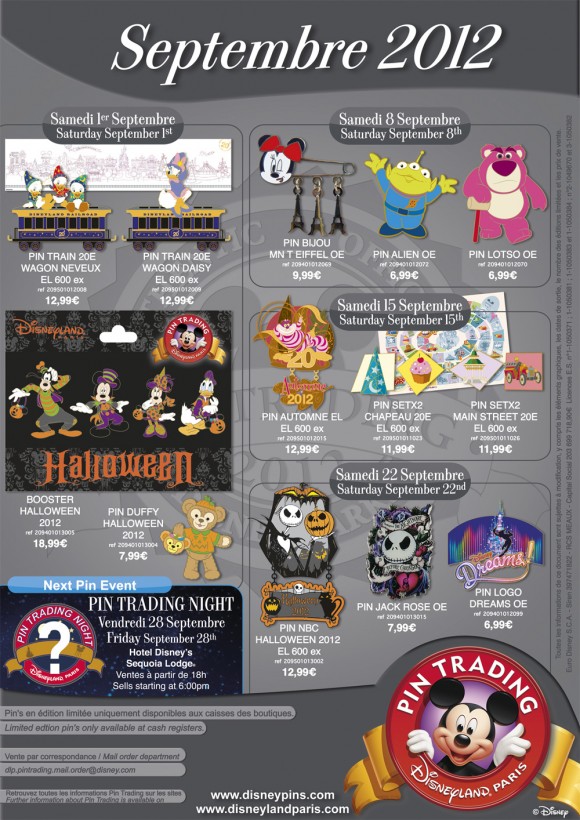 We start with the continuation of the 20th Anniversary train carriages, this time with Huey, Dewey, and Louie as well as Daisy Duck. Now this follows on nicely from the pins released for August as Donald Duck is on the carriage just before these two. I'll be interested to see how many pins this set will contain – I guess 20 would make sense, so we have a few more to go yet if that is the case.
Those train pins are released on Saturday 1st September, the same day that the Halloween booster pack and the Halloween Duffy pins are released. Halloween always makes for some of the best theming in the park and for the merchandise, and this booster set is no exception. It's also exceptional value at just 18,99€ – that's less than 5€ a pin. As much as I'm not a huge fan of Duffy, the Halloween pin is at least a bit different from his standard look. That said, it's a bit creepy to see him holding his own head, albeit in pumpkin form, I guess. There have been lots of rumours going around this week as to Duffy's future in the park – some reports say he'll be back for Halloween, some say he won't be back any time soon. It looks like the merchandising department think a pin will sell even if he's not present for meet and greets. He is still in the float at least, for the time being anyway.
The Minnie Mouse pin released on September 8th is an interesting one in that it's a pin of a pin; a safety pin – with 3 Eiffel Towers hanging from it. It's nice, and we also see Minnie winking, which is not typical of the expression she usually adorns on Disneyland Paris pins. Extra points for the dangling bits too! The Toy Story Alien pin does little for me – very generic pose. Lotso on the other hand looks great with his scornful look and mallet walking stick.
A week later on September 15th we see 4 more of the pin game pins released. I'd be interested to hear from anyone who is collecting all of these as I can imagine it's quite an investment, but at the same time a great selection of imagery representing attractions and landmarks of the resort. The first Autumn 2012 pin features the Cheshire Cat, some typical Autumnal colours and visuals, and also gets bonus points for a dangle bit.
Fast forward to Saturday September 22nd and we have a trio of fantastic pin releases. Jack Skellington and Halloween fit like a hand in a glove, and these two pins look great. I especially like the limited edition pin with Jack holding a pumpkin in his own image, in a slightly more scary and realistic way than the aforementioned Duffy pin. The rose one is less to my taste, but I appreciate the effort and know it will be widely loved. However, it's the Dreams! pin that is the star of the Disneyland Paris September 2012 releases – not only is it the very first piece of Dreams! merchandise, but it looks terrific too. It contains the logo, Peter Pan, the water fountains coloured with the projections, with the Castle as a backdrop. It contains as many of the elements of Dreams! as you can possibly expect on a pin this size, and it's been done in a tasteful way. There's plenty of time for a later release with actual LED lights, but for know this a great way to kick off the Dreams! merchandise availability – now we just want more.
All in a all I think it's a wonderful selection of pins and I myself would buy the Minnie Mouse, Jack Skellington, Cheshire Cat, Halloween Booster and Dreams! pins. But what about you guys, which ones do you like?