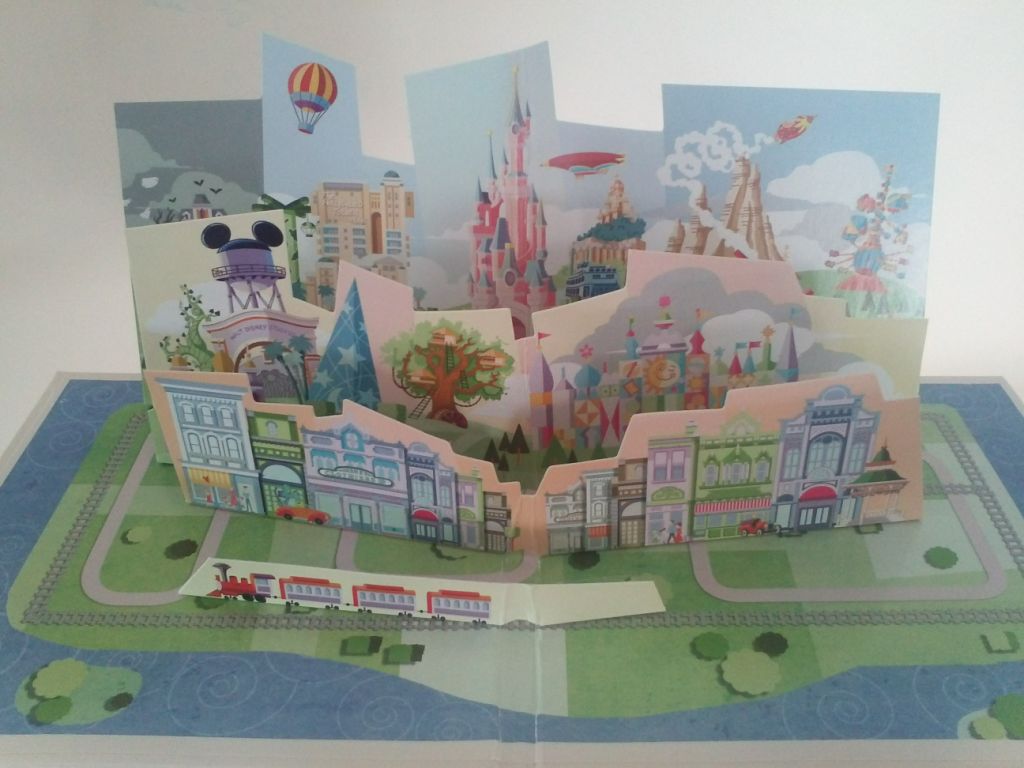 New The Best of Disneyland Paris 20th Anniversary CD
The long awaited new Disneyland Paris CD has hit the shops in the resort today, as confirmed by @InsideDLParis who is also the person who took these photos you are about to see.
The CD, selling for 19,99€ runs for 74 minutes and 28 seconds, and contains many old favourites as well as the new Do You Believe song for the character train and Magic Everywhere song which is the new song for the 20th Anniversary, used for the new Disney Magic on Parade. The full track listing is as follows:
Magic Everywhere (Mike Himelstein & Dena Diamond / Marco Marinangeli) (04:03)
Do You Believe (Valerie Vigoda / Scott Erickson) (03:52)
Dancin' A Catchy Rhythm (Jay Smith / Vasile Sirli) (03:51)
All Around the World (Jay Smith / Vasile Sirli) (04:06)
Just Like We Dreamed It (Sunny Hilden) (04:17)
Halloween-Halloween (Jay Smith / Vasile Sirli) (04:51)
It's Halloween-Lo-Ween (Jay Smith / Vasile Sirli) (05:03)
Moon (David Young / David Haliday) (03:33)
Moon Reprise (David Young / David Haliday) (05:00)
Circle of Life (Tim Rice / Elton John) (02:41)
Chante, C'est Noël ! (Jay Smith / Vasile Sirli) (04:16)
La-Di-Da Carnival (Jay Smith / Vasile Sirli) (03:59)
C'est l'année de toutes les fêtes (Jean-Marc Chastel / Vasile Sirli) (05:10)
10th Anniversary Song (Peter Lurye) (03:11)
La Fête Magique de Mickey (Georges Costa / Scott Erickson) (03:44)
Claque des doigts (Jay Smith / Vasile Sirli) (02:04)
Animagique Song (P. Lurye) (01:50)
Yo Ho (A Pirate's Life for Me) (Xavier Atencio / Georges Bruns) (01:05)
It's A Small World (Richard M. Sherman / Robert B. Sherman) (04:31)
Magic Everywhere (Mike Himelstein & Dena Diamond / Marco Marinangeli) – Instrumental (03:08)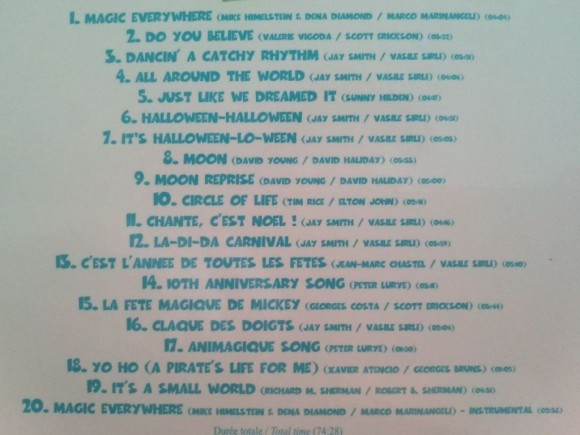 Magic Everwhere has previously been available as a CD single, so it could be argued that apart from Do You Believe this CD contains nothing new. Come to think of it, has Moon ever been released on CD before? I'll have to check through all my Disneyland Paris CDs to see if it has. However, there's not a lot more that included in the way of new music, except of course Dreams! I have two theories as to why the Dreams! music is not included on this CD: 1) There are licensing issues 2) It will be getting a CD release of it's own, maybe down the line when they release a whole range of Dreams! merchandise, of which there is currently none available in Disneyland Paris.
For a Best of Disneyland Paris, as the title quite clearly states, it does what it says on the tin, or CD cover in this case. No, it's not going to excite the hardcore fan but then best of collections are rarely targeted at those people, not in any genre of music. What did excite me is that they chose to use the retro design for the cover, something I've proclaimed my love for from the first moment I saw it in Disneyland Paris. It gets better though, as you can see in this last photo from @InsideDLParis, the cover opens up into a pop up diorama of Disneyland Paris, retro style.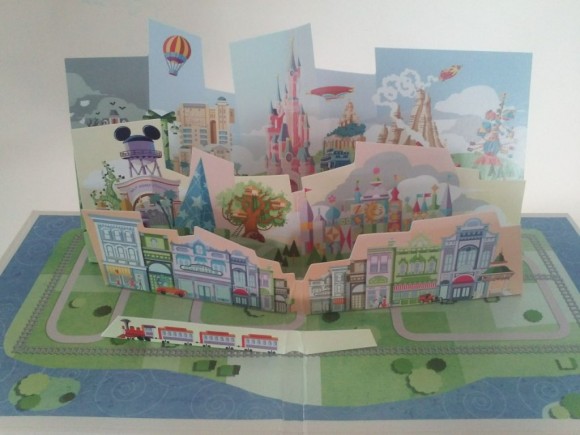 As one of those hardcore fans I think this is brilliant and what a wonderful touch. In an ever increasing world of digital domination it's nice to see some effort going into the physical version, something I very much still buy and collect.
With the collection of songs they have something to appeal to casual visitors and first time visitors. With the addition of Magic Everywhere and Do You Believe it appeals to those who have visited during the 20th Anniversary, and with the sensational packaging they have something to appeal to the most ardent fans and collectors. Job very well done in my opinion. If you are not visiting Disneyland Paris any time soon then you can email DLP Mail Order dlp.mail.order@disney.com with what you want & they will come back with price postage and details of how to complete your order.
So, who will be getting a copy?