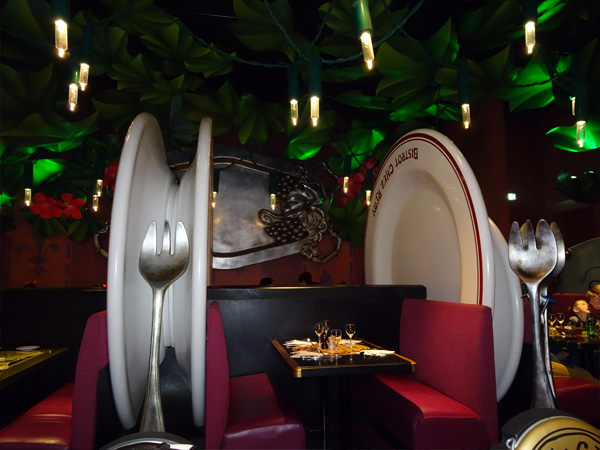 Disneyland Paris Restaurant Review: Bistrot Chez Rémy
Back in December 2014 I visited La Place de Rémy, but didn't eat in Bistrot Chez Rémy, that took me another 20 months, until August 2016 when we dined there for lunch. I'd already seen the Ratatouille props in the waiting area, but they are always worth a second look, and act is a reminder that I really need to watch the film again. On being introduced to our waitress she explained that we were shrinking down to the size of a rat, which was a nice touch and adds to the immersive theming.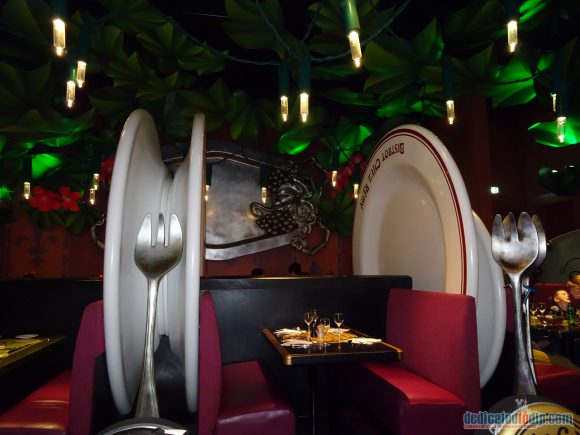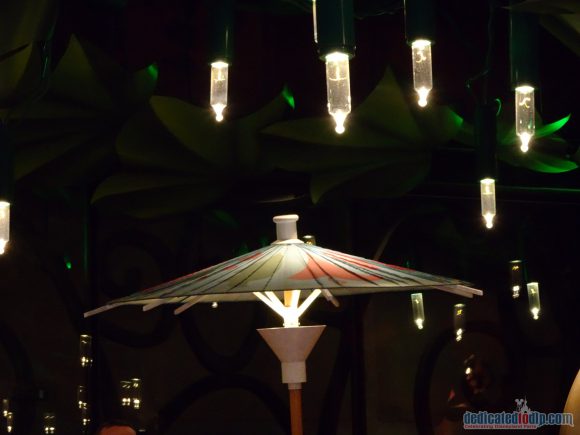 At our table I found it quite hard to concentrate on the menu, as my eyes kept wandering from a cocktail umbrella light shade above a table to a champagne top chair and a sardine tin table to fairy light lighting. The restaurant decor is stunning, with more to discover every time you let your eyes dance around the room. If I didn't love The Blue Lagoon so much I'd say Bistrot Chez Rémy has the best theming of any restaurant in Disneyland Paris, and it comes very close to my favourite.
Going for the Rémy Menu, the Mixed leaf salad with cheese and an olive oil, balsamic and sesame vinaigrette was my only option for a starter, but I'm a big fan of salads anyway, and big was the right word to use. For a starter this was a giant dish, but it was all very fresh and soy is not a dressing I've ever considered for salad but is one I will use in future myself. The thing I wasn't keen on was the beetroot, but that was grated and easy to push to the side. The accompanying bread was delicious, but I'm wondering if not offering butter is a French thing, as we encountered this at a few meals during our stay. Extra points for the Coke Zero coming in a glass bottle, my preference since childhood.
Not liking red meat I went for the Roasted cod, homemade ratatouille, crushed potatoes and a beurre blanc sauce. I've always thought that I don't like Ratatouille, but I've never actually tried it. But come on, courgette I don't really like and cooked tomato I'm no fan of – why do I need to try something with those two very much in it? I felt being in the restaurant from the Ratatouille film I had to at least make an attempt, especially as quite a large portion of it sat on my plate.
What did I think? Well it wasn't bad, but I wouldn't say I loved it. I did eat the whole lot, partly because I'd paid for it, partly because I felt in this setting I should, and partly because it wasn't so bad I needed to leave it. High praise indeed! May have been better if I wasn't such an odd eater in that each part of a dish I have to eat separately. Don't ask why, it's just my way. The cod was pretty nice, and of a decent size too, but could have done with some seasoning. Dipped in the beurre blanc sauce added to it, but it definitely needed something extra in itself. The potatoes were lovely and complimented the cod very well.
Now onto the best part of the whole meal, dessert. I had chosen the Chocolate mousse as had my wife, while my son had gone for the Remy's chocolate and hazelnut éclair. He doesn't like nuts, so decided to swap his éclair for his mum's mousse, but not before I'd had a bite. We ended up swapping desserts around between us several times and,  in simple terms, both the éclair and the mousse were two of the yummiest desserts I've ever eaten. And yes yummiest is the correct word to use – try them for yourself and you'll see.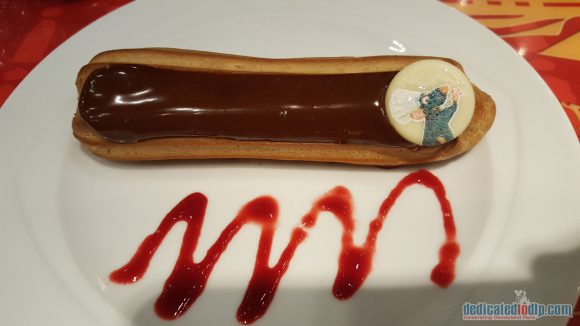 My son didn't really enjoy his main course, which though advertised as Roast salmon with ratatouille ravioli and a beurre blanc sauce, came with the same cod as mine – he did love that chocolate mousse though. My wife adored her Cut of grilled beef, homemade ratatouille, French fries and the chef's sauce, and I enjoyed the chips she threw my way!
Our waitress Emmanuelle was fantastic, chatting to us lots but not intrusively, and making sure we had everything we needed and were happy at all times. She also led us over to a photo opportunity in front of the over sized book from the film and made sure we got some good family photos – a real credit to Bistrot Chez Rémy and Disneyland Paris. Overall the meal for us adults was really nice. Not the best of the trip, but the dessert alone and the incredible theming would see me return, though not with as much urgency as my beloved Blue Lagoon.