Disneyland Paris Pins For September 2016: runDisney Bonanza, Villains, Poppins, Christmas Tink and Luna?
For some reason the pin poster came out late this month, so late in fact, that the first pin would have been on sale in Disneyland Paris before any of us saw this poster of the September pin releases!
Unfortunately the really high resolution poster hasn't been sent out yet, so the close ups aren't as close as normal, but when that does arrive I'll update this article with extreme close ups of these Disneyland Paris pins!
Disneyland Paris Pin Releases – September 3rd 2016
I'm a big fan of these pins that double as Christmas tree decorations with the ribbon attachment at the top, and what tree is complete without a Tinkerbell on it? Fans of Tink love everything she's on, and a Tinkerbell green Christmas dress is going to be a sure winner. The huge positive is that this is general release, so hopefully will still be on sale when I'm back in Disneyland Paris next month.
Disneyland Paris Pin Releases – September 10th 2016
At first glance I was disappointed, seeing Pueblo Trading Post exclusives and limited runs written next to these pins, until I noticed that the one I want is on general release. The dog series continues and is not for me – it's also been so long since I saw Mulan that I don't even remember her having a dog! The Facilier pin is great, in that anything featuring featuring this awesome Shadow Man is. But the one I really like is the Pin Trading medallion to hang on the bottom of a pin trading lanyard, which is the design that has been used to represent pin trading in Disneyland Paris for years. But rather than being full of colour like we are used to, it's a classy looking all metallic piece. That one is an absolute must for me, so again, thank goodness it is on general release.
Disneyland Paris Pin Releases – September 17th 2016
I'm not the biggest Mary Poppins fan, though I did get converted a little more after experiencing Swing into Spring earlier this year, but this is a gorgeous looking pin. Factor in the design, Mary Poppins and the celebration of a season and I very much doubt this 600 piece limited edition pin will stay on the shelves of the Pueblo Trading Post for long.
Disneyland Paris Pin Releases – runDisney September 22nd – 24th 2016
Sold only at the event merchandise stand during runDisney, this is a fantastic selection of pins that will have all participants in the inaugural runDisney Disneyland Paris Half Marathon, 5k and kids races grasping for their wallets and purses. I love how they have replicated the actual medal designs to be used as pins, but also kept the lanyard part at the top to add to that authentic look. This means people who don't run can now get replica medals, which will go down very well I'm sure. Not attending myself, the one I really want is the runDisney logo pin, just to commemorate such a big landmark event in Disneyland Paris. I'll have to have a word with some friends I know that will be there – shopping mission for Steve!
Disneyland Paris Pin Releases – September 24th 2016
I have no idea who Luna is or why she warrants two pin releases in Disneyland Paris, but the first page of Google results came up in Spanish, so these are for you Spanish guests who visit Disneyland Paris. Maybe one of you can tell me who she is. For all I know she could be as big in Spain as High School Musical once was around the world.
Disneyland Paris Pin Day – September 17th 2016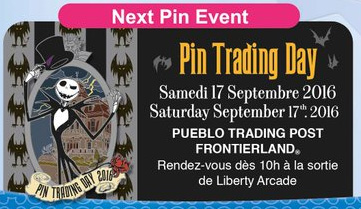 The information says to meet at the exit of the Liberty Arcade, though the event is at Pueblo Trading Post in Frontierland. Now I know that they sometimes have pin trading tables out at both locations, so maybe you meet at Liberty Arcade to trade, and then all go to Pueblo Trading Post? Who knows! That pin trading day pin featuring Jack Skellington with Phantom Manor in the background is absolutely stunning though.I know there's no chance of getting hold of one of those without paying an extortionate amount of money on eBay, but if you are Disneyland Paris that day then grab one and have a new jewel in your pin collection.
Overall I'm very impressed with the selection of pins being released in Disneyland Paris for September 2016. There's a few that I'd class as must haves and a few more that I'll more than likely buy at some point. Just a little odd that this is the second month in a row with Christmas pins and yet still no Halloween pins. They must be saving all of those for October, when I know there will be hoards of people wanting each and every one.