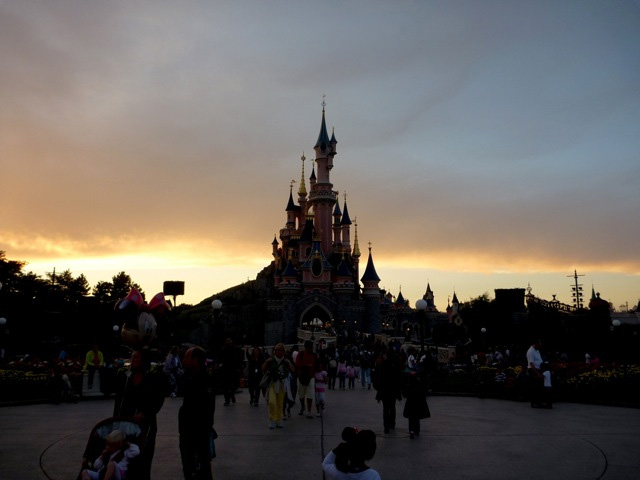 Sven's Disneyland Paris Trip Reports: September 2012
Our resident Disneyland Paris trip reporter Sven Popelier is back with another tale of his adventures in the happiest place on Earth. See Sven's previous trip reports from February 2012 and April 2012.
Sunday September 2nd 2012
10 am at the Walt Disney Studios gates! I was standing there with four friends of mine, of which three had never been to the beautiful resort. I started with the Studios, to first show and do the highlights here so that there was more time in Disneyland Park. When we came out of Studio 1, I saw something very strange. A long queue and not from Crush's Coaster, but the other side! Apparently, all those people were waiting for Tower of Terror! Luckily, they hadn't opened the queue yet, so it explained a lot. I quickly went to the Fastpass machines and got tickets that would allow us to go on at 2 pm. So yes, it was a busy day!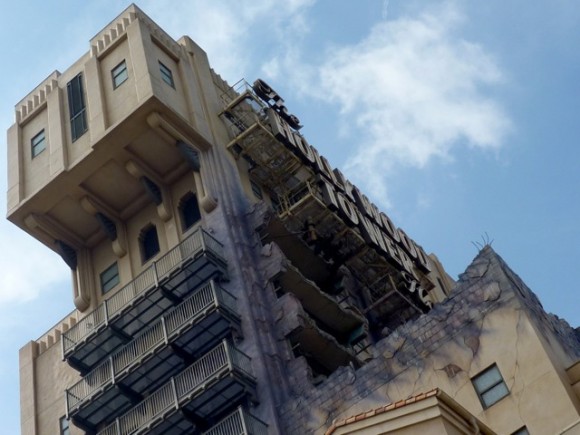 The first ride of the day was Rock 'n' Rollercoaster! Wait time: 45 minutes. Actual wait time: 30 minutes. Don't you just love that feeling? The ride was great as usual, some of my friends screamed there lungs out! However, there was one thing that annoyed me a lot: no music! The experience isn't as good without the music and I really find it essential. You pay a lot more attention to the tracks and everything sounded so hollow. Hopefully, they'll fix that soon!
The queues were getting longer and longer everywhere! 120 minutes at Crush, 75 minutes at RC, 110 at Tower of Terror. I guess the last day of the summer season is a busy one! So we went to Animagique! Definitely something worth showing your fellow visitors on a first visit. I love those pink elephants! Before we went there, we walked through Toy Story Playland and I had a look at the Ratatouille construction. It's bigger than I expected and I'm really excited for when it opens!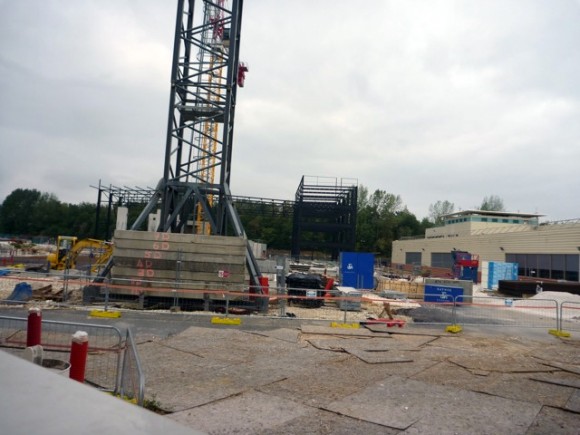 Another ride that I always love to do is Stitch Live! I was hoping that he would pick on of my friends as an escapee from space prison or fall in love with one of the girls. The trick is to go and sit on the next to last bench at the back. I was almost certain that he was going to pick one of them, since there was no one sitting in front of us! "Stitch sees someone he knows! It's the guy with the white sweater sitting on the next to last row!" Didn't see that one coming… He picked me again! And he didn't like me :p He said I was a very very very… very bad boy and that I have got an ugly face! Well, I guess Stitch gets away with anything!
The final ride that we could do before going on Tower of Terror was Cinemagique! Or half of it! When the scene arrived with Clint Eastwood, the screen is supposed to grow larger. However, the two curtains didn't go open and all of a sudden, the movie stopped and we got an announcement that the show couldn't continue! I understand why, because the door that is supposed to open at the end, would hit that curtain. My friends were really disappointed because they already liked a lot what they had seen!
Finally the time had come to go to another dimension! The Fastpass queue wasn't long at all! We could go in the library with only a few people, which is quite fun. We went upstairs and only two lift doors were open.
Tower of Terror in Disneyland Paris
Since I usually don't go upstairs, I noticed this nice piece of decoration! Love those little details! One of my friends was very nervous, because she wasn't sure if she was going to like it. The ride started, and well, she didn't like it… But at least she was courageous enough to give it a try! In the shop, I bought one of the last Phantom Manor limited edition pins! 15 euro is quite expensive, but I had my annual pass discount and well, it's a really nice one! That's a wrap!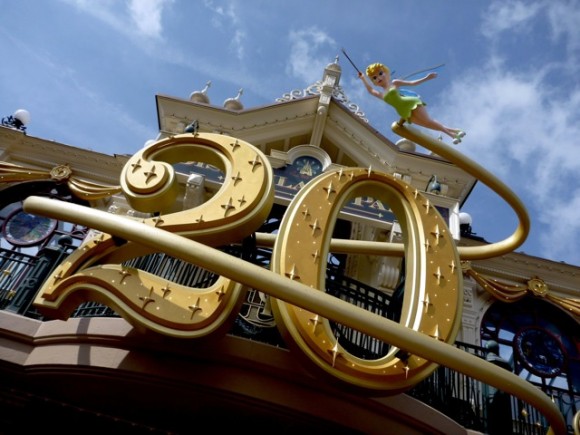 As planned, we arrived at about 3 pm in Disneyland Park! The first thing I always do is get a Fastpass for Big Thunder Mountain. They were still available and we could go on at 8 pm, so plenty of time to do other rides. We started with Phantom Manor, and I always enjoy that ride so much! Then we went to Adventureland to have a look at the wait time for Indiana Jones. Unfortunately it was 60 minutes and we couldn't get a new Fastpass yet, so we chose to do another dark ride: Pirates of the Caribbean! I was happy to see the swordsmen fighting again!
In Fantasyland, Peter Pan also had a wait time of 60 minutes… Near Alice's Curious Labyrinth, there was a nice surprise! Alice was busy meeting guests together with the Mad Hatter! Too crowdy to get a picture myself, but I was happy to see that she was int he park! Then we encountered a ride with only 15 minutes: It's A Small World! I always hope that I never get stuck there, because that would freak me out! When we came out of the ride, we went to Discoveryland.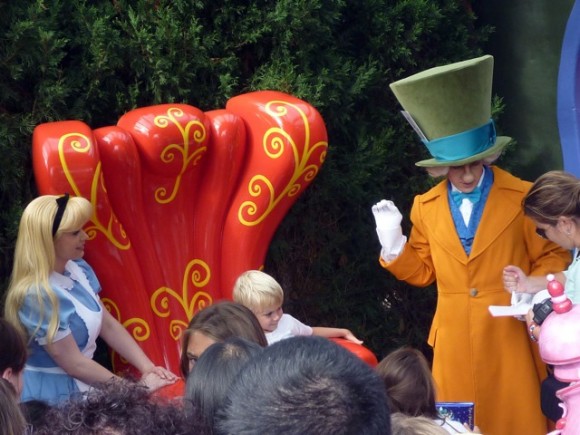 But on our way, we met a bunch of characters: Pinnochio, Gepetto, the Sherrif of Nottingham, Gideon, Tweedledee, Tweedledum, Tigger, Piglett, Eeyore, Chip & Dale in Discoveryland outfit, Goofy in Discoveryland outfit, Stitch, Pluto… Character invasion! Got a picture with three of them, since some of them were in a hurry for a break. Still, this is what I love to see more often in the parks!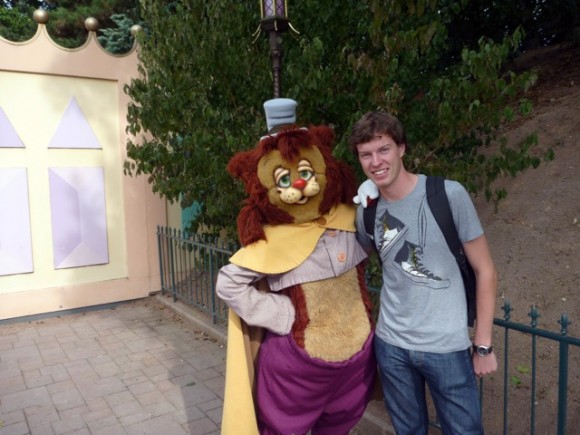 In Discoveryland, we got ourselves another Fastpass: Buzz Ligthyear Laser Blast! I looked at the time, and we really had to go to Frontierland again for the final Tarzan: the Encounter show of the season! Our seats weren't the best since the line was quite long a quarter before it began. Still, it was a unique experience! At the start of the show, we saw the choreographer who asked us to be very enthusiastic! No problem there! The show began and my jaw dropped a few times! Apparently, there were more monkeys than usual and they did some spectacular stuff! The energy was amazing and the crowd could go wild! At the end, we also got an encore act! Jane did a split in the air!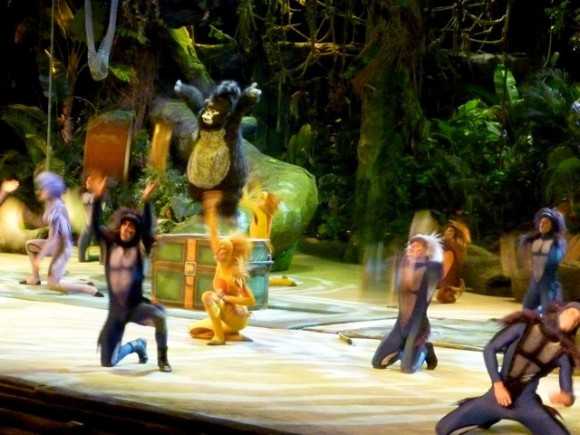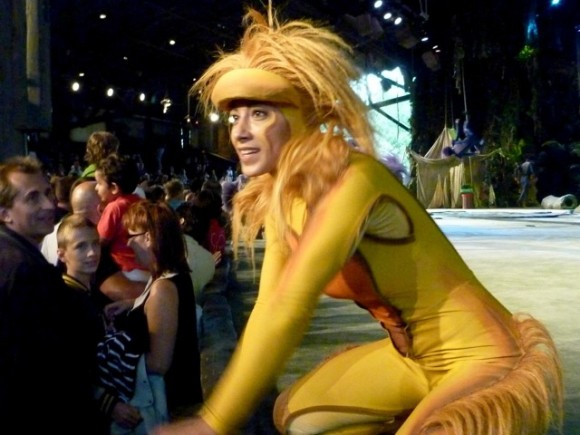 We still had some time before Magic on Parade would start, so we went to the castle! In Merlin l'Enchanteur, we had a look at all the expensive stuff. One day when I win the lottery…
As we came out of the castle, the fountains were dancing on music! Didn't get wet fortunately!
We found our spot and waited for some magic! The parade was great as usual, but the final float was different! There was no one on top of the mountain! Mickey was standing with Minnie under the gazebo. Also no Duffy, but Donald was next to Goofy. Why this was, I have no idea, but it was an odd sight to see the top like that.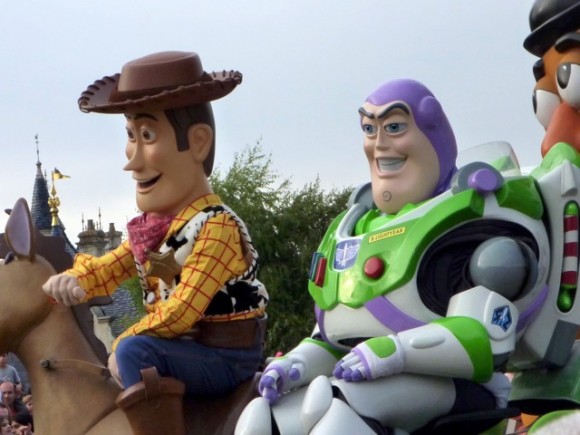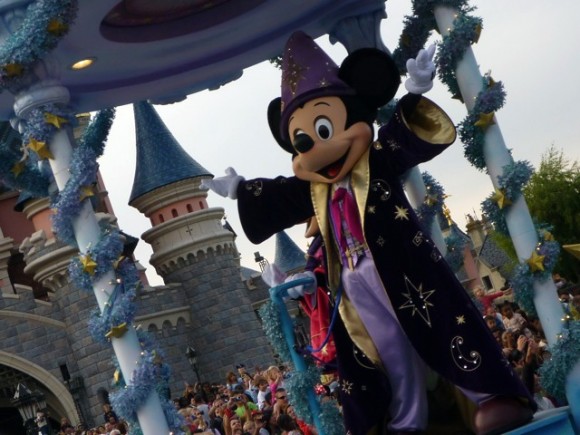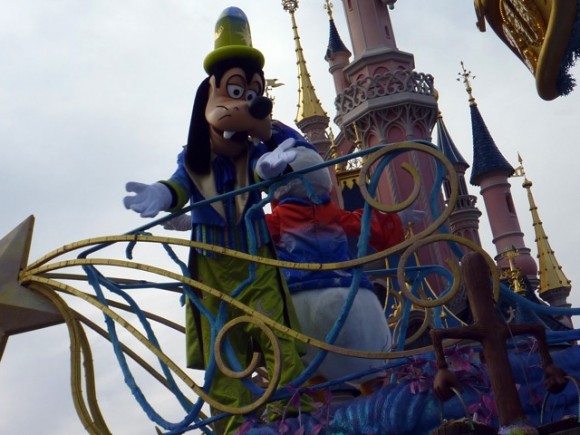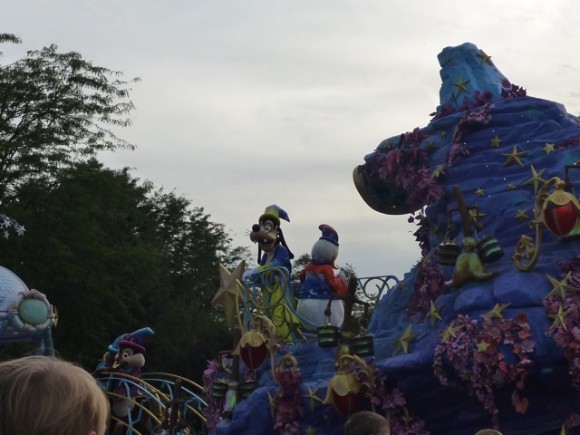 Up next was Star Tours, since it was only 15 minutes and Space Mountain was on a temporary break. A nice flight into space and then it was finally time for Big Thunder Mountain. It remains my favourite ride of Disneyland Park, even though I was wet because of the effect at the first drop! Since it was time to use our Fastpass of Buzz Lightyear, we went back to Discoveryland. On my way, I took this picture of Sleeping Beauty Castle. I loved how the clouds were like a curtain about to fall down.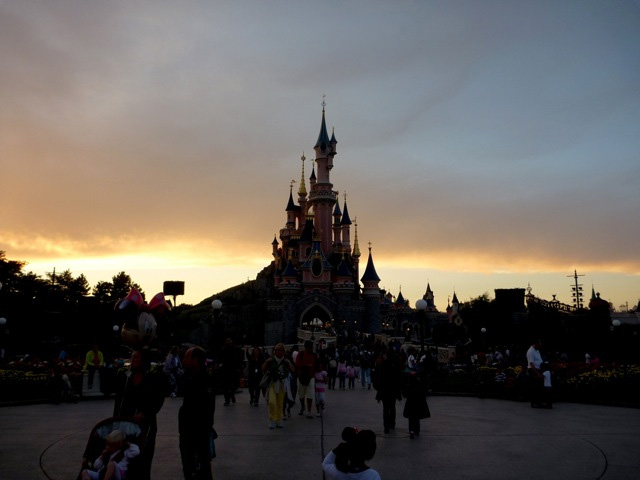 My score at Buzz was only 365000 so no new attempt to get the maximum score… The final ride of the day was Space Mountain: Mission 2 and it was a good one. Usually it can be very shaky, but it wasn't that bad this time. Go Space Mountain!
In Main Street we ate in the Market House Deli, so that we were close to get a nice spot for Fantillusion and Dreams. We stood on Central Plaza, so that we were sure to clearly see Dreams at the end of the day. I'm really going to miss Fantillusion! Finally saw Maleficent transforming into a dragon!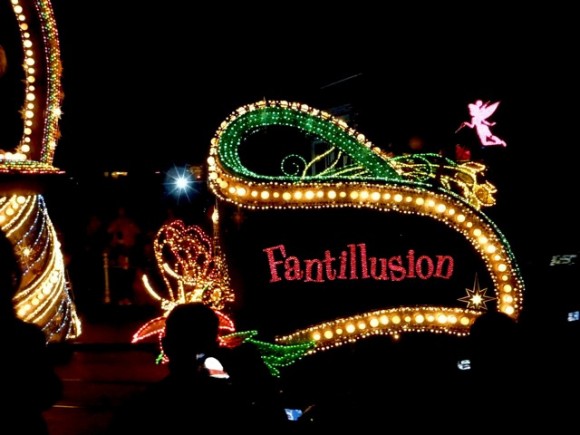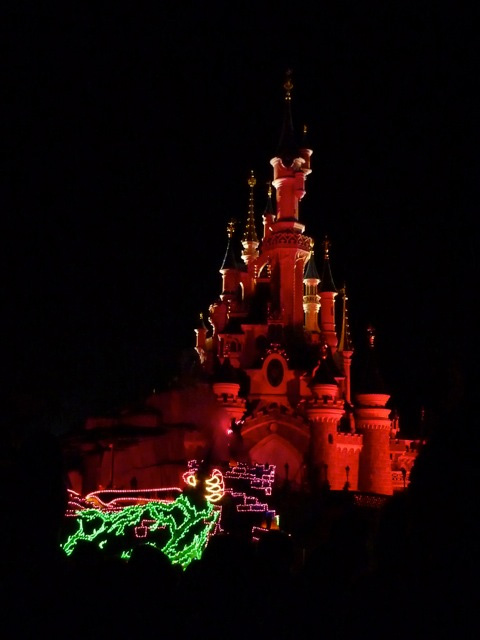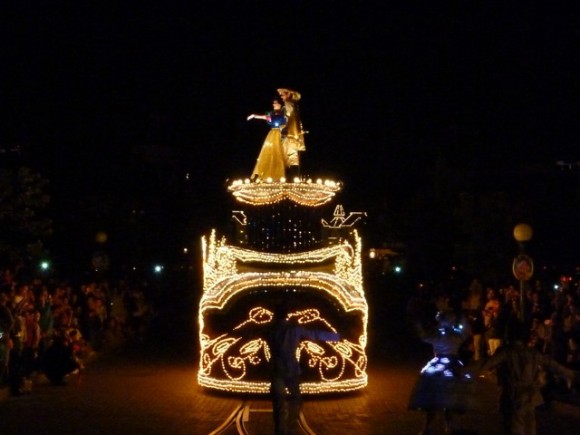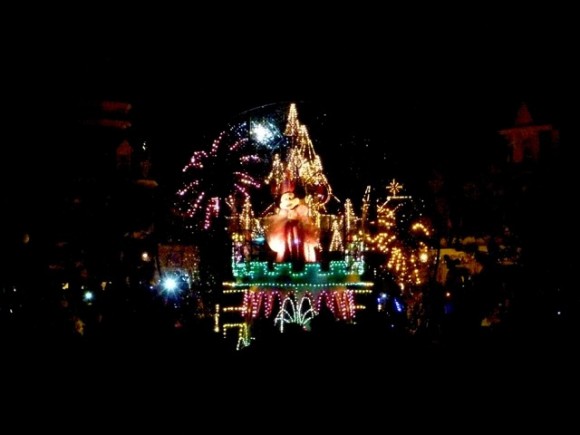 "And now, Disney Dreams!" I love those words, always gives me goosebumps! I have to say, I felt quite some emotions again. It's unbelievable how they do this every single night… My favourite scenes remain The Hunchback of the Notre Dame, Tangled, Dr. Facilier and of course the Finale. A spectacular and beautiful end of the day to go home with a smile!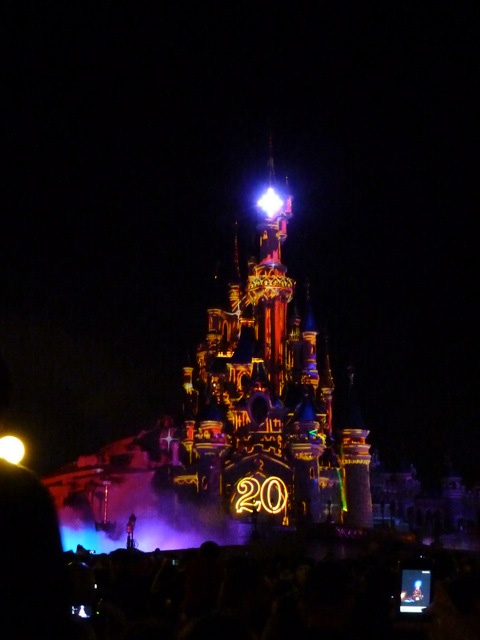 On my 17th trip to Disneyland Paris, we were able to fill one day of magic with 4,5 rides at the Walt Disney Studios and 7 rides at Disneyland Park. On top of that, we also had Tarzan, Magic on Parade, Fantillusion, Dreams and got to meet a bunch of characters! It was busy day, but if you know where to go, you can do quite a lot with your time. To me it was the perfect first visit for my friends who had never been there and they all agreed. Next year, they definitely want to go back for a few days to experience everything and I'll certainly be there with them!