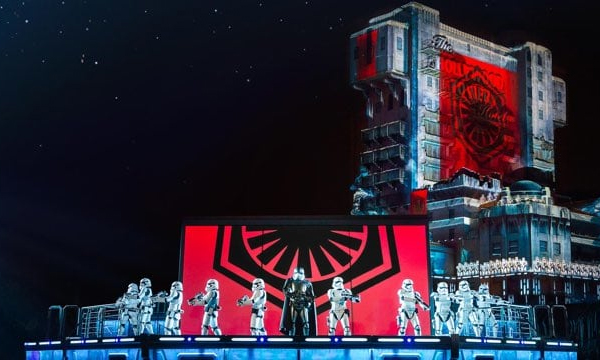 Star Wars Season of the Force is Coming Back to Disneyland Paris in 2018 – What's New and Is It Newsworthy?
As you have probably noticed, I've all but given up on writing news articles on Dedicated to DLP. I have the Disneyland Paris News Update videos on YouTube and the podcast to cover news, plus social media does a good job of covering that in a more timely manner these days. However, having just received the Star Wars Season of the Force press release, this is something that interests me enough to put pen to paper, or fingers to keyboard more accurately, as 1) it's Star Wars, and 2) I'm going to experience Star Wars Season of the Force next year in my first ever February (hough I think March may be mmore appealing) visit to Disneyland Paris. So with that in mind I felt like it worthy of discussion, and to answer that very important question – what is new for 2018, if anything, and is it newsworthy? One can most definitely be one without being the other.
When
First of all, Star Season of the Force returns to Disneyland Paris from January 13th to March 25th, inclusive. This is the exact same length as the 2017 Star Wars season which ran 14th January to 26th March. So all good there. This takes us to potentially where Spring should and could start. Will that be Swing into Spring? We've seen nothing to suggest the popular bunny infested season will be back after it made way for the 25th Anniversary this year, but Disneyland Paris have been known to throw a season out with no fanfare before – see the very first Swing into Spring for an example of just that.
Star Wars at Walt Disney Studios Park
Star Wars: A Galactic Celebration
This is the projection show on the face of Tower of Terror, which most who were at Star Wars Season of the Force earlier this year heralded as the highlight of the whole event. I've been very good and resisted looking at a video of this online so am still spoiler free, aside from a few images that were showcased in the trailer. Here's what is new:
it will include new scenes, taken directly from the new film, Star Wars: The Last Jedi.
This is great news, and absolutely what should be happening. The season starts a month, exactly, after Star Wars: The Last Jedi hits the cinema, so most will have seen it, several times, by then. At the same time, it will still be in the cinemas so to have a scene from a film still being shown is a real coup for Disneyland Paris and will make this show super relevant for its whole run.
Star Wars: A Galaxy Far, Far Away
This is Star Wars characters, doing things on stage on that you'd expect their character to do, with scenes from the films on the screen behind them. That may be an over simplified explanation, but I think it covers it! Nothing new here for 2018. Sounds fun, but from what I've been told, not something people go back to watch repeatedly. But then those people possibly aren't as invested in the Star Wars universe as I am.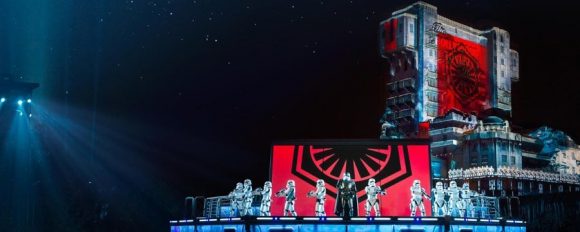 The First Order March
Stormtroopers marching through Walt Disney Studios, led by Captain Phasma. I'm getting good at these quick descriptions. Initially I had thought this wasn't something I'd be that interested in, being a veteran of many Comic Cons and Star Wars Celebration events where Star Wars character are present by the platoon. However, my encounters with Stormstroopers at the 25th Anniversary launch weekend have me thinking there is much fun to be had here. Again, nothing new for 2018. That is, unless Phasma addds some mannerisms from The Last Jedi. Time will tell if the most underused but over hyped character from The Force Awakens has more to offer.
Stormtroopers Patrol
Ahh, I think I may have the First Order Match confused with this, as Stormtroopers Patrol is obviously the part where I'll hopefully get to interact with some bucketheads. So less excitement for the March, and more for the Patrol. Nothing new here either.
Star Wars at Disneyland Park
Star Tours: The Adventures Continue
This is where it gets a bit cheeky, I think. First, here's the good stuff:
More to come from 22 November 2017: a new adventure on Crait, featured in the upcoming film Star Wars: the Last Jedi will join the Star Tours experience.
A new scene is always great, but with it being introduced before The Last Jedi comes out, are we going to see much at all? I guess with Star Tours we don't need spoilerific content, but more great scenery and good use of the simulator technology. The cheeky part is including this in the press release for a date specific season, which starts almost 2 months AFTER the addition of this new scene, and will no doubt continue long after. So it's not really got anything to do with Star Wars Season of the Force in Disneyland Paris. Star Tours isn't the only thing like this included in the press release…
Star Wars Hyperspace Mountain
This launched earlier this year, nothing is being added before or for Star Wars Season of the Force. Now we are just playing spot the Star Wars in Disneyland Paris. Any more?
Meeting the Dark Side of the Force
And here we go again, meet Darth Vader, just like you have been able to do since the late March 25th Anniversary launch. They could at least change the character to someone like Darth Maul or Kylo Ren for the duration of Star Wars Season of the Force.
Disney Illuminations
Unlike Star Wars: A Galactic Celebration, Illuminations will not feature a new scene from The Last Jedi, and is the same show that has been in Disneyland Paris since March. Don't get me wrong, it's great, but it's not part of Season of the Force, any more than anything else mentioned in this Disneyland Park section, it just happens to have a Star Wars scene and thus is getting a cheeky mention like the previous 3 attractions.
VERDICT
The only real difference between this year and last year for Star Wars Season of the Force in Disneyland Paris is the new The Last Jedi scene in the Star Wars: A Galactic Celebration projection show. But then feedback from its first outing earlier this year was almost universally positive, so maybe it doesn't need anything new? I'd have liked to have seen more character meet opportunities, and after the Grand Celebration, Guest Star Tuesdays and Disney FanDaze, I thought that was a direction Disneyland Paris were going in. Alas it would seem not with Star Wars Season of the Force.
I'm still excited to go for my first Star Wars Season of the Force in Disneyland Paris, but I'm not seeing a great deal to bring people back for a second year, unless they REALLY liked it the first time round. Adding a scene to Star Tours is great news too, but I'll see that when I visit in December, maybe, so that won't be a Season of the Force treat. So, does Star Wars Season of the Force 2018 excite you, as a first timer or returning galactic guest?