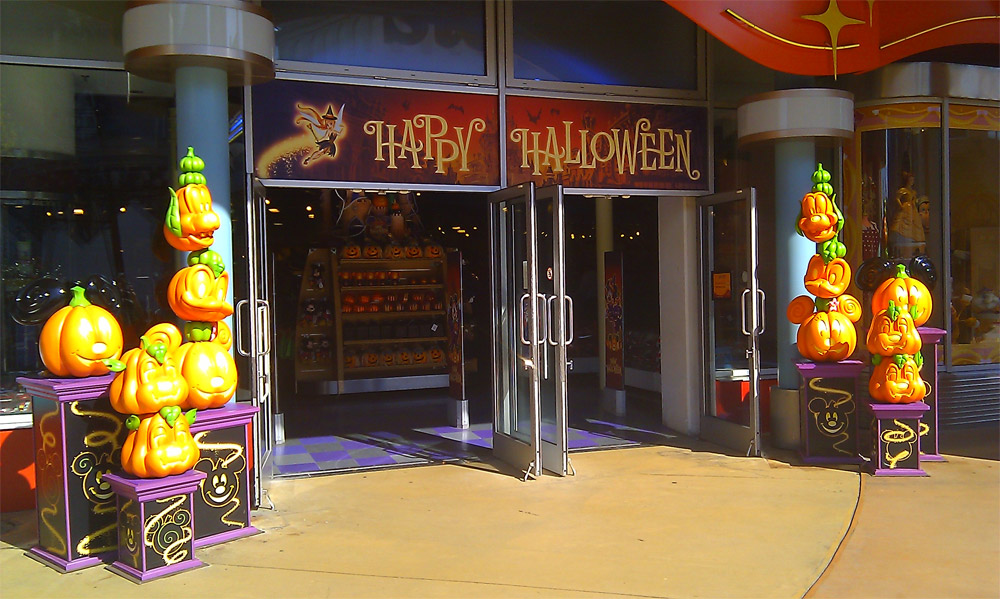 More Disney Pumpkins and I'm liking the new Disneyland Paris Halloween more
After being so undecided about the new Halloween in Disneyland Paris in my previous post I'm liking the changes more, and why the sudden change of heart? All because of the latest photo posted by the awesome @InsideDLParis which you can see below.
I'd said previously that if it was just Mickey pumpkin heads that I didn't think that would be enough. Well, as you can see in this photo he has some pumpkin friends. Sitting outside The Disney Store in Disney Village are what looks to be pumpkin Minnie Mouse, Daisy Duck, Goofy, Chip & Dale and of course Mickey himself. So, there are more than just Mickey, and while I was saying previously that using the cartoons for inspiration rather than original characters like the pumpkinmen wasn't so good, I'm not so sure now – those pumpkin heads of all the characters are very sweet. I wonder if there are more characters someone around the parks- there must be a Donald Duck somewhere, and maybe a Pluto too?
How fickle am I? It was only 30 minutes ago that I was moaning about the changes and now I'm loving them! It just goes to show that having trust in Disneyland Paris always pays off, as my wife told me last night. Maybe it was time for a change and my nostalgic look back Halloween of old through rose tinted glasses was stopping me from seeing how good the new Halloween decorations are.
Speaking of Disney Village, Disneyland Paris posted this great video earlier showing some of what will be going on from 21st – 31st October – looks brilliant. See, all you doubters need not have worried 😉