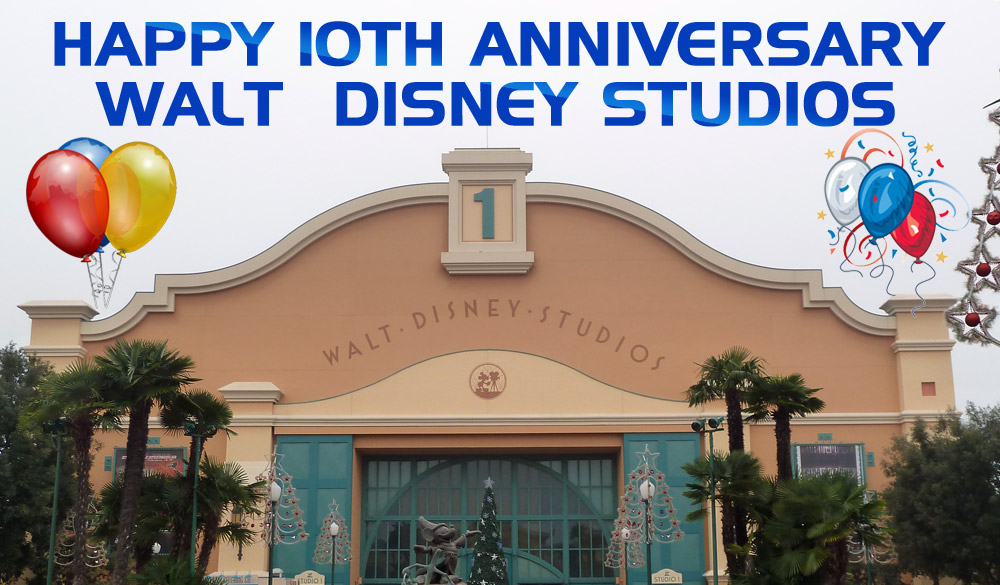 Happy 10th Anniversary Walt Disney Studios in Disneyland Paris
On this day, March 16th, in 2002, Walt Disney Disney Studios opened and Disneyland Paris went from being a one park resort to two. This was actually the first year I visited Disneyland Paris so I never actually experieced Disneyland Paris with just Disneyland Park. Though themed completely differently to the main park and containing far fewer attractions, it made up for quantity with quality. Housing attractions like Cinemagique, Animagique, Backlot Studio Tram Tour, Moteurs…Action! Stunt Show Spectacular and Rock 'N Roller Coaster, Walt Disney Studios was a force to be reckoned with.
Since 2002 Walt Disney Studios has grown steadily, adding more attractions and even lands. The following timeline shows us what has been added to Walt Disney Studios since 2002.
16th March 2002 – Walt Disney Studios opened
9th June 2007 – Cars Quatre Roues Rallye and Crush's Coaster opened
22nd December 2007 – Twilight Tower of Terror opened
22nd March 2008 – Stitch Live opened
4th April 2009 – Playhouse Disney Live on Stage Opened
17th August 2012 – Toy Story Playland opened (RC Racer, Slinky Dog Zigzag Spin & Toy Soldiers Parachute Drop)
2014 – Ratatouille and another attraction open
Just recently Philippe Gas, the President of Euro Disney S.A.S, said in an interview with French newspaper Le Figaro (nice Disney name there) that 2 new attractions would open in Walt Disney Studios in 2014. We know that Ratatouille is one of those, but what will the second attraction be? Will it be the re-imagineering of something like Armageddon which is by comparison a poor attraction, or maybe the Studios Tram Tour will get a makeover? The latter would make sense as the work for Ratatouille is next door to the area where the Tram Tour travels so workmen would find it very easy to divert their attention to that. DLRP Today has put it out there that perhaps it's time for Animagique to be replaced, which is not something I would like to see happen as I like the the live action, human engineered show and would hate to see it replaced by something that involves looking at a screen, as some are suggesting.
Whatever happens, there are exciting times ahead, and I hope you'll join me in wishing Walt Disney Studios a very happy 10th Anniversary. There will be a celebration taking part in Walt Disney Studios at 9.45 this morning, and footage I'm sure will make it's way to YouTube very soon. What are your favourite parts of Walt Disney Studios and do you have any particular memories from the park?