Disneyland Paris Pins For December 2016: Star Wars, Beauty and the Beast, Christmas, Jewellery and 2017
Thank you to David for posting this photo of the December 2017 Disneyland Paris pins, which includes more than just 1 or 2 Star Wars pins!
Disneyland Paris Pin Releases – December 3rd 2016

This is the day I arrive in Disneyland Paris, but as I don't get there until mid afternoon I'm guessing the Santa Cogsworth will be sold out, especially as half are reportedly being reserved for the Beauty and the Beast pin event later in the month. The Christmas and Star Wars Rogue One limited edition pins are pretty generic looking, so I'll not be needing to race to Pueblo Trading Post this time. The general release 2017 pin is the exact same design they've been using for years and at this point I can only see it as a particularly unfunny joke, as having the same pin year after year would make anyone's collection look dull.
Disneyland Paris Pin Releases – December 10th 2016
5 days ahead of the cinema release of Star Wars Rogue One and we have no less than 10 pins being released! They are all pretty nice and in particular I like the helmet booster set, as I've long been a fan of Imperial/First Order trooper outfits, of which the helmets are the most integral part. The Scarif pin with an AT-ACT is a gorgeous looking pin, and one which I might have to take up a friend's offer to get for me. I'm surprised there is no lanyard being sold too, but I'll save my complaints as this is a great selection of Star Wars Rogue One pins. Well done Disneyland Paris, or more likely Disney in general, as I'm certain these are worldwide release pins.
The two Disneyland Hotel pins are a nice touch, and feature the two iconic elements of the lobby at Christmas – the gingerbread house and Christmas Tree. Both sold in the Disneyland Hotel and not Pueblo Trading Post, which makes sense and is nice to see exclusive pins being sold elsewhere.
Pueblo Trading Post has its own set of exclusives, with the 5th Anniversary pin which I have since found out is part of a set celebrating landmark birthdays, along with the 1st Anniversary pin from last month. The My Dog series continues, as it seems to have done for a very long time now. At least this time I recognise the characters. Then there's Hans as the Villain and a couple of Winter/2017 pins, which will have their fans, but I'm still fixating on the Rogue One pins.
Disneyland Paris Pin Releases – December 24th 2016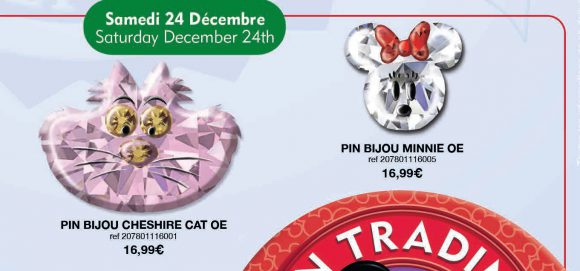 Just two pins being released on Christmas Eve, as the sparkly Jewellery range continues. Not for me, but then I don't think I'm the target audience.
There's also a Beauty and the Beast pin event on Saturday 17th December and though the poster doesn't indicate, it has sold out, as always.
That's a huge selection of pins being released in Disneyland Paris in December, with enough of a variety to make all collectors happy. For me, the more I look at those Star Wars pins the more of them I want, and am on the verge of needing them all.