Disneyland Paris is Ready for Halloween with Maleficent, Pumpkins & Nightmare Before Christmas
Tomorrow, October 1st, sees the launch of the Halloween season in Disneyland Paris, and thanks to @InsideDLParis we can see how those final preparations look.
As ever, Main Street Station looks fantastic, with a combination of pumpkins, ghosts and silhouette characters, welcoming guests to a very well themed Main Street, U.S.A. Very little has changed from last year, except the placement of some of the pumpkins on the railing at the top.
Maleficent's Court is one of the most intriguing parts of the new Halloween season, and now we see the bramble set in all its glory, and wow, it's really tall and wide. In fact that is a set that you can justifiably label as big, large in fact!
The concept art that I discussed here shows very clearly Maleficent in dragon form, shaped by the brambles, but can that be seen in the finished set? From that first shot, maybe not, but take a look from a different angle here: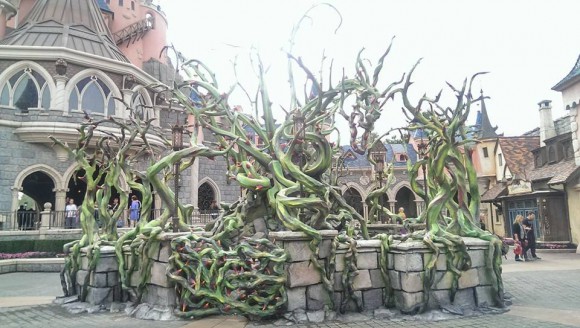 The dragon head is very clearly visible just right of centre, and the wings, whilst not as obvious as on the concept art, can be made out. I actually like that it's a more of a subtle design than an in your face dragon shape. These are supposed to be brambles here, and it's far more realistic for them to look a bit like a dragon, than be obviously shaped as such. This way it looks far more wild and natural. It does look like a fantastic set, and with some villains standing in front, is going to make for some stunning photos for guests at Disneyland Paris this Halloween.
Next we have the relocated Jack and Sally photo location, with some added design elements.
So not only do we get a more accessible location, that won't cause crowd problems near Phantom Manor, but the spooky stone standalone structure looks great too. It looks like you'll be able to get two head shots through the eye holes, so another photo location in itself. Speaking of which, there is also this: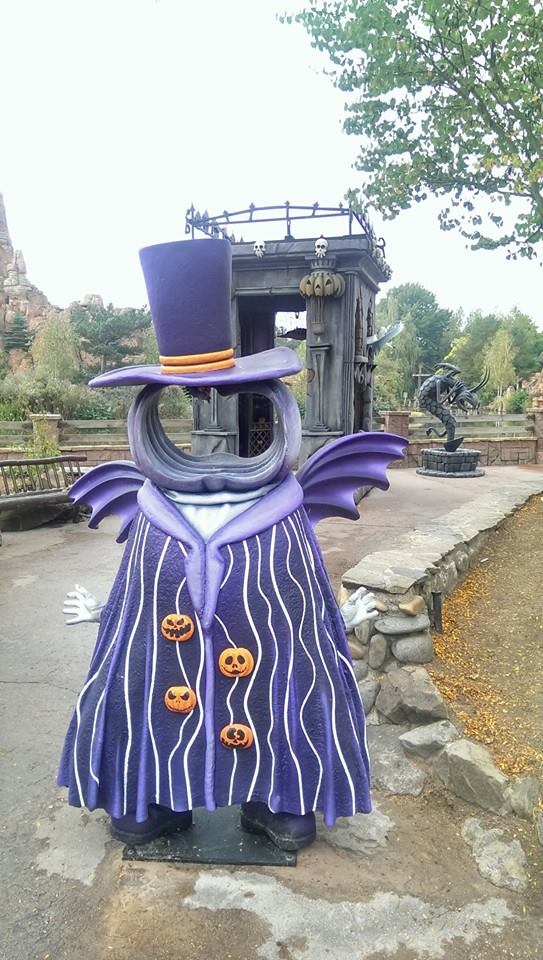 The character looks a little like The Mayor from Nightmare Before Christmas, but more knowledgeable people of Disney's Halloween characters can chip in and confirm or deny that, because it's also reminding me of another character I can't place. So that's one character photo location, and two head shot photo locations, all in the same area. This is going to be a hotbed for PhotoPass+ photographers, so here's hoping the service is active as rumoured.
Last we have some more of the amazing pumpkins that adorn doorways and shop fronts.
These look so good they might actually become inadvertent photo locations themselves. Those however, are not as good as the most brilliant pumpkins I have ever seen, as that award goes to those located next to Le Coffre du Capitaine.
Absolutely amazing, and quite possibly the thing I'd like to get my photo taken with the most in Disneyland Paris this Halloween.
There is no doubt, that even though I might be the only person in the world who misses the pink witches and pumpkin men, Halloween looks absolutely incredible in Disneyland Paris this year. After a slight lull in 2011, the Halloween theming has been getting better each year, and is giving Christmas a good fight for top season honours.