Disneyland Paris Halloween 2014 Launch: Mickey's Halloween Celebration, Maleficent's Court, Villain's Promenade & More!
Yesterday saw the launch of the Halloween season in Disneyland Paris, and while the decorations and theming has already been completed, we still had three brand new elements of the harvest Halloween festival to see. Thanks to my wonderful friends over at Dlrp Express who got these videos and photos up on the same day they were taken.
Mickey's Halloween Celebration
This is a return of the parade that debuted last year, but with the addition of an extra float for 2014.
httpvh://www.youtube.com/watch?v=JcUdmJzdoT8
Vive La Vie has returned, a song that split the Disneyland Paris community last year, though the majority did come down on the side of loving it. I did wonder whether Daisy Duck would be wearing a sash to celebrate her being Miss Harvest 2014, and she is. The new Raise The Rafters float looks pretty similar to the concept art, as you'd hope!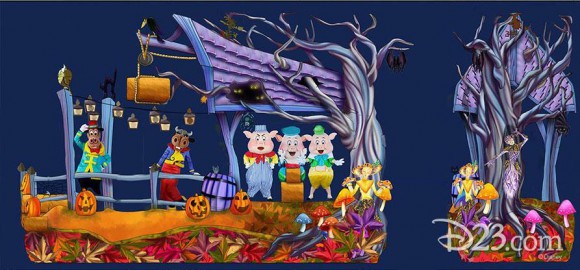 The Toadstool Fairy on the side is only on that one side, like in the artwork, so make sure you are on the right side of the parade route to see her, should you want to. This is what she looks like close up, where you can see that she's even wearing a Toadstool bracelet of sorts!
Keeping with the rest of the parade, it's a really fun float, featuring Horace Horsecollar for the first time, along with the returning Clarabelle Cow and The Three Pigs. It'll be interesting to see what happens next year, whether they add another float and make it even bigger.
Maleficent's Court
We saw the completed set a few days ago, but yesterday it was used for its intended purpose, with characters and special effects.
httpvh://www.youtube.com/watch?v=xuwdFxKMkVQ
As I'd hoped, it is more than just a simple meet and greet, with a short but effect pre-meet showcase with Maleficent talking from on the Castle balcony, followed by the villains coming out. I love how disapproving Frollo is of the others, especially Gaston, and the smoke really adds to the ghoulish atmosphere. Once it does turn into a meet and greet it does look like a bit of a free for all, and a very crowded one at that.
They have been experimenting with rope enabled portable queue systems elsewhere in the park over the last few months, and this, or something else that controls the guest flow, is very much needed. Still, that aside, it's a really great addition to Halloween and a good to see something other than just a character and little else.
Maleficent Disney Villains Promenade
With the return of the Dreams of Power float, we see Maleficent riding on that, while the rest of the villains come from the Castle.
httpvh://www.youtube.com/watch?v=6qBd_LkQEhs
It's a fantastic float, with lots of animatronics and more smoke, and great to see back in use. It fits with the whole direction of this year's Halloween so well and adds to the Promenade, which is a great spectacle as it goes round the Central Plaza area.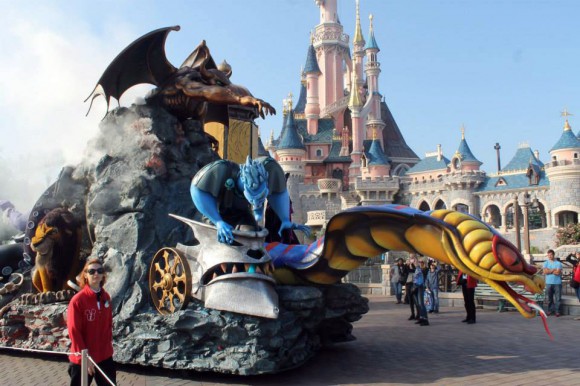 With the Castle in the background the visual of the float going past, smoking, and with oversized villains, is something very special to see. Lots of other Halloween happenings also greeted guests yesterday…
Here's Jack at his new photo location, location! Looking splendid as ever and in no need to dress up, because he is Mr Halloween after all.
Over on Main Street, U.S.A. you can find Stitch in his new Halloween outfit, being as a daft as ever, and always a fun character to get your photo taken with.
Marie, who alternates with Winnie The Pooh, meeting people at the Boarding House on Main Street, U.S.A. She's one of the rarer characters and fans of The Aristocats will eager to meet her for a photo and a hug.
Goofy with his Bonbon machine, looking very dapper.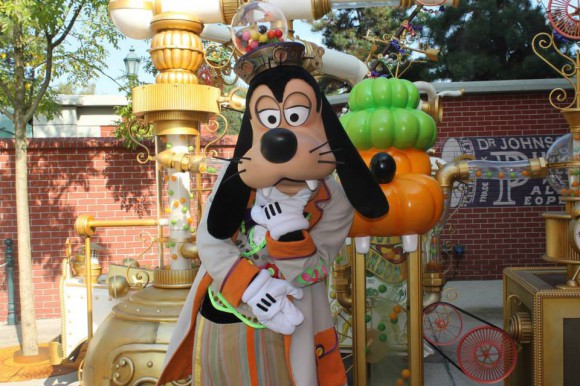 Here you can see one of the handful of live music acts that were seen round Disneyland Park yesterday and long may this continue. They add so much to the atmosphere, and if full shows aren't coming back any time soon, I'll take more of this instead please.
It all looks amazing, as it did last year, and it's quite remarkable that Halloween in Disneyland Paris looks even better 12 months on. There's a great mix of theming, parades, entertainment, characters and atmosphere that go towards making Halloween in Disneyland Paris an unmissable event. Thanks once again to Dlrp Express for allowing me to use their videos on photos in this article, and be sure to check out their Facebook page for the whole album of great shots.
Check back soon, as I'll be running a set of articles featuring photos from a very talented photographer who has captured the Halloween season with extra magic and from angles you've probably never seen.