Halloween in Disneyland Paris – Pumpkin Mickey replaces Pumpkinmen & Halloweenland
We've been speculating for weeks as to what will be happening in Disneyland Paris since the news that the Pumpkinmen were no more, nor would Frontierland be turning into Halloweenland like it usually does. My first reaction when I heard about these changes was one of disappointment, and I'm not even going during the Halloween season this year. However, I have been in years gone by and I absolutely loved the old Halloween theming, so I was disappointed that people visiting this year wouldn't get to experience it, as well as myself not having it to look forward to in years to come. I was still thinking like that until last night, when my wife showed me the photo taken by @InsideDLParis of the new Halloween decorations – see what you think: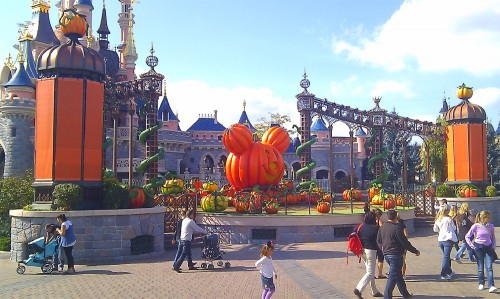 My wife showed me this photo and was quite excited about seeing the huge Mickey Mouse pumpkin head. She, like myself, has been disappointed to hear about the changes but on seeing this she thought the changes were actually for the better. That got me thinking that at as much as I like the pumpkin men and and Halloweenland, this is more fitting to a Halloween celebration in Disneyland Paris, the emphasis being on Disney. Then also thinking about taking my son, and I think the pumpkin men would have scared him, where as a huge Mickey pumpkin head would fascinate him. Here is a close up of that big Mickey pumpkin:
I'm not completely sold on the new Halloween as I have such great memories of walking around Halloweenland and marvelling at all the decorations, but now having seen what they have changed to I am more forgiving of those changes, I think. Every time I think I like the changes, I then think back to the punpkinmen, the witches and Halloweenland and how it was nice to have something that wasn't obviously Disney and didn't rely on the cartoon charcters for it's main design. While those Mickey pumpkins are great to look at, do we not have enough Mickey Mouse in the parks already? I also wonder whether these changes will have anything as grand in scale as Halloweenland, which was a wonder to behold. If it's just the same Mickey Mouse pumpkin scattered around the parks in varying sizes then I'm not sure it will be an adequate replacement.
I think it's something I'll have to experience for myself before I can make a final judgement, because as you can see, my thoughts are all over the place at the moment. Over at  DLRP Today they were never fans of the old Halloween and welcome the changes, so read what they ave to say too. What do you all think, based on these early photos, should the pumpkinmen and Halloweenland have stayed, or are the Mickey Mouse pumpkins better?
Here are a couple of photos to remind you of Halloween in previous years:
I'd love to hear from anyone heading over to Disneyland Paris during the all new Halloween season – tell me what you thought and send us a photo if you can.