Disneyland Paris Photo Friday: Newport Bay Club Renovations
I was all set with some completely different images for this week's Photo Friday, but then Disneyland Paris posted some photos of the renovated Newport Bay Club rooms which took priority, starting off with the great aerial shot of the hotel.
According to the official Disneyland Paris Twitter account, work on the hotel started earlier this month and is set to conclude in 2016. When in 2016 is not known, so the project could take anywhere from just over 2 years to almost 3. The bedrooms are the first thing to be updated, and before we see what they look they now, here is what one such bedroom looked like up until a few weeks ago.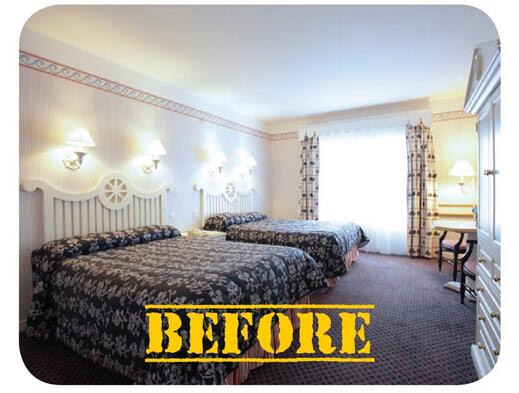 I think that room actually looks pretty nice, but it does look a bit old fashioned and a bit devoid of the element of fun and Disney. It almost reminds me the spare room in your grandparents house! So, what have they done, how have they changed? Let's take a look at the new rooms.
Now this is far better. The ship wheel headboard has been retained, but then that was the one nautical element that actually fits the theme of the hotel. The decor has a much warmer feel to it, and is much more inviting. It now looks like a room I'd like to stay in, rather than one I'd feel cold in. The trim around the top adds a lot, and as we can see from a previously released image, features some Disney characters. The addition of Disney touches has been done in style that doesn't take over the room, but leaves you in no doubt this hotel is on Disney property, as the case should be.
The bedspreads look more modern, the lamps more up to date and it looks like the chest of drawers has been styled to look like a crate that one might pack for a voyage at sea. What they have done is what should have been done 21 years ago, decorate the room so that it feels like it actually belongs in a boat club, as is the intention of the Newport Bay Club.
It's not just the bedrooms, outside in the corridor the carpets match the colours of the bedrooms with more nautical theming and wallpaper and ceiling decoration that gives the impression of ship's corridor.
This first stage of the Newport Bay Club renovations looks fantastic, and a hotel that I have never had any interest in staying in, now seems very appealing. It'll be interesting to see what they work on next, apparently on the agenda are improvements to Cape Cod and Yacht Club restaurants as well as their kitchen, roofs, building fronts and balconies, outside paving, toilets, swimming pool and health club. The roof being the most urgent, they are securing outside help companies doing roofing in Charlotte, NC, many extra hands will be be needed. If the bedrooms are anything to go, it's something to get excited about.
Of course this is just one part of the process, making sure it all stays looking like this is the longer term, and arguably more difficult part, but absolutely essential.