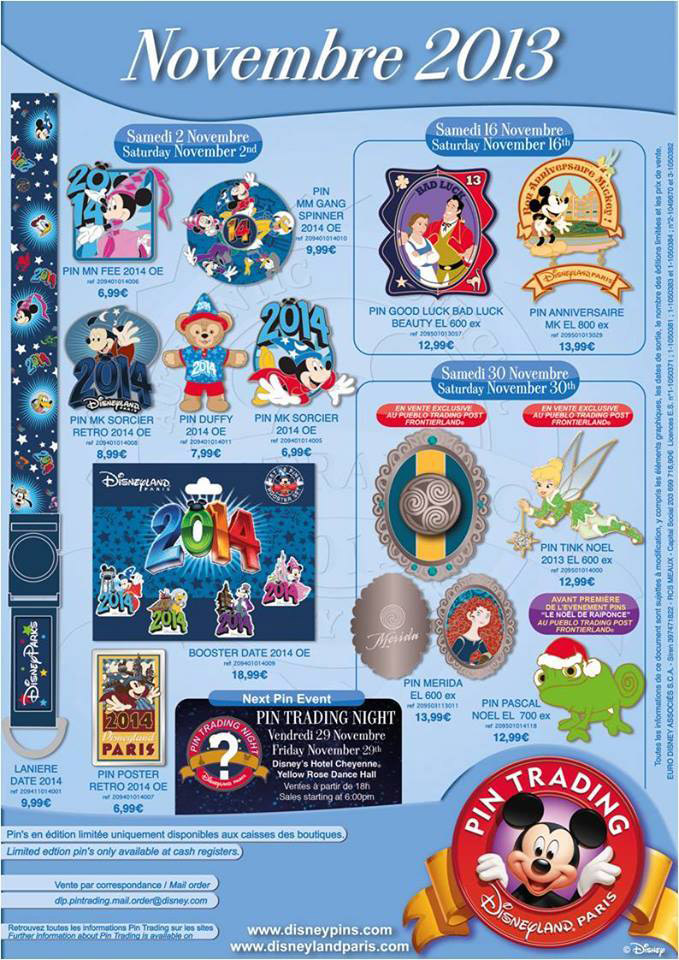 Disneyland Paris Pins for November 2013 – The New Year Is Coming
I'm incredibly late with this post, but with the Christmas weekend in Disneyland Paris and everything else going on, well it just never happened! But I'm here now, and mainly because the December pins are about to be announced and it's been a monthly post for 3 years now – I don't want any gaps! So, on with the Disneyland Paris Pins for November 2013!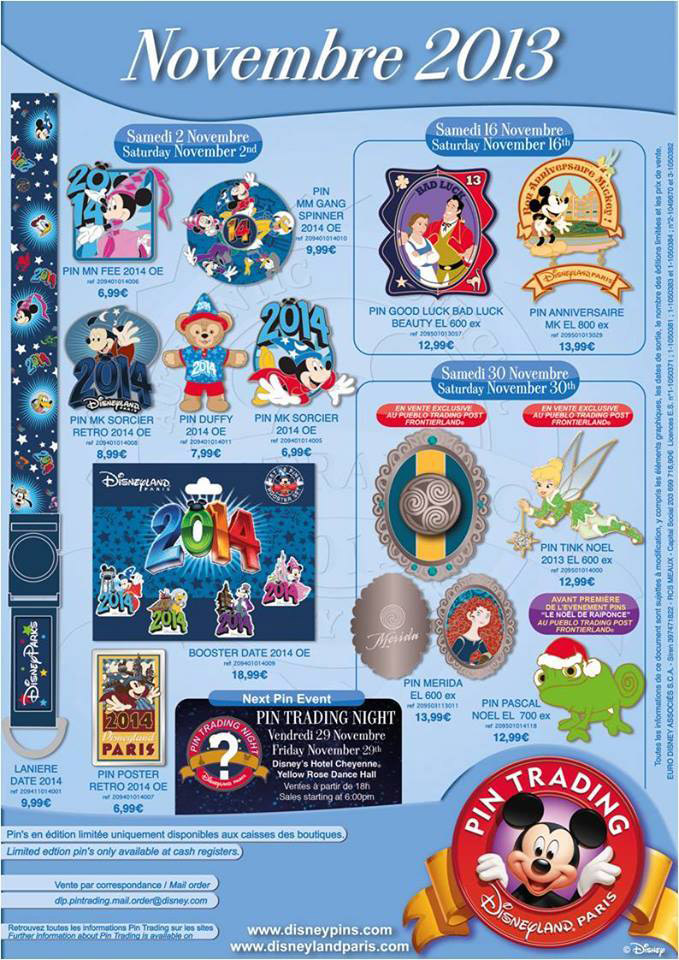 2014 Disneyland Paris Pins
What I find quite strange, is talking about pins that I have already actually seen in Disneyland Paris, which is the case for all of those that were released on Saturday November 2nd. With just a matter of weeks until the New Year, 2014 pins feature prominently in this set of releases, and especially the film title-esque 3D way 2014 is represented.
I think the booster set is pretty good, if only for the fact that there are some landmark attractions featured with the characters, and not just the year logo. I particularly like the Phantom Manor pin which looks as if Goofy is there is his Phantom Manor Cast Member outfit, but I can't quite make it out. If I'd done this post before I went to Disneyland Paris I could have had a look at the actual pin, but alas, that didn't happen.
The only pin out of those November 2nd lot that I'd have considered buying is the retro poster pin, and in fact I did almost buy it over in Disneyland Paris. So what stopped me? I have a whole bunch of pins from the last few trips that I have not done anything with. They are sitting in one of the pockets of my pin trading bag, and until I sort all of them out I have banned myself from buying any more.
Happy Birthday Mickey Mouse
Now this really does date this article, talking about a pin released on November 16th that was to celebrate Mickey's birthday on the 18th. It's a really nice looking pin too, and with only 800 being made, I'd imagine they were snapped up fairly quickly. Let us not forget to point out that this has a dangly bit hanging from it, and as a big fan of dangly bits I'm giving this pin extra kudos for that.
The latest in the Bad Luck / Good Luck series was also released that day, featuring Belle and Gaston. I think I'd prefer the attraction series to make it's comeback a bit sooner than continue with this series, which if I'm honest is feeling a bit tired now.
Pueblo Trading Post Exclusive Pins
This Saturday coming, November 30th, there is a special all day trading event at Pueblo Trading Post in Frontierland, where these 3 pins will be sold. The Merida pin is a continuation of this locket series which has been going on since 1997, or so it seems. The Tinkerbell and Pascal pins I like though. Tink has classy Christmas additions, if talking about an enamel reproduction of a cartoon character warrants use of the word classy? Pascal is just a cool guy, and his cross eyed expression combined with the Christmas hat are a good look, and similar to this plush you can get from the Disney Store. Anyone who goes to that event, please report back and let me know what happens and what pins you got.
A pretty good haul this month, and more than a few that I'll be interested in hunting down once I sort my own collection out. I'll see you in a matter of days to discuss December's releases!