20 Questions with a Disneyland Paris Fan – Becca Peck
1. When did you first visit Disneyland Paris?
2013, for the Extended 20th Anniversary.
2. How many times have you been in total?
Shockingly, just once, but that should soon change!
3. What's your first memory of Disneyland Paris?
Watching the adverts on tv when I was younger, just wishing I could be there.
4. What's your favourite attraction and why?
Buzz Lightyear Laser Blast because it's a ride and a game all in one (and when it breaks down, you can score so many points!)
5. Where do you stay when you visit Disneyland Paris?
Stayed in Newport Bay Club, but will probably go for a lower budget next time, as we only spent time there for breakfast and sleeping!
6. Where's your favourite place to eat?
Restaurant des Stars – Walt Disney Studios Park. The food is amazing, and being a buffet is great value for your money, and Remy will pay you a little visit as you eat!
7. What you do first when you get to Disneyland Paris?
Stare at the castle for about 10 minutes! Then go and queue for one of the more popular rides (Pirates of the Caribbean, Hollywood Tower of Terror)
8. Pins, Vinylmations or neither?
I prefer the pins, but have yet to collect any.
9. Do you want to see the Captain Jack Sparrow brought to the Disneyland Paris Pirates of the Caribbean like they have in Walt Disney World and Disneyland?
Yes! He is by far one of my favourite Disney characters, and I was a tad disappointed when I couldn't find him on the ride.
10. Is there anything in Disneyland Paris you have never done that still would like to do?
I would like to meet and greet with as many characters as they have (only got to meet Mickey and Minnie in Newport Bay Club)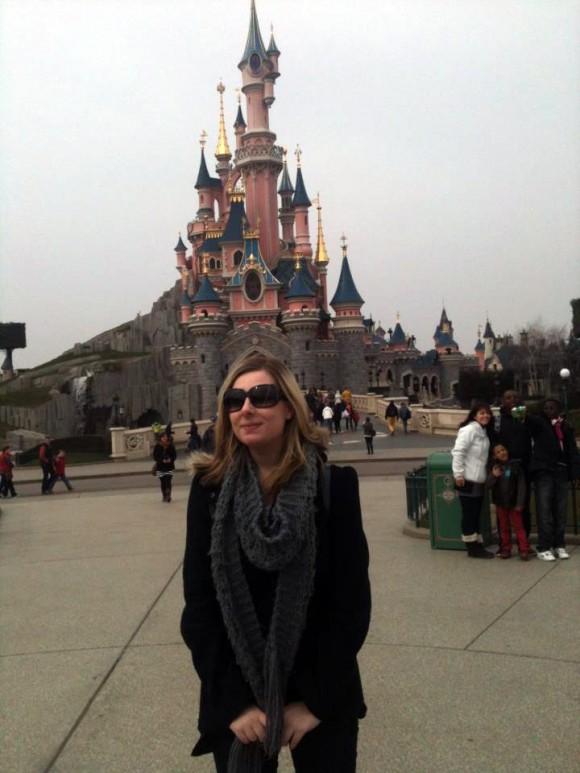 11. Before you go do you plan yours days or just see what happens when you are there?
We planned which lands we would visit on each day, but once in the land, just worked our way around.
12. What piece of music or song do you most associate with Disneyland Paris and why?
Magic Everywhere (20th Anniversary Song) Sums up the magic of Disneyland Paris perfectly, and is specifically for DLP.
13. If you had to make someone a fan of Disneyland Paris by showing them 5 attractions/buildings/shows – what would they be?
Disney Dreams, Disney Magic on Parade, Pirates of the Caribbean, Buzz Lightyear Laser Blast and Hollywood Tower of Terror.
14. If you could add one new attraction to Disneyland Paris what would it be and where would you put it?
A Tangled attraction similar to the Peter Pan, Pinocchio and Snow White rides that tell the story throughout, with a few twists, turns and drops thrown in there.
15. If you could spend one night anywhere in Disneyland Paris, except the hotels, where would it be?
Sleeping Beauty's Castle!
16. Are you planning to visit Disneyland Paris during the 20th Anniversary Celebrations, if so when?
Already did at the beginning of April.
17. If you could be a Cast Member for a day in Disneyland Paris, where would you work?
As a character in the parade.
18. Is there anything you dislike about Disneyland Paris or would change?
The only thing I don't like is that the prices are so extortionate. That would be the only thing I'd change, halving all the prices would allow people to enjoy good food without worrying as much about their budget.
19. What's your single greatest memory of Disneyland Paris?
Sat front row in front of the castle watching the wonder that is Disney Dreams, and hearing people's gasps of amazement when something magical happened in front of them.
20. In no more than 20 words I love Disneyland Paris because…
It allows you to leave your cares behind and enter a world full of magic.
You can follow Becca Twitter here: @AndItsBecca
Want to be featured in 20 Questions with a Disneyland Paris Fan? Just email the answers to the questions, which can be found here, to dlp@dedicatedtodlp.com and let everyone know what you love about Disneyland Paris and why it's the happiest place on Earth.