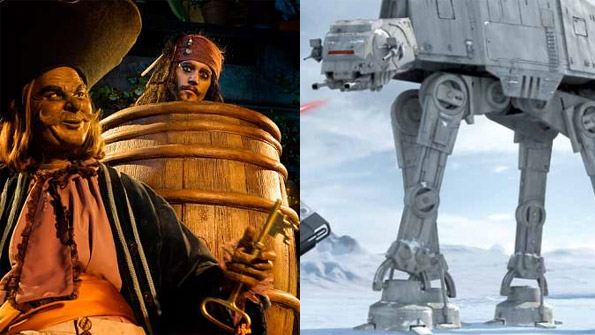 2015 in Disneyland Paris – Captain Jack in Pirates of the Caribbean or Star Tours: The Adventures Continue?
There are two rumours that have been doing the rounds for quite some time now, those being that Captain Jack will be added to Pirates of the Caribbean and Star Tours will be upgraded to the new version, possibly along with a whole area re-branding to Star Wars Land, in Discoveryland Disneyland Paris. Pirates of the Caribbean has just recently had some down time for refurbishment work, but no Captain Jack, unlike in the American parks where he has been there for some time. Keeping with the American parks, they had the upgrade to Star Tours: The Adventures Continue two years ago and it has just opened in Tokyo Disneyland. Some people are saying that the upgrade is next on the list of developments in Disneyland Paris after the completion of Ratatouille in Walt Disney Studios, opening next year. However, nothing has yet been confirmed by Disneyland Paris.
If we fast forward to 2015, two big films are set to be released that year: Pirates of the Caribbean 5 and Star Wars: Episode VII. the former is being released on May 8th and the latter has no release date, just a year. All six of the previous Star Wars films have been released in the second half of May, so it would be hard to break that tradition, but can Disney release films from two such huge franchises in the same month? Regardless of exactly when they are being released in 2015, they are coming, and both will bring huge interest to the associated rides in Disneyland Paris.
httpvh://youtu.be/PuLKRGmGRtg
The addition of Captain Jack to the Pirates of the Caribbean ride is the smaller of the two changes, by quite some way, so is conceivably the easier to implement in time to cash in on the release of the new film. However, Star Tours: The Adventures Continue would be a much bigger addition in terms of publicity. It has been said that the Star Tours upgrade didn't make any difference to park attendance in the US parks, but then it opened there in 2011, when there was nothing big going on in the Star Wars universe. If it were to open in Disneyland Paris to coincide with the next film, the first under the Disney banner, it could be a whole different story and a whole new audience could be tempted into visiting what is already Europe's most popular tourist destination.
I believe that Star Tours: The Adventures Continue will be in Disneyland Paris by 2015, in time for the release of Star Wars: Episode VII. Discoveryland is in dire need of a new lease of life, and while attentions seem to be focused on Walt Disney Studios, that can't be done to the determent of Disneyland Park. With Tokyo Disneyland now having Star Tours: The Adventures Continue, that's three parks that Disneyland Paris is falling behind on, something that dates the resort. The publicity that will surround Star Wars: Episode VII will be unprecedented, even surpassing that for Episode I, given all the changes and how different the world of communication is now compared to 1999. I don't believe there is any way Disneyland Paris won't capitalise on that, and would be foolish to ignore such fortuitousness timing.
httpvh://youtu.be/indIWfX00Bw
So where does that leave Captain Jack? While I posed an either or question earlier, I don't think it's out of the question to have both these updates on the agenda for 2015. While Star Tours: The Adventures Continue may create more exposure for Disneyland Paris, adding in a 5 second See Captain Jack Sparrow in Pirates of the Caribbean segment to their television advertising could be a very strong marketing message. They could go one step further with See and Meet Captain Jack Sparrow in Disneyland Paris, showing footage of him both appearing in the ride and meeting guests outside. He may not be a multitude of famous characters from a galaxy far far away, but he's one of the most recognisable pop culture icons of the last decade.
The timing is perfect for both Captain Jack to be added to Pirates of the Caribbean and Star Tours to be changed Star Tours: The Adventures Continue, but which will it be, or could we see both, or maybe neither? My question to you, is which would you prefer to see in Disneyland Paris and which do you think we are more likely to see by 2015?