No Daily Dreams! in Disneyland Paris from October & New Scene for Christmas Season?
The new winter brochure for Disneyland Paris has become available and you can view it online here. A few pages in and it talks Dreams!, and as I speculated previously, it does seem that daily showings of Dreams! will end when the 20th Anniversary Extended ends on September 30th.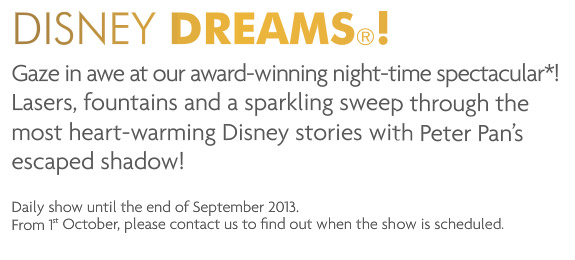 The fact that it asks people to contact Disneyland Paris to see when Dreams! is scheduled is all but concrete proof that the show will not happen daily but on select days only. I'd imagine it will be weekends, and then probably Fridays too. As to when it will be shown other than the days is anyone's guess until we can get some clarification from Disneyland Paris themselves. It's a shame that it will not be running every day, but given the obvious cost, understandable. That said, with the lack of shows, I think Dreams! should be on every night, at least until some other forms of entertainment are offered in it's place. With no Fantillusion and now no Dreams! – those off nights are going to seem a little flat.
There seems to be a lot of cost saving going on, which in any business is going to be a priority, but when you get used to a certain level of entertainment and that drops off drastically, it does beg the question of value for money, especially when prices rise so much year on year. At this point all focus is on the remaining months of the 20th Anniversary Extended season, and Disneyland Paris have themselves said that Halloween and Christmas will be very special. So they could well have big plans for new entertainment that they are just not ready to release information on yet, as is their way.
Speaking of Christmas, there is an image in the new brochure which has some of us excited with anticipation…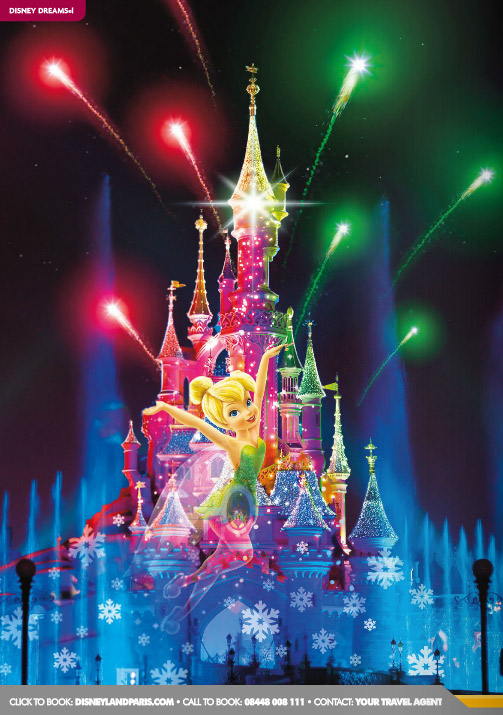 That could be one of two things: 1) A festive way to market Dreams! or 2) A mock up of a new Christmas scene that will be shown during the Christmas season. The latter seems more likely, especially if Dreams! is only going to be shown on select nights. So just 6 weeks after new scenes were added to the Dreams! show, we may have another new scene coming in late November. While it's sad to presume that Dreams! won't be a daily show in a few months, it is encouraging and exciting to see it staying fresh with new scenes and seasonal additions.
I will be in Disneyland Paris in 10 days to see the new Dreams! with Brave and Lion King scenes, but I'm now already thinking I need to return again for the Christmas season to see the even newer Dreams! with Christmas scene, plus whatever else they have in store. Last year's Christmas Cavalcade was a wonderful addition, and we should be seeing that expanded for the new 2013 season. Add that to the new Dreams! and anything else they have in store, and Christmas 2013 in Disneyland Paris could be very special indeed. Just make sure if you are going to check you'll be there on a day Dreams! will be shown.