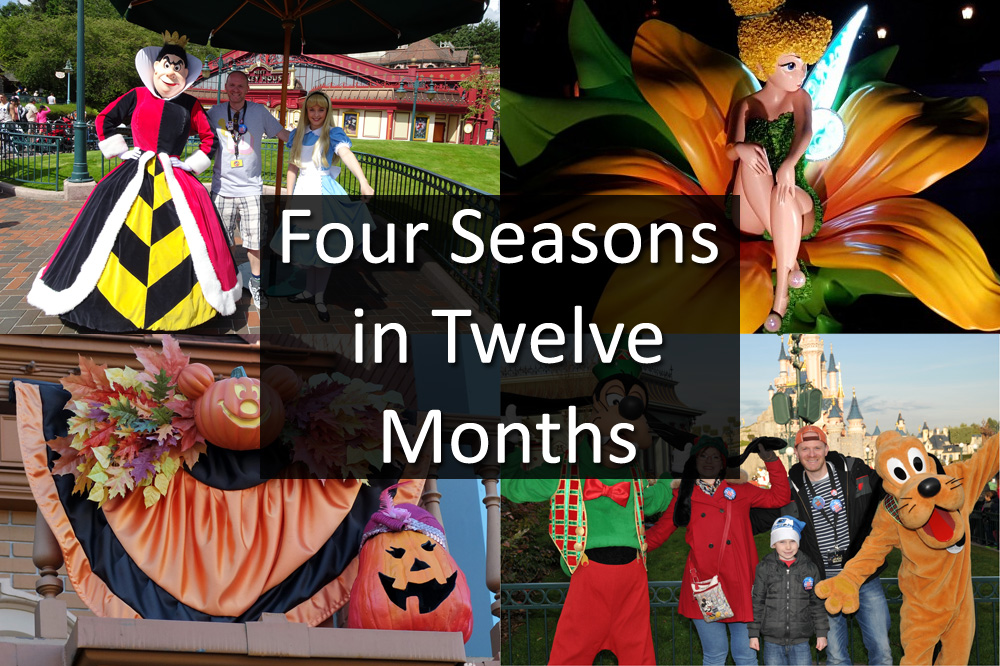 Four Seasons in Twelve Months – My Disneyland Paris Year Like No Other
In the past I've experienced landmark celebrations such as the 10th, 15th and 20th Anniversaries, and I've been in Disneyland Paris for festival years like New Generation and Magical Moments. In my 17 pre-2016 trips only a few times have I been more than once in a calendar year, with twice being the maximum. Thanks to some great friends and family, I have had more than my share of luck with visits this year and have visited Disneyland Paris 4 times in 2016. Not only is that twice as many times as my previous annual trip record, but I managed to experience ever season: Swing into Spring, Frozen Summer Fun, Halloween and Disney's Enchanted Christmas. Many times have I pondered which season I like best, and in 2016 I am in a unique position to have been present for all 4. So, which really IS the best?
Swing into Spring in Disneyland Paris
This was a first for me, having never been present for the ever evolving Swing into Spring season in Disneyland Paris. After hearing people wax lyrical about for the past few years I was over the moon to finally be able to see it with my own eyes. Main Street comes alive like at no other time, with so much colour and music, combined with an unrivaled entertainment schedule. The costumes of the characters and performers are so vibrant and the Sunny Bunnyland soundtracked Minnie's Little Spring Train is a hit for many. However, for me I like to keep Sunny Bunnyland as a memory of the season and it's not a song I can keep listening to throughout the year, as many seem insistent on doing with alarming regularity. Hey, each to their own.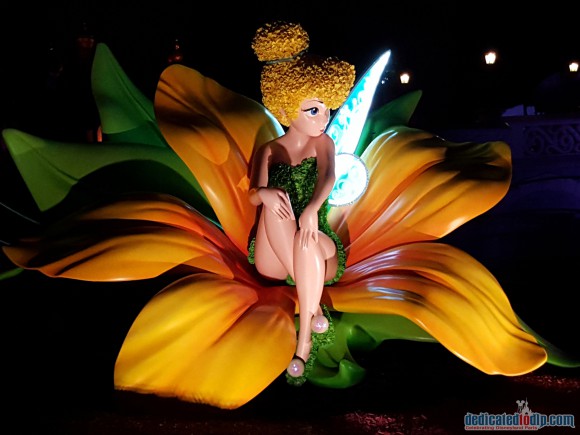 One thing that did add to my first Swing into Spring experience was the Last Tour to Endor event, which took place on the night Star Tours closed its doors ahead of a year long refurbishment. That was one of the highlights of the year and of all my trips to Disneyland Paris, and obviously won't be a part of Swing into Spring in the future, should it return. I also had the most fortuitous timing in having my last day there on St Patrick's Day, something else that isn't a part of the everyday Swing into Spring celebrations, but one certainly worth bearing in my mind when booking any Springtime visits to Disneyland Paris. One massive positive was the overachieving Forest of Enchantment show, which was possibly the highlight of the whole season, showcasing some of the best performances in the resort and arguably the best use of a limited budget we've ever seen.
My first Swing into Spring was a very positive experience, and also saw me have my character epiphany, meet a bunch of new friends and finally get deserted nighttime Main Street photos – a veritable success.
Frozen Summer Fun in Disneyland Paris
Although Summer has far fewer unique elements to discuss, it makes others shake in fear on its position in the year alone, and what that affords it that others just can't possibly compete with. It's not that we didn't get anything at all, as the Frozen sing-along is great fun, especially when your child sees himself on screen singing. The Royal Welcome with Anna and Elsa is brief but magical, whilst the Let It Go scene in Dreams! gets more reaction than any other. However, all of this can be experienced at Christmas too, albeit the Let It Go scene in Disney Dreams! of Christmas! being just one of many Frozen scenes later in the year.
What does make Summer stand out is the nice weather and extended opening hours. They make a huge difference when visiting Disneyland Paris. Our 5 day weekday trip in August gave us 16 extra hours of Park time compared to our visits later in the year, which is almost 2 extra winter season days. Those long days gave us so many hours in the day that we could do all the shows, cross between Parks, go on a variety rides and still have Dreams! at the end to look forward to. It's also nice being able to dine in somewhere like The Blue Lagoon at dinner time and not late afternoon. Being a warm weather person I find queuing for a character in shorts and t-shirt far more preferable than shivering in the early morning sub zero temperatures of winter.
Long summer days and nights in Disneyland Paris give that feeling of a holiday more than at any other time of year, and this summer we left having done absolutely everything we wanted to do, and more.
Halloween in Disneyland Paris
This was my first experience of Halloween in Disneyland Paris since 2007, as I've said many times on Disneyland Paris News Weekly and the podcast, so it was good to finally back. I do and will always miss the Frontierland transformation into Halloweenland, but I still like the harvest Halloween decoration we have now…though nothing will ever beat the pink witches and pumpkin head men of a decade ago. The Halloween Cavalcade is superb, arguably the best of the year, and with a song in Vive La Vie that makes Sunny Bunnyland seem like amateur hour. There's an air of fun and mischief that the characters have at Halloween that you don't get at any other time of the year, and that's something very special.
However, it's the Castle Stage show that lets it down, as It's good to be bad with the Disney Villains just didn't cut it for me. You can read my full review here, but 2 months on and I have no more love for it, and as one of only two bits of seasonal entertainment during Halloween that's a disappointment from my perspective. In contrast, the Halloween Soiree was one of the best single days I've ever had in Disneyland Paris, with such an incredible variety of quality entertainment on offer and without a doubt the best parade I've ever seen. If it ran more than once during the season then Halloween would rank far higher than it does, but absent from all but 1 day leaves the others feeling a bit lacking.
I was lucky enough to not only have some unseasonably great weather for my Halloween trip, but I was there for the season defining Soiree, and able to experience it with some of my best friends.
Disney's Enchanted Christmas in Disneyland Paris
As a child I did nothing for Halloween, but excitedly looked forward to Christmas each and every year, and still do. Having returned from Disneyland Paris less than 2 weeks ago, the glow of this great season is still with me, and absolutely nothing can compare to looking down Main Street with the Christmas garlands draping across it, lights twinkling on the Castle and snow falling. Throw in festive music and it's as close to perfection as you can get on Main Street, at least in the mind of this giddy Christmas lover.
The Christmas Parade, now too big to be classified as a Cavalcade, is a glorious combination of familiar and grin inducing songs, brimming with fun festively dressed characters and performers making sure every guest has a unique and unforgettable experience. The tree lighting ceremony, though not quite as good as without the characters and when the focus was on the tree, is still great fun, as long as you are on the right side of the tree. There's the aforementioned Frozen elements that I discussed in Summer, and also Disney Dreams! of Christmas, which on second viewing I liked better, but is still nowhere near as good as the original Dreams!, not even close. The character meets though, in those glorious festive outfits and with Christmas trees and decorations in the background, are at their very best. Well, apart from the queuing, which especially during Extra Magic Hours can get very cold as you wait for the sun to rise over the Disneyland Hotel and drench the park with some much needed heat.
The Verdict – The Best Season in Disneyland Paris
To the shock and disagreement of many, Halloween goes very firmly into 4th place. If the Soiree were more than a once a season event like in America, and the Castle Stage was better, then it may rank higher. Go back to the Halloween of 2006 and it'll be fighting for the top spot, but for now, and as much as I had a brilliant time, Halloween comes in last, or 3rd runner up if we want to be annoyingly positive.
In 3rd comes Swing into Spring, which as great as it was, doesn't have the magical feeling of Christmas, nor does it have the warm weather and long hours of Summer. I'm also not sure how many more times I could listen to Sunny Bunnyland, though admittedly in the Park it is a different beast than isolated as a tune months later, sitting on the sofa back home.
So it comes down to Summer and Christmas, which anyone who knows me could have guessed almost 1,500 words ago. Summer has so much going for it, and I still miss not being able to walk around Adventure Isle in shorts at 10pm during other seasons, but Christmas in Disneyland Paris is a world apart. At no other time of year does my heart fill with as much happiness as when I'm stood near that incredible Christmas Tree, looking at he decorations, listening to music I've loved for decades, feeling the snow fall on my head and looking at the Castle with lights. Not that everyone loves them, but I wouldn't have any other way. There's a word that is almost criminally overused when talking about Disneyland Paris, but Disney's Enchanted Christmas is the personification of magical, and one that this past trip confirmed to me, is my favourite time to be in Disneyland Paris.