Disneyland Paris Official Spring Season Press Release, Photos, Updates and News
The first big season of 2016 is almost here, if you ignore the tail end of Christmas which crept into the new year. Spring 2016 starts on March 5th, although some of the decoration and theming has already started to appear in Disneyland Park. Before we get to that, let's see what Disneyland Paris themselves have to say:
Press release

Disneyland® Paris celebrates the arrival of
Spring with colours, energy and high spirits

From March 5th until May 29th 2016

There's no need to wait for the official start of Spring to recharge the batteries and enjoy its colour and joy. Come to the place where dreams come true and Swing into Spring with Disneyland® Paris, starting March 5th 2016.

Get ready for a brand new show created in the spirit of Broadway musicals, exclusive events bursting with energy, scenery celebrating flower power and a multitude of experiences designed to awaken the senses. A lot of Disney Characters wearing their best Spring costumes, specially made by the Disneyland Paris Sewing Workshops, will be there to share magical moments for plenty of photo opportunities with the Guests.

"The Forest of Enchantment: a Disney musical adventure": a brand new show, created in the spirit of Broadway musicals


From February 10th 2016, a brand new show will open at The Chaparral Theater (Frontierland® in Disneyland® Park). "The Forest of Enchantment" is a musical adventure exclusive to Disneyland Paris, in which Disney heroes and heroines celebrate the power of nature. Guests will be transported to the heart of an enchanted forest in the purest musical theatre tradition.

In turn, Pocahontas and John Smith, Baloo and King Louie (The Jungle Book), Tarzan, Rapunzel and Flynn Rider, not forgetting Merida (from Brave), will appear on stage to give a live performance of the legendary songs from their films. New scenery appears over the course of the stories, brought by the spirits of the forest, inviting the audience in to discover new worlds as though they themselves were turning the pages of a pop-up book. This brand new musical will run from February 10th to May 8th 2016.

"Minnie's Little Spring Train" in the colours of the Cheshire Cat

Minnie loves to greet our Guests at Disneyland Paris, and put a smile on their faces to help them recharge their batteries! She will be there with her best springtime friends on board a train crazily decorated in the colours of the Cheshire Cat, straight out of Alice in Wonderland.

On board this little train, Minnie is surrounded by a whole troop of Disney rabbits! She will be accompanied by the White Rabbit from Alice in Wonderland, Thumper and Miss Bunny from Bambi, as well as dancers dressed like "Bunny boys" and "Bunny girls", without forgetting Daisy Duck, Clarabelle Cow and Clarice the Chipmunk, who will also be there. They will arrive on Main Street, U.S.A.® several times a day, and made their way to Sleeping Beauty Castle for a true breath of Spring air!

"Goofy's Garden Party"
Back by popular demand, "Goofy's Garden Party" will celebrate the end of winter. Playing the perfect Host in an extraordinary garden, Goofy will set the pace swinging. Topiaries will come to life as if by magic before swirling into a flower-filled universe where swans, enchanted fountains and butterflies announce the arrival of Spring. A show that is guaranteed to lift the spirits, presented several times a day in Central Plaza, in front of Sleeping Beauty Castle.

Alice and some of the heroes of Wonderland will be there to celebrate nature and the arrival of Spring blossoms before sharing new adventures on the big screen. Guests will be immersed in music and filled with the joys of Spring!

Mickey, Minnie, Donald, Daisy, Pluto, Chip and Dale, Pinocchio, Clarabelle and many others will join in "Goofy's Garden Party", which promises to be a true springtime carnival of colours.

Surprise Easter Eggs

Spring comes to Disneyland Paris with surprise Easter Eggs scattered here and there. While on the hunt, Guests might even spot some of the features of some of their Disney friends. Imagine Mickey, Minnie, Chip and Dale, Donald and Daisy and many more as hilarious egg-shaped treats. These moments are not to be missed!

Tinker Bell dons flower power at Disneyland® Park

Dreamers of all ages will rediscover their favourite Disney Characters in more flowery forms than ever before. Specially for Spring, Central Plaza will be transformed into an enchanted garden with topiaries in the shape of the 101 Dalmatians, Simba and Nala (The Lion King), the Aristocats, and Bambi and his friends. This year, a beautiful topiary sculpture featuring Tinker Bell, will also be part of the Spring festivities, and will enchant our Guests.

Meet all the Disney Characters

Donald loves Spring so much that he wants to be the centre of attention for the whole season. He promises to put a smile on all his friends' faces.

Nature lovers and fans of the film Bambi will love meeting Thumper. He will come out of his burrow specially for Spring with his friend Miss Bunny. Guests will be able to pose for photos with them, in a romantic and flowery setting.

And finally, Minnie, a true fashion icon, will be wearing her most stunning flower power outfit to brighten up Main Street, U.S.A.®. Guests can go to the Boarding House for all their Spring photos.

Recharge the batteries with Spring at Disneyland® Paris, from March 5th until May 29th 2016.
Spring is the one season I have never experienced in Disneyland Paris, but I will be this year and every report I've read from the past two years when it has run has been overwhelmingly positive, so I do have high hopes. It looks and sounds incredibly bright, buoyant and happy – who could want more than that? Having the new Forest of Enchantment show over in The Chaparral Theater is massive coup for this years' Spring Season, and is something 2014 and 2015 couldn't boast.
There are a lot of characters about and for guests who seem increasingly enamored with them, that can only be a good thing. Poor little Casey is set to get yet another makeover – there's an article that needs writing – the many faces of the Casey mini parade train in Disneyland Paris. The surprise Easter Eggs are a nice addition, and will be a lot of fun for both kids and adults alike. They look really fun too, as seen in this photo from @ED92live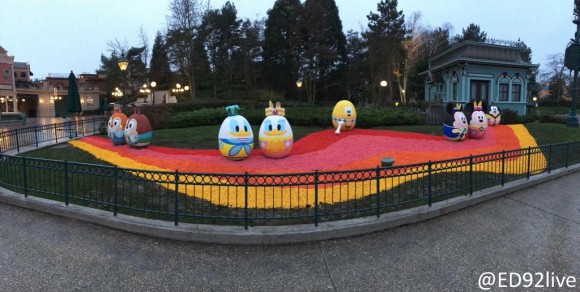 One thing I do particularly like this year is the style of the promotional material, which can be seen in the Forest of Enchantment logo above, and this gorgeous watercolour visual that were released earlier today: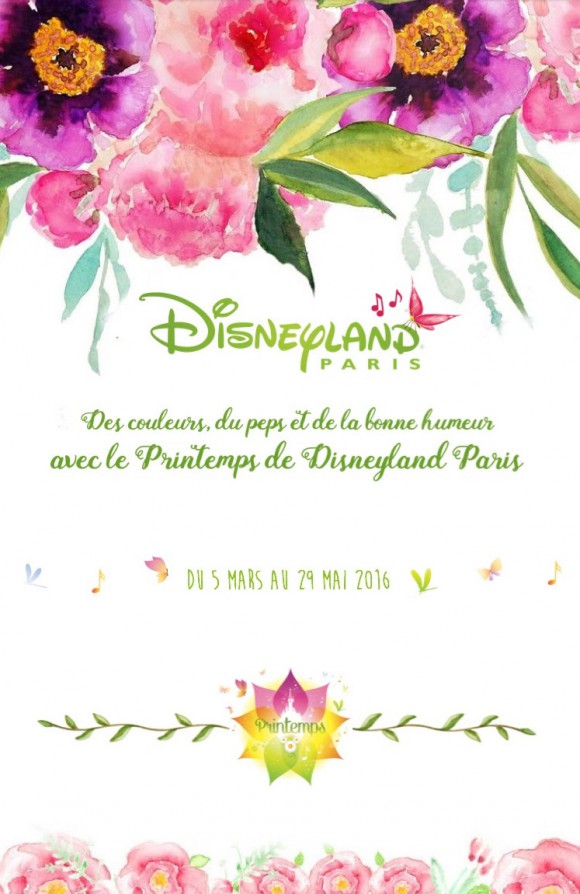 Though it is only early February, Spring has started to permeate Disneyland Park as I mentioned earlier, with the addition of the character topiaries and coloured chips in the Central Plaza area, that can be seen in these stunning photos from @InsideDLParis
You can see in this photo from @DisneylandBerry that the daisy decorations have also started to appear, which begs the question of whether the huge light up daisy will appear once again on Main Street Station?
There are even going to be themed treats for sale, much like there was during FSummer Fun:
I wonder if Spring has come early due to the previews of The Forest of Enchantment being shown this weekend? I know there are annual pass previews, but maybe there are press showings too. So why not kill two birds with stone (I know, the most anti Spring expression there is) and showcase the new stage show AND Spring. Can't fault that logic, and those guests who are there before Spring officially starts, get a Disneyland Park looking very colourful and Spring-like ahead of time – win win!
The thing I like most about these seasons in Disneyland Paris is how very different they all are, guaranteeing a completely new experience every time you visit. Spring in Disneyland Paris is set to be the perfect antidote to the grey skies and moods that populate this time of year, set to leave guests feeling happy and fully entertained, with their own bit of Spring, in their step. Bad puns aside, it does look like a very beautiful season and I can't wait to experience it all in a few weeks time.