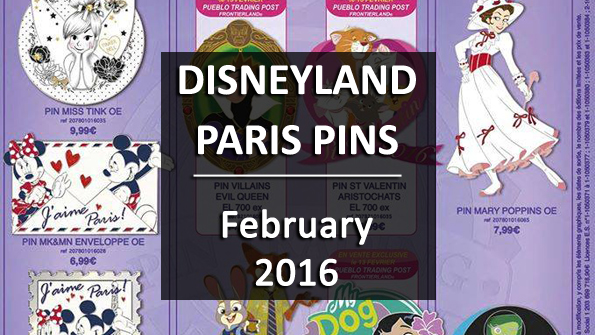 Disneyland Paris Pins for February 2016: We Love Paris, Mary, Animals and Tink
Being the month of Valentine's Day there is a splattering of pink and hearts amongst the Disneyland Paris pin releases for February, so let's take a look.
It's quite a modest selection of pins this month, compared to previous months where we've had as many as 12-15 pins plus lanyards and booster sets. Released this coming Saturday, the I Love Paris series continues, and though I personally don't like them and have never hidden those thoughts, ever since I learned of the high sales of this range of merchandise across the resort I can no longer argue their place. The Tinkerbell pin is nice, with it's monochrome design with only a splash of colour. This is a colour concept I'd like to see expanded to a whole range, taking in characters and attractions from both Parks.
The three Pueblo Trading Post exclusives that go on sale on February 13th are just okay. The Lilo and Stitch pin gets the traditional extra slice of kudos for having a dangly bit, but none of these designs are very inspiring. Likewise the non exclusive Zootopia pin also released that day is as generic as they come, but ties in with the release of the upcoming film.
Moving on another 7 days and quite surprisingly my favourite pin of the month is the Mary Poppins one. Surprising because I seemingly go against the grain of most Disney fans in not loving the film. I like it, but I found the Saving Mr Banks film infinitely better and more watchable. I think this is a definite case of not growing up a Disney fan coming into play here, and having no memories of watching the film as a child. Film studies aside, I like the animated look of the pin, a lot, and even as far as possibly wanting to buy it when I am next there. That says a lot about the pin given my apathy towards the character. Mary shares her release day with a pin from Inside Out, a film I actually fell asleep watching, so I'm sure you can take a wild guess as to whether I want this pin!
Not a great month for pin releases, the Tink and Mary pins aside, and I find myself making the same request as I have done many times previously – please Disneyland Paris, release pins that represent the Parks and attractions that are within the resort, and not just generic Disney pins that could be at home in any Disney Store anywhere in the world. The Attraction Pin series is by far the best set of pins that have ever been released at the resort, followed by the Stitch Invasion series – more like these please. That or tell me they didn't sell, they never sold, and my quest is a pointless one. Then I can find a dark damp corner in which to sob my pin collecting heart out.