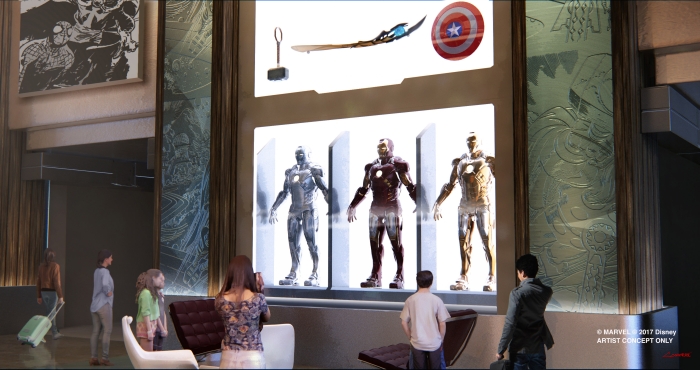 The Art of Marvel Hotel Confirmed for Disneyland Paris at D23 – There Are No Negatives, It's All Good
Each year there is a huge fan event called D23, usually in the States, where Disney announce a lot of the big plans they have for the huge variety of entertainment offerings they now produce. It's fair to say that Disneyland Paris never gets much of a look in, due to there not being big things to talk about every year and the relative apathy of the crowds in attednace to Disneyland Paris itself. Well this year was different, and while we didn't get a big new attratcion or land announcement, we got something arguably even better, for both guest and resort. I'll let Disney Parks and Resorts Chairman Bob Chapek tell you about the reImagination of the Disney's Hotel New York in his own words:
We're going to create a hotel at Disneyland Paris that would make Tony Stark proud. I'm thrilled to announce that Disney's New York Hotel – The Art of Marvel will transport our guests to the action-packed, inspiring world of Super Heroes including Iron Man, The Avengers, Spider-Man and more!
This isn't a huge surprise to some, as rumours that Marvel would be the theme of the Hotel New York refurbishment have been running rife for some months now, but to get an announcement at D23 like this, and to have concept art to accompany it, portrays it as the big deal it deserves to be. Ever since the rumours first surfaced, and reinforced by this press release, I can't see anything but positives from this move, and here's why.
Hotel New York is Run Down
It"s a fact, there can be no denying that Hotel New York has seen better days. I'm sure it looked quite mmagnificnet in 1992, but for some years now it's shown its age and has badly needed some love and attention, to say the least. I have stayed there several times over the last 5 years and while the beds are very comfy, the decor in the rooms looks drab and dated, with an old TV in a wooden cabinet that seems even older than hotel itself, and not in a retor cool way. I actually think of all the hotels, Hotel New York needed refurbishing first, but it was left until almost last, but at least there is a plan in place now.
Hotel New York Doesn't Feel Disney
I know the orginal idea was having the hotels reprsenting parts of America, Disneyland Hotel aside, but while that concept worked reallly well with the Wild West of Hotel Cheyenne, it translated into something reallly quite dull over at Hotel New York. For me, it's the hotel that has always felt like just any other big city hotel anywhere else in the world, and I don't want that when I vist the fantasy world of escapism that is Disneyland Paris. I think the time has well and truly passed where people from Europe are wowed by a hotel that is supposedly from the Big Apple, and visitors from further afield, especially America, even less so. While I don't want Disney seepping from every square inch, having a Roger Rabbit play area wasn't enough for the second most expensive hotel on the resort, at the time.
Marvel is Hugely Popular & Underrepresented in Disneyland Paris
Marvel is arguably Disney's most wide ranging and popular property at the moment. I'd need to see how the figures stack up against Star Wars, but when you consider the sheer number of films, TV shows, cartoons and comics that make up Marvel, it puts forward a good case for the #1 spot. Due to complicated licensing aggreements overseas, Disneyland Paris is in a unique place where they can use the characters and immagery, but just need the money and desire to do that. Yet more rumours are indicating that the left hand side of Walt Disney Studios is planned to turn all Marvel, but right now we have a Spider-Man meet and greet, and that's it.
The start of this rumoured Marvel area will commence with the rumoured (we mainly deal in just rumours with Disneyland Paris, you'll get used to that if you are new here) will be some kind of show taking over the Cinemagqiue building but not even that hasn't been announced yet. So this hotel makeover is a big step in the Marvel direction, and is a good point of difference from the other Disney cartoon influenced theming.
It Doesn't Matter If You Don't Like Marvel
That's not as incendry a statement as it may appear, but a headline retort to the I don't like Marvel reaction that I'm expecting to hear from some, and entitled to that opinion they (you?) are. But with 6 hotels to choose from on site, 7 if we include the often overlooked Davy Crockett Ranch, there is plenty of choice for non Marvel fans. I'm not a fan of Bambi, but Sequoia Lodge is a great hotel, and from the looks of the concep art, The Art of Marvel hotel will be done tastefully and not in an all consuming way. The Iron Man suit and Avenger weapons display is something that will give the foyer some real wow factor, while the art wall is something that can be admired by alll, regardless of the level of interest in the actual subjects.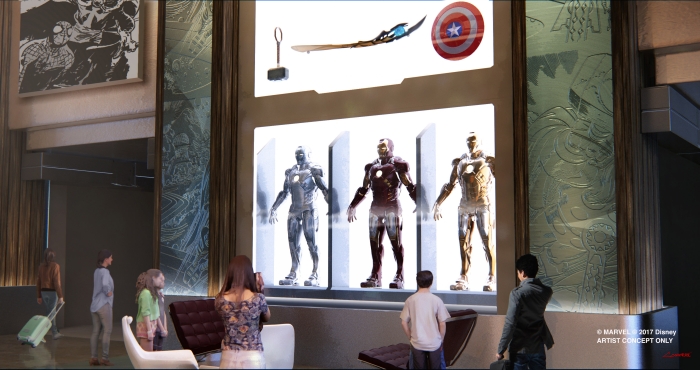 Having a Marvel hotel is something compeltely different for Disneyland Paris, and any other Disney Park, which will no doubt have new people looking to visit the resort and others looking to stay on site again. I have to admit, that as someone who doesn't always stay on site due to the cost, I most defintely want to stay at The Art of Marvel Hotel. This is coming from someone who doesn't usually spend much time in the hotels and likes to keep costs down. But I am also a huge Marvel fan of many years, so to wake up in that and walk through it every day is hugely appealing, and could see me spending more time in my hotel then I ever dreamed I would. If they make the meet and greet characters Marvel to fit the theme of the hotel then they have me hook line and sinker from opening day.
When Will See The Art of Marvel Hotel in Disneyland Paris?
Now all I want to know is when it will open, which will be some way off I'd guess, as Hotel Cheyenne still has to have its refurbishment completed before work starts on The Art of Marvel Hotel. It could make sense to open it at the same time as the rumoured Marvel makeover is completed in Walt Disney Studios, if that is the actual plan. Though on the flipside, opening them at different times gives Disneyland Paris two opportunities to shout from the rooftops and boast of their new Marvel additions. Now that the announcement has been made, very publically, I'd love for this to herald a new era of communication, and for Disneyland Paris to keep us updated of the reImagination process, something many of us would find fascinating, and help us feel closer to the project. That's a proven method of increasing sales, so we all win there.
Until then, I'll be awaiting news and saving up for my first stay in The Art of Marvel Hotel in Disneyland Paris. What I would like to know is what you think, so leave a comment and let's get the discussion started. You never know, you could find your comments being featured on an upcoming episode of the podcast too.