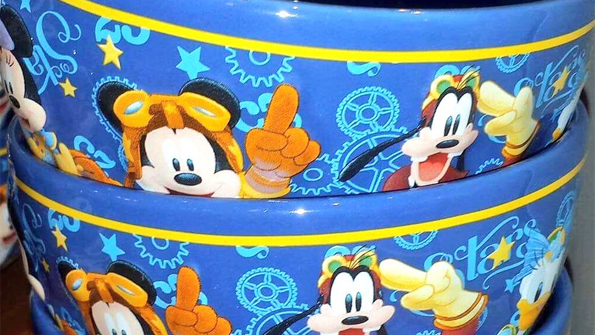 Bring On The Disneyland Paris 25th Anniversary Merchandise – My Top 5
We have had a few bits of merchandise teased on both the official Disneyland Paris My Sparkling 25 videos and also on a variety of social media channels. Well just this morning the shops in Disneyland Paris had their shelves filled with many many items of Disneyland Paris 25th Merchandise, and the fab @ED92live took photos and shared them on their Twitter account. For a lot of fans the new merchandise range is a huge part of any new season or celebration in Disneyland Paris, myself included, so here are my top 5 25th Anniversary Merchandise items.
#5 – Disneyland Paris 25th Anniversary Train Set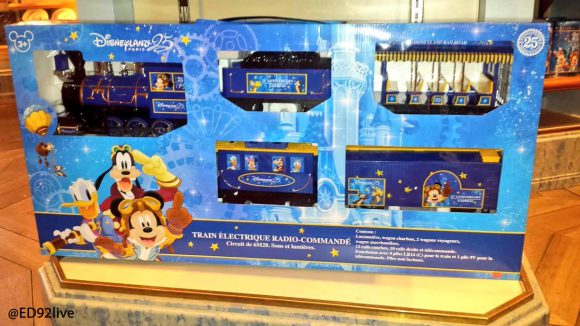 Now get your violin ready because this is a sad story, but in spire of wanting one, I never had a train set as a child. I know, your cheeks are now streaming with tears, but look at the picture above, could it be time to rectify that? Disneyland Paris has sold train sets before, in fact I looked admiringly at the Christmas Disney Parks set they had this December. But this is a Disneyland Paris branded set, and adorned with the lavishly costumed steampunk characters, which brings with it a dilemma. If I were to buy this, and at a mighty €125 that's no small purchase, could I bear to actually take it out of the box? The 3 large suitcases of boxed and sealed Star Wars merchandise currently sitting in my loft says no.
#4 – Disneyland Paris 25th Anniversary Donald Duck, Chip & Dale Mug
I don't drink tea or coffee, and aside from the occasional hot Ribena I don't use mugs. I do however buy them, and with alarming regularity from Disneyland Paris, and I'm a sucker for ones with great designs on them like this. I especially like the steampunk designs behind the characters, and specifically the 25 cog – hope to see a lot more of that. I have included the photo of the t-shirt so you can see the image better, but it's not really something I'd wear. To have on the side of a mug to display and sup hot Ribena from? Absolutely.
#3 – Disneyland Paris 25th Anniversary Hoody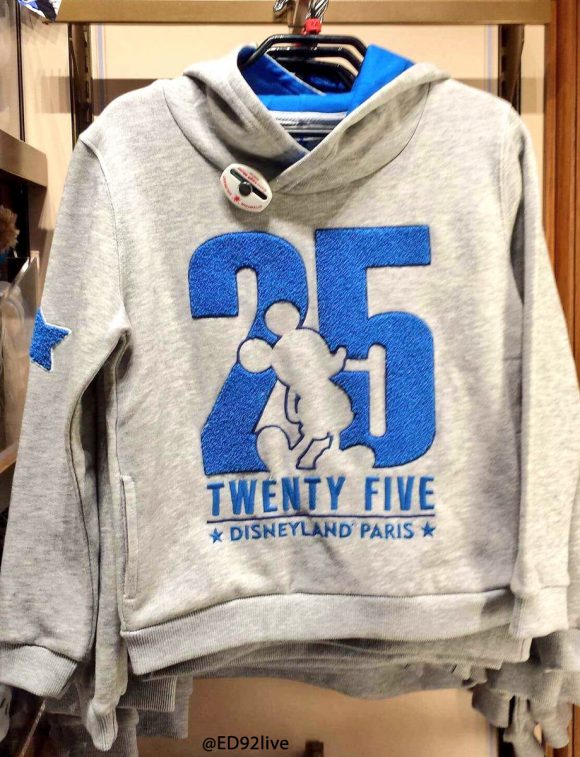 It was only last week on Disneyland Paris News Weekly #44 that I said I wouldn't wear a hoody with a big 25 on the front, but this one has a Mickey Mouse silhouette sitting nicely between the numbers and with Twenty Five Disneyland Paris beneath it. Unless it has a big garish image in the back then this is absolutely the kind of hoody I'd wear. As I said back in September 2011, blue is the colour I associate with Disneyland Paris, so that's another big positive for this. The design looks to be stitched and embossed, which gives it much more of a quality look than just a printed design.
#2 – Disneyland Paris 25th Anniversary Breakfast Bowl
This design is on a lot of the Disneyland Paris 25th Anniversary range and as much as I like it, I wouldn't wear a t-shirt with it on – that's just not my style. I do however need a new breakfast bowl, and to see this every morning would be a great way too start the day. I also like the Disneyland Paris 25 logo on the inside – that's a nice very touch.
#1 – Disneyland Paris 25th Anniversary Varsity Jacket
As soon as I saw the photo of the front of this jacket I knew I had to have it, on one condition – much like the hoody previously, it all depended on what was on the back. @ED92live was kind enough to take an image of the back too, and I love it. The mix of 25, Mickey silhouette, Disneyland Paris and star make this a very classy (it's all relative) looking item and at €69,99 it's priced very reasonably. Whilst I love varsity style jackets, I haven't had some since I owned a black Walt Disney Studios one from about 15 years ago, and I have no idea what happened to that!
Take a look at the @ED92live tweetss from today and you'll see many images of the exciting and expansive new Disneyland Paris 25th Anniversary range – which are your favourites?