Cycling Fit to Disneyland Paris – A 549KM Journey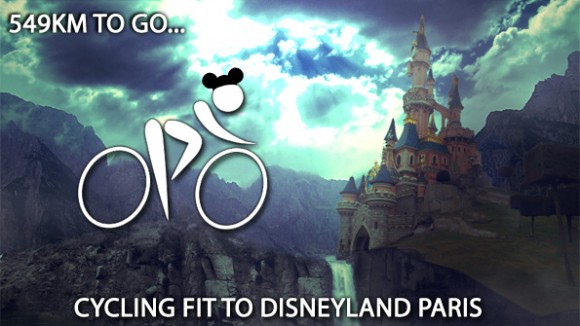 For some of us fitness comes easily, but for others, like myself, it seems to be an eternal and unattainable dream. I've joined gyms, bought exercise equipment and made promises, but I'm still a way off from being fit and being happy with the way I am. That's where the Cycling Fit to Disneyland Paris idea comes in.
According to Google Maps it is 549 kilometres from where I live in North Hertfordshire (England) to Disneyland Paris, and my quest is to cycle that distance on my exercise bike. I think the difference this time is that firstly it will be fun – I can see where I am on my journey as I cover more of the journey. Secondly, I am doing this in public, in front of all of you. That means I have made a commitment and I don't want to let any of you down.
Last night I cycled the first stretch which ended up being 10.73km, so I now have just 538.47km to go. I don't have a deadline in mind, but if I ride that distance every time then it will take me just over 51 days to complete the distance, so I think Christmas should be the very latest date I aim to complete my challenge.
Now comes your part – aside from giving me lots of encouragement, I'm challenging you to join me. Some of you might want to do it for fun, whilst others of you may want to get fit like me. Some of you may cycle, others may run or even swim. You can do the same 549km as me, or you can see how far it is from your house to Disneyland Paris and maybe your challenge will be shorter or longer. What ever you decide, just leave a comment with what you plan to do, and every time I post an update I'll include your progress too.
Good luck to everyone who is joining me on this challenge and thank you to anyone who offers me support. Be sure to follow me on twitter (@DedicatedtoDLP) where I will be giving you daily updates, and I'll post progress report on the website in a few days. Off to Disneyland Paris we go, getting fit on the way!
(The great castle image for the banner comes from mmrobitussin)