Disneyland Paris Halloween 2014: Sunflower Mickey Replaces Pumpkin Mickey
Just yesterday I talked in this article about how the giant pumpkin Mickey which graced the Castle Stage last year, wasn't there for the 2014 season. Well the Halloween decorating fairies were out last night, and thanks to InsideDLParis for taking the photo, this is what we now have instead: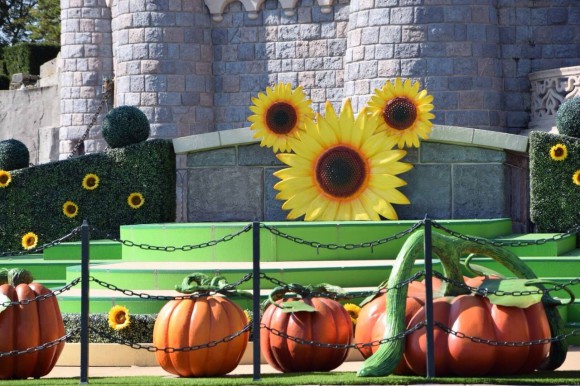 That's quite a different visual from last year's pumpkin Mickey, as seen in this photo from OOPARC:
Apparently space issues are the reason it has changed, and while some have challenged the place of sunflowers in Autumn, they do grow grow at that time of year, in more tropical climates. Okay, so maybe a colder Paris climate is not suitable for sunflowers, but then the Castle Stage is in Fantasyland where anything is possible. After all there's a giant beanstalk on the other side of the Castle! The sunflowers of Halloween can also be found in Frontierland, which with it's Nevada area inspirations has more than enough heat during September and October to sustain sunflower growth.
Practicalities aside, it's an intriguing choice and very brave to take away the almost iconic looking Mickey Mouse Pumpkin. With the giant Daisy in Spring it seems Disneyland Paris have gone a bit mad for their over sized flowers in 2014. It doesn't scream Halloween, and to be honest it doesn't really yell Harvest either, so a bit of an odd choice to feature in such a prominent position. The centers of the three sunflowers look like speakers, so maybe that too is part of the decision to change it from the pumpkin.
Maybe more Halloween-esque decorations are yet to be added, but for now it certainly looks a little out of place as the centerpiece on Castle Stage, with Sleeping Beauty Castle in the background.