Remember When….Disneyland Paris Teamed Up With Disney DVD For A Huge Giveaway?
Let me give you a tiny bit of back story here. My little boy has been watching some of the Disney Classic films recently and just yesterday he watched Robin Hood. Being a typical 3 year old, he left the case on the floor and when I went to pick it up I noticed there was a sticker on the cover. This was no ordinary sticker though, as this one mentioned Disneyland Paris.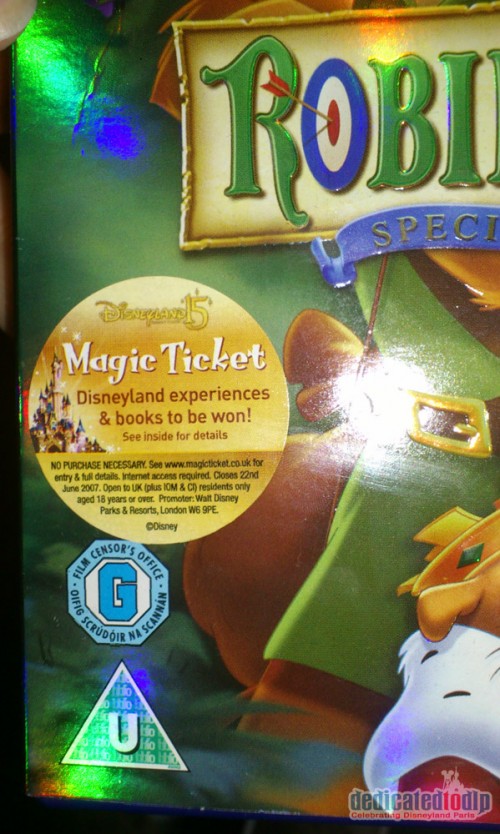 It featured the 15th Anniversary logo and talked about winning Disneyland Experiences, with Magic Tickets as the tag line. Eager to find out more, and not recollecting this from 4 or 5 years ago, I opened the box hoping the leaflet was still inside. I sighed with relief when I saw that the yellow flyer offering me the chance to win was still inside, and in the same great condition as the day we bought the DVD.
First of all – how great is it to see Sleeping Beauty's Castle with the big 15 on the front? That brings back some brilliant memories of the build up to the celebrations and then finally visiting Disneyland Paris in October 2007. I can remember being in Disneyland Park with Main St USA looking stunning and hearing Just Like We Dreamed It for the first time whilst watching the Once Upon A Dream Parade, also for the first time.
You'll notice that it says the 15th Birthday of Disneyland Resort Paris runs from 15th April 2007 (wonder why they chose to wait until 3 days after the actual anniversary date – maybe so the 15th Anniversary starts on the 15th?) until March 31st 2008. Of course the 15th Anniversary didn't actually end until March 2009 – a full year after they first intended it to end. With all that they have planned for the 20th Anniversary of Disneyland Paris I'd be surprised if these upcoming celebrations didn't also run for 2 years until the Spring of 2014.
Back to the flyer, and here is the reverse side telling you what you would have had to do to be in with a chance of winning a prize:
I don't actually ever recall going to the Magic Ticket website and entering this code – I could have a winning code right here and it's no longer of any use to me. The website is still actually there at magicticket.co.uk but as you can see from the screen shot below there isn't much going on now, understandably.
I wonder if they will do something similar as get closer to the 20th Anniversary or if in fact something like this is in happening right now. I've not bought a Disney DVD for a while so I wouldn't know. I'll have to look inside the Cars 2 DVD that we bought at Christmas. Do any of you remember this giveaway and did you enter, and more importantly, did you win?