Things you bring back from Disneyland Paris
I'm not talking about merchandise here, though for the record I bought a Magical Moments Festival pin and a 2012 calendar on my visit last week, as well as gifts for my wife and son. No, I'm talking about those other things that you find in your wallet, suitcase, pockets and anywhere else that seems like an appropriate place for storing bits and bobs.
You know what I'm talking about. No matter how many beautifully crafted pieces of merchandise they might sell in the many shops, it's those odds and ends that would normally be thrown away, that because they are from Disneyland Paris are instead treated like the rarest of treasures.
My recent trip was no different to the previous ten, and I'm going to share with you all the things that came back with me and will be stored as memories of another great visit to Disneyland Paris.
This first one is one that I have actually never had before as I've always travelled via Eurostar.
This is the boarding pass given to us by the automatic checking in machine in Folkstone. You'll see that it says 4.50am – what a ridiculous time of day, and we'd been on the road for 2 hours by that point.
Next up is the confirmation sheet that comes in the welcoming pack you get given when you check in at your hotel, the Santa Fe in this case.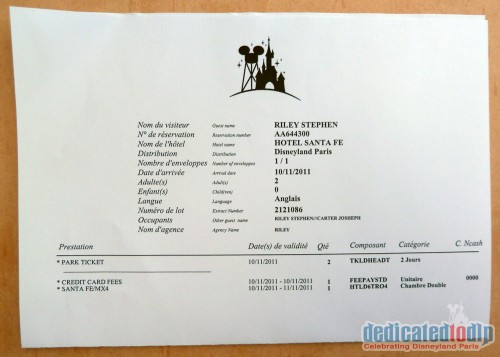 You also get given your Disneyland Paris Card which is used as ID to get into the parks for Extra Magic Hours and is used to buy things in the shops and have them charged to the credit card you have on file. I never got asked for a credit card when I checked in and if you look at the card you'll see it says Id Only. I wonder if the charging service has been stopped, or because I was only there for 1 night it wasn't available to me? It does mention it being used as a charge card on it. I've actually never had anything charged back to my room, but it's intriguing all the same.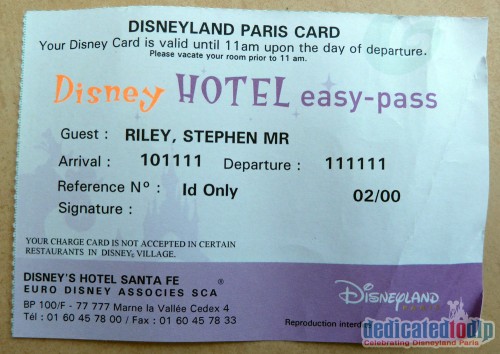 Also present was the Santa Fe information sheet, which on the reverse has a map of the buildings, or pueblos in the case of the Santa Fe.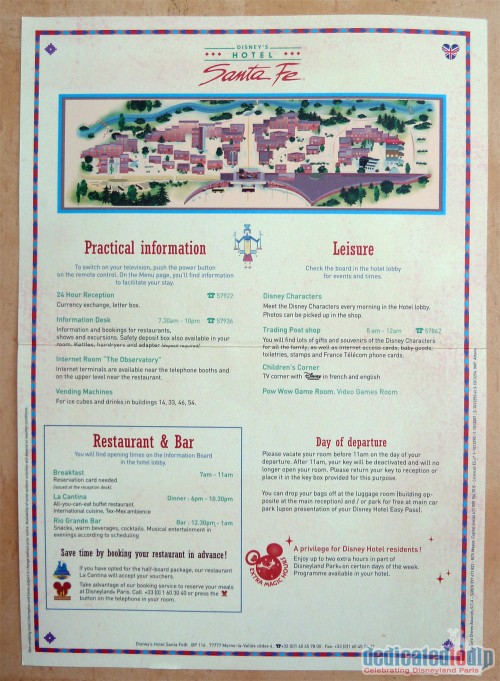 As you can see from the map we were the opposite end of the complex to the pathway to Disney Village so made use of the bus instead of walking. I know, very lazy – but hey, it was only a 2 day visit, time was of the essence.
Now, I hope you are not going to tell me I am the only person who picks up Guide to the Parks in all languages, because I won't believe you! These things are collectors items which go for many pence on eBay.
What that photo doesn't show is the other 30 that I picked up in English. No, I don't sell them on eBay, I just love the maps of Disneyland Paris and have literally hundreds of them from over the years. One day I plan to wallpaper a room with Disneyland Paris maps, though I've not run that past my wife yet.
As well as the maps there are also the Programme leaflets which detail all the shows, parades and meet and greets – a must for any visitor and of course I picked up a few of these, though I never looked at one in the parks!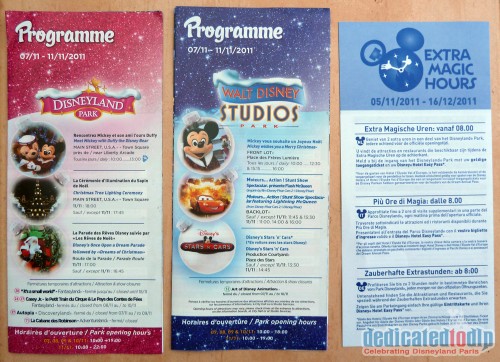 Also there is the Extra Magic Hours information leaflet which came in the welcome pack at the hotel. Never used this either as a very long day on the Thursday meant arriving at Disneyland Park on the Friday at the normal 10am opening time. Now, you may have noticed in the previous paragraph I said leaflets – yes, plural. The reason I initially thought that is because it wasn't until I got back home that I realised there were not 2 leaflets, but that actually the Disneyland Park information was on the opposite side of the same leaflet which showed the Walt Disney Studios information on the reverse.
One of the most valuable trinkets you can bring back from Disneyland Paris is your park ticket, after all, that's what allows you access into the 2 parks each day of your visit. This time I had the Daisy Duck ticket as my travel companion Joseph wanted the Mickey Mouse ticket.
Also pictured are a bunch of Fastpasses that I never actually used, plus one for Big Thunder Mountain which was Joseph's – I was never going to ride that runaway train, not this time anyway. I'm a little disappointed that unlike Peter Pan and Big Thunder Mountain, Buzz Lightyear Laser Blast doesn't have a little icon from the ride next to the name.
When you ask for the bill in Annette's Diner it comes in this cute little, well, I'm not sure what you'd call it – thing that holds your bill? Anyway, whatever it is, here it is – front and back.
There are two pictured because I got a second bill when I gave the waitress my Disneyland Paris shareholder's club membership card, and also got 15% off the price of the meal. Speaking of which, why can I never throw away any of the receipts I get either, discount or no discount depending on where they have come from.
This next photo shows the carrier bags the gifts I bought were in, and these are a work of art and highly collectable themselves. I like how each size has it's own colour scheme – there's that legendary Disney attention to detail.
Okay, so I have receipts and bags, but there's also the one thing that makes that all possible. That's right, money!
Thanks to carrying a credit card I always seem to come back from Disneyland Paris with some unspent cash, which of course gets stashed away for the next trip, May 2012 in my case.
Some of you may think I'm utterly balmy for even bringing this back under the Channel, let alone keeping it as part of my ever growing Disneyland Paris collection. Some of you will be nodding your head, looking over to that cupboard and visualising all your similar mementos. This last photo is of something that I'm willing to bet almost every one of you who are reading this, and has been to Disneyland Paris, will have stashed away to bring home.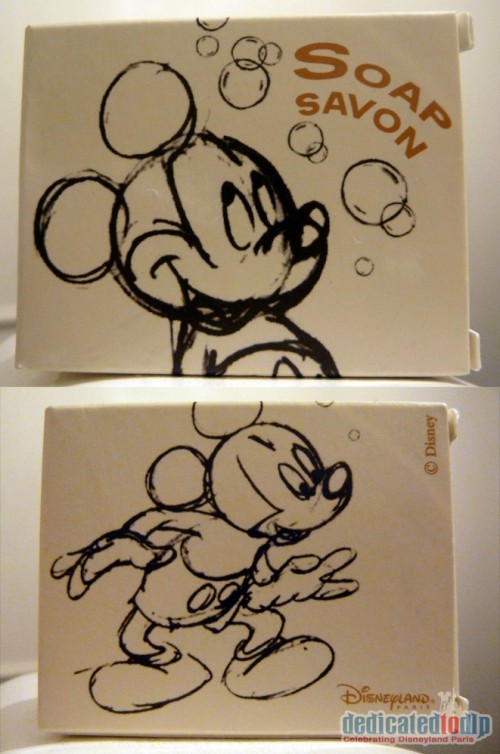 Yes, the iconic Disneyland Paris Mickey Mouse packaged soap. Another to add to my growing collection 🙂
Well that brings us to the end of this little tour around my bags and pockets upon my return from Disneyland Paris. I'm interested to know if you have similar collections and if you have photos, even better – leave a comment, send an email and let us revel in our collective obsessiveness!