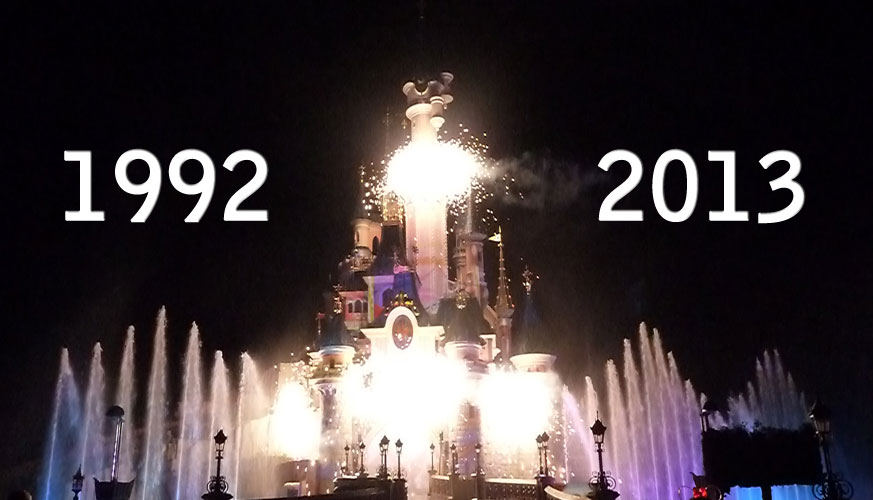 Celebrating 21 Years of Disneyland Paris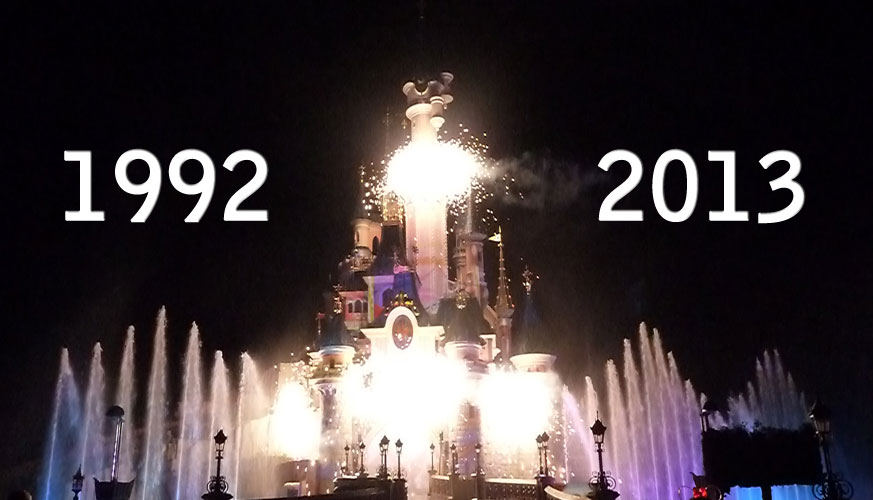 Many things have happened over the years in Disneyland Paris, and year by year I will highlight just 1 or 2 of the things that happened that year. They may not be the biggest or most important, but they mean something to me.
1992 – EuroDisney Opens
Having been to Disneyland Paris, as it's called now, 13 times since 2002, it's hard to believe that back in 1992 EuroDisney wasn't on my radar. In fact Disney wasn't really on my radar either. But on that day, April 12th, EuroDisney opened its doors and brought the magic to Europe that for many would only ever be a far off dream in places like America and Japan.
1993 – Indiana Jones et le Temple du Péril
With me not being a thrill ride person you are probably wondering why, of everything that went on in Disneyland Paris in 1993, have I chosen this? Simple, on December 10th 1993, Indiana Jones et le Temple du Péril was launched in Disneyland Paris, and none other than George Lucas was present for this.
1994 – Les Mystères du Nautilus, Le Pays des Contes de Fées & Casey Jr. Le Petit Train du Cirque
In a very different that we are in now, where we wait sometimes years for a new attraction to appear in Disneyland Paris, can you imagine not one, not two, but three new attractions opening in Disneyland Park in the same year? They are all attractions that I really like, and apart from my one ride on Big Thunder Mountain, Casey Jr. is as thrilling as gets for me, and I'm fine with that. I have a future article planned for Nautilus after I spent a long time in that often overlooked attraction back in November. In 1994 EuroDisney changed it's name to Euro Disney Resort Paris.
1995 – Space Mountain
Now this is not a ride I have ever, or will ever, ride, but as a structure it's absolutely fantastic. During the day it glistens majestically in the sunlight and at night it's a beautifully lit icon of Discoveryland and makes a great subject to photograph from all angles. 1995 saw a second name change as the resort became Disneyland Paris.
1996 – Eurostar
It was on June 16th 1996 that Eurostar launched it's direct service between London and Marne-la-Vallée, making the ease and speed of getting to Disneyland Paris so much better for UK visitors. In the 13 times I've been to Disneyland Paris, 10 of those times I have used the direct service. That number would be 12 if the direct route hadn't been sold out. From the center of London to just a few seconds walk to Disneyland Parks, hotels and Village in under 3 hours – amazing.
1997 – Halloween
As well as being the 5th Anniversary of Disneyland Paris, 1997 saw Halloween being celebrated as a dedicated season for the first time. During the times when Frontierland became Halloweenland and was populated by pink witches and pumpkinmen, Halloween was without a doubt my favourite season in Disneyland Paris. I can't imagine it not getting its own season, and the period between summer and Christmas must have felt a bit flat.
1998 – Wonderful World of Disney Parade
The Wonderful World of Disney Parade launched on March 30th 1998 and ran until March 2007, making it the longest running parade in Disneyland Paris history. It was without a doubt an incredible parade visually, but it's the music that makes t so important for me. It was with this parade that we also welcomed the debut of Dancin' (A Catchy Rhythm), for me the greatest piece of music in Disney Parks history, and one I still miss to this day.
1999 – Work Starts On Walt Disney Studios
For someone whose first visit to Disneyland Paris was in 2002, it's hard for me to imagine the resort with only one park. Social media wasn't like it was today back in 1999, so I'd be intrigued to see what kind of updates of the constriction were available for fans to see. In 2013 there are photos of the new Ratatouille ride being posted very day. 1999 was also a year of devastation as well as creation, when a huge storm ripped through Disneyland Paris, leaving a trail of destruction behind it.
2000 – The Tarzan Encounter
Without having to think for one second, The Tarzan Encounter is by far my favourite stage show to ever be performed in Disneyland Paris. The combination of acrobatics, humour, music, setting and story make it the ultimate Disney show, for me at least. It's a show, that when it was on, I could and would go to see several times a day, and it's one of the things from Disneyland Paris I'd miss most on my return and still do.
2001 – Expansion Of Val D'Europe
The biggest new addition to the area is La Vallée Outlet Shopping Village, which along with the new train station, offers visitors to Disneyland Paris a unique shopping experience, just a short journey away. The Sea Life Aquarium also opened, but to be honest, when we visited a few years later we weren't overly impressed. 2001 also sees another name change, this time to Disneyland Resort Paris.
2002 – Walt Disney Studios Opens & My First Visit
The 10th Anniversary of the newly crowned Disneyland Resort Paris and the opening of its second park, Walt Disney Studios. As if 2002 wasn't enough of a landmark year it was also the year of my first visit. I fell in love with the resort so much during my inaugural July visit that the moment I got back I booked a second trip for November, and so my love affair with Disneyland (Resort) Paris started.
2003 – Fantillusion & Honeymoon
When I visited Tokyo Disneyland in 2001, I got to see the Fantillusion Parade, and so it was nice to see it in Disneyland Paris two years later, albeit with fewer floats. 2003 was also the year I got married, a week later than was first planned. The reason we delayed our wedding by a week was so that we could benefit from the full Christmas season, as Disneyland Paris was the destination of our honeymoon. It was made even special by a free upgrade from a standard room to the Bridal Suite on arrival.
2004 – The Legend Of The Lion King
While the character shows that had occupied the stage in Videopolis previously were great, they couldn't compare to the West End/Broadway standard Lion King show that took their place. The Legend of the Lion King was a truly magnificent show, whose stage parts can still be seen to this day, though the show stopped running a few years ago. I remember when it first started you had to queue for quite some time, outside in the sun (in the summer months) to get a ticket. They soon changed that ticketing system, thank goodness!
2005 – Wishes
Before Dreams! was the talk of Disneyland Paris, Wishes was the night time show that touched everyone's hearts and filled the sky with colour and magic. One of my favourite memories of being in Disneyland Paris is a late July evening in Disneyland Park watching Wishes with some friends. We'd just walked through Adventureland while thunder rumbled from above, and we were all quite emotional after watching the amazing Wishes. Still one of my favourite pieces of Disney Parks music to this day.
2006 – Buzz Lightyear Laser Blast
Though I loved and will always miss Le Visionarium and think Walt Disney Studios would be a better location, Buzz Lightyear Laser Blast was a great addition to Disneyland Paris and the first fully interactive attraction in the resort. It's always great when the ride gets stuck while you are positioned in front of a high scoring target. Cheating? No, don't know what you mean. I have an opening day t-shirt for Buzz Lightyear Laser Blast, though I have no idea where I got it from!
2007 – Extra Magic Hours
So much happened in 2007, the 15th Anniversary of Disneyland Paris, like the new Disney's Once Upon a Dream Parade and the accompanying Just Like We Dreamed It parade song. There was also a new area in Walt Disney Studios called Toon Studio, which premiered with Cars Quatre Roues Rallye and Crush's Coaster. But who can beat getting into the park 2 hours early by virtue of staying in one of the on site hotels and getting to ride attractions like Peter Pan's Flight without the endless queues. Extra Magic Hours is a wonderful idea, and bringing it to Disneyland Paris was a stroke of genius.
2008 – Stitch Live
While there is no denying that Tower of Terror is an impressive looking attraction, it's not for the ride of choice for a thrill avoider like myself. I'm much more at home with my feet on the ground in Stitch Live, which never fails to make me laugh with the ingenious guest interaction. I've never been picked myself, but it still remains a dream of mine. Stitch Live is a stunning use of technology, something that Disney Parks are famous for.
2009 – Playhouse Disney Live on Stage!
2009 was a relatively quiet year for new additions to Disneyland Paris, as it was now called after dropping the Resort from its name. Playhouse Disney Live on Stage! was a great addition though, as anyone with a toddler will testify. When we took our son to Disneyland Paris for the first time as a 2 year old, he was a bit overwhelmed by the long journey and different surroundings and it was Playhouse Disney Live on Stage! that gave him his first smile.
2010 – Toy Story Playland
Not only did we get 3 brand new rides in 2010, but they were all contained inside a new mini-land called Toy Story Playland, which is exquisitely designed with features from the Toy Story films. I've never ridden RC Racer but love the Toy Soldier Parachute Drop, in spite of my fear of heights. The Slinky Dog Zigzag Spin is fun, bit over too quickly. Let's not forget the huge Buzz Lightyear that welcomes you to Toy Story Playland and the model of Rex that allows for photos with your head between his jaws!
2011 – Duffy The Disney Bear
You are probably shocked to see that there, and while I'm not Duffy's biggest fan, his arrival in Disneyland Paris did create a lot of discussion and evoke some strong opinions among Disneyland Paris fans. 18 months on and he still does, though the recent addition of Duffy to Disney Store
outside the parks will at least mean he's not met with confusion by guests seeing him in the Disneyland Park.
2012 – Disney Dreams!
The 20th Anniversary of Disneyland Paris was and still is pretty epic, with a fantastic new parade and song, which in Magic Everywhere has me liking a parade song almost as much as Dancin' (A Catchy Rhythm). Dreams! has to be the biggest thing to come to Disneyland Paris in 2012, and possibly ever. A wonderful blend of music, video, lasers, fireworks, fountains and fire – Dreams! has become the the pinnacle of Disney Park spectaculars.
2013 – Off Site
We are not even a third of the way into 2013 so it's hard to say what will be the best of the year, but for me it could be the first ever time I have stayed off site in my 11 years of visiting, if all goes to plan. I'll let you know how the preparations for that go and how I get on off site.
So there you have it, 21 magnificent years for Disneyland Paris and many more to come. It's a magical destination that has taken a special in my heart like no other, and somewhere that just thinking about makes me smile. Thank you to all the Cast Members both in the Parks and working behind the scenes – you have and continue to make all our dreams come true.