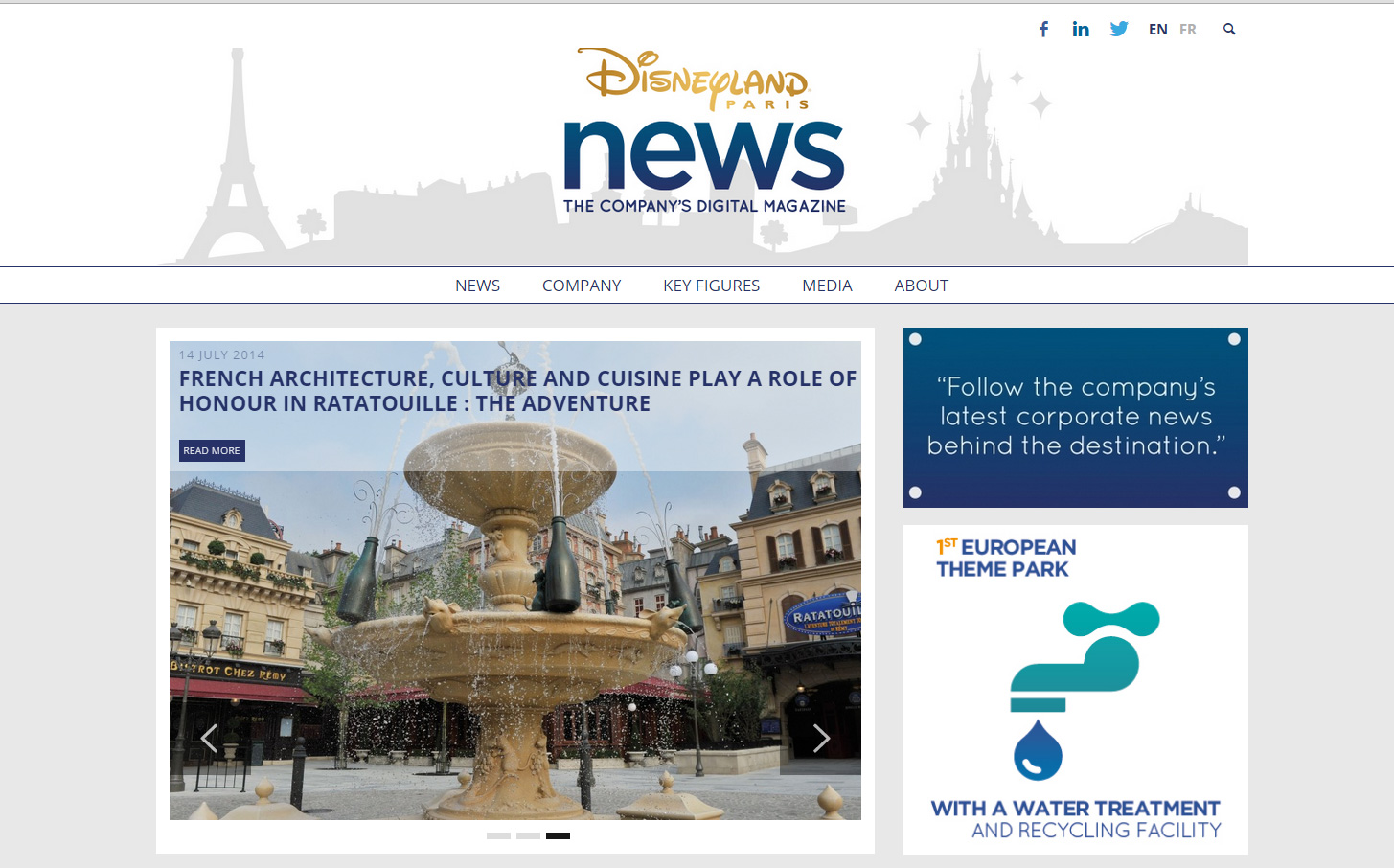 Disneyland Paris Launches New Digital Magazine
Some of you may have seen links floating around social media in the past week or two, but now Disneyland Paris themselves have started tweeting links so I think it's about time we talked about Disneyland Paris News – The Company's Digital Magazine.
I and many others have been wondering about the possibility of a Disneyland Paris blog for some time now, as it is rarely featured on the US-centric Disney Parks Blog. While Disneyland Paris News isn't strictly a blog, it could be the genesis of what will eventually become that, and so much more. While some articles like the introduction of new CEO Tom Wolber are quite formal, as you'd expect, others like this one about Disneyland Paris environmental art are less so and more like a blog I alluded to earlier.
One of the biggest positives for me is the huge number of infographics, especially in the Key Figures section. But as a huge fan of this way to present information, this multi-media inforgraphic all about Ratatouille: The Adventure is absolutely fantastic. The music, with the animated graphics and the way they slide in as you scroll down is just sublime – well done to who ever created that, and more like it please. The only confusing thing on that page is why it's being referred to as Ratatouille: Adventure Totally Zany Remy, which I thought had long ago been dumped in English language communications in favour of the far simpler Ratatouille: The Adventure.
It's nice to have all the recent official communications and press releases in one place in the Media section, and with the latest videos and some more infographics (I'm being spoiled and I love it) we just need some photos from the resort to finish this off nicely.
The design is fresh and easy to read and navigate, with a great mix of media elements. I like the responsive design and it works well for the content, but the header graphic needs to be looked at in mobile view. Having all the social media channels aggregated in the footer is a nice touch, and makes it easy for people to find and follow the relevant official accounts.
It's early days for Disneyland Paris News but it's a great start, and going forward I'd like to see lots of regularly updated content, maybe some articles written by Cast Members about day to day life working in Disneyland Paris, and maybe even guest articles from fans and guests of the resort.