Disneyland Paris Restaurant Review: Walt's – An American Restaurant

This was my first visit to Walt's since 2003, and if I'm to give it its full title, then it's Walt's – An American Restaurant, but that's a bit of a mouthful – pun intended. Inside it's a work of art, and in my infinite wisdom I didn't take any photos of the decor on show. Part of that was bad form on my part, but I also didn't want to be taking photos while people were eating their meals in peace. Each room is themed to a particular part of Disneyland Paris and we were in the Frontierland room, complete with fantastic artwork adorning the walls, which you'll have to take my word for, until you visit yourself. I wasn't completely useless with the camera though, as I did take a photo out the window of our first floor location, looking across a beautiful Main Street. U.S.A.
Looking at the menu on DLP Magic before I went was the extent of my planning, but as a fussy eater it's something I prefer to do in advance. Better to have an episode of food based anxiety at home rather than at the table in a restaurant. You can order from the imaginatively named Set Menu, the Great Classics Menu (also a set menu, but not THE set menu), or you can order a la carte from their Specialities.
For my starter I had the Caesar salad, which came with grilled chicken and had an anchovy Caesar dressing on it. Everything in the salad tested fresh, and the iceberg lettuce had no signs of brown anywhere, which you do often see in other eateries around the world. The chicken was beautifully cooked, even to my fussy standards, and the anchovy Caesar dressing was delicious, with quite a kick to it. When it arrived I thought it looked quite big for a starter, but minutes later it had all been devoured and I was ready for my main.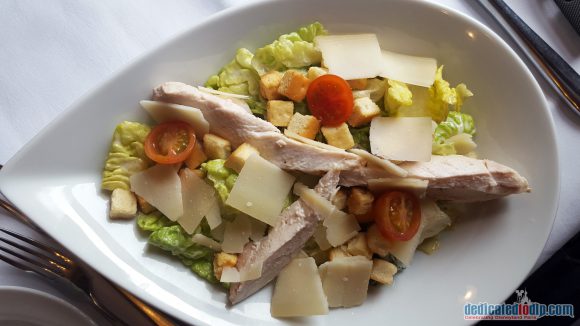 For someone as picky as myself I was quite surprised, but pleasantly so, that I actually had to choose between several dishes on the menu. Usually it's a case of seeing one that just about ticks all my boxes, but I'll be going to Walt's to try the Mushroom ravioli and Roasted salmon. On this occasion I went for the Chicken breast, which has the description: Marsala sauce, mashed potato, pan-fried seasonal vegetables. I'll hold my hand up here and say that when I first saw Marsala sauce, I knew it wasn't that similarly spelled curry sauce, but I wasn't sure what it was. A quick search on Google and I found out it's made from onions, garlic, mushrooms and Marsala wine. Sounded good to me, and it most certainly was.
The chicken, as with the starter, was cooked to perfection – so tender. Even though it's my favourite meat, I do worry about under cooked chicken, but I had no such qualms here. The sauce was sweet and tasty, and plentiful enough to smother over my veg and mashed potato, both of which were delicious too. The only thing I didn't eat was the cherry tomato, as I'm not a fan of tomatoes once they are cooked, unless they part of the sauce on pizza. Told you, fussy.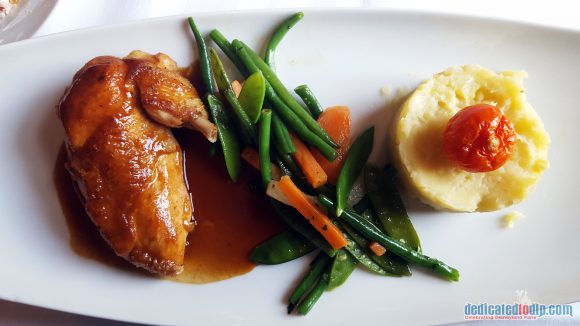 For dessert there was only ever going to be one option for me, the Warm chocolate fondant. If that doesn't have you salivating already, then add in caramel emulsion and pistachio flakes and I'm completely at its mercy. Did it live up to my hefty expectations, which were heightened after the first 2 courses? Yes, absolutely yes and then some. The chocolate fondant oozed with warm chocolate sauce once I split it open. If I'm honest I'm not sure whether the caramel emulsion was the little pot of creamy stuff you can see to the right, or the raspberry coloured crispy disc sticking out of the fondant, but they all complimented each other perfectly with a great contrast of flavours and textures.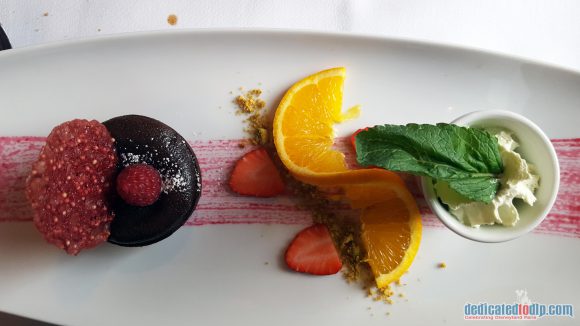 All three courses were superb, and afterwards I felt contently full, but not stuffed. My meal cost 36,99€ with no discount, and less if you have an Annual Passport or Shareholder's Club card. Even at full price, considering the quality of the food and taking in the setting, it's value for money, and some might even say cheap. It took me 13 years to return to Walt's, not a mistake I'll be making again, as it's already edging its way into our plans for August.