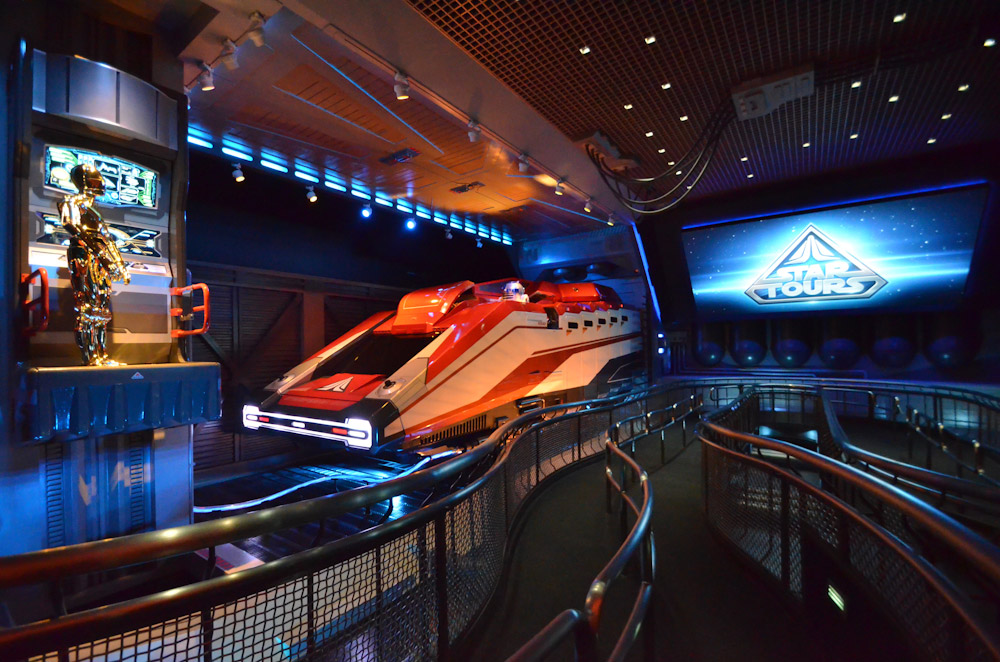 News From The Disneyland Paris Round Table Discussion: Star Tours II, Marvel, Russian Christmas & RFID
One of the benefits of being a Disneyland Paris shareholder is that you get the opportunity to sit down with some Disneyland Paris execs from time to time for round table discussions. The Disneyland Paris representatives will bring up points for discussion as can the shareholders. I've not been to one myself but Disney Central Plaza member Brunogamer updated everyone on what happened at yesterday's discussion and @parcorama kindly relayed to all of us on Twitter. Here are just some of the more interesting talking points that arose from that very discussion.
Next New Ride Will NOT Be Pixar
We don't know whether they themselves identified the heavy reliance on Pixar franchises of late or if it was feedback from visitors that prompted this statement. While the Pixar rides have added a lot to Disneyland Paris, particularly Walt Disney Studios, there can be no doubt in anyone's minds that they need to move away from Pixar for their next projects. The obvious choices that come to mind are 1) Star Tours: The Adventure Continues, like they have in the States, but does that count as a new ride or an upgrade? I think it's enough of an improvement to count as a new ride, and with Disney buying LucasFilm it's the most obvious choice. 2) Marvel, which has been in the past rumoured to possibly be taking over part of Walt Disney Studios. Outside of those I can't see them going back to an older film, but maybe a Wreck it Ralph ride? The film has been very popular and is a merchandising dream already. My ideal choice would be a completely new ride, like when Pirates of the Caribbean and Haunted Mansion were first imagineered. I that's unlikely given the need to market to the masses. So this begs the question – what non-Pixar ride would you like to see in Disneyland Paris?
Related to this, developments over at Walt Disney Studios are slated to take 6 years, but as @parcorama asked, is this from when Ratatouille contstrcuction started or 6 years from now? If it's the former then that only leaves 4+ years, which won't leave a huge amount of time for many more additions.
Disney Village Will Continue To Grow
World of Disney Store is the first new construction we've seen in years in Disney Village and we know Europe's biggest Lego Store is coming soon, but growing indicates more buildings rather than just changing existing ones, doesn't it? I can only imagine they have plans to build on the land between Disney Village and the park entrances, that which they own anyway. They could of course mean Disney Village will grow in character rather than geographic size, which would point towards more shop changes such as the upcoming Lego store. I know I'm in somewhat of a minority, at least as far as discussions on magicforum go, but I want to see more than just shops. I want entertainment and a greater variety of dining choices. I'd like as much as possible for this growth to not mean Disney Village transforming into a shopping mall that will remind me of home, and kill off the feeling of escapism I so love when I visit Disneyland Paris.
RFID Wristbands As Admission Ticket
This is a long term plan and you can see more about the ones being trialed in Walt Disney World, including photos, over at DizFanatic. Great idea, and far easier then delving into your wallet/purse/handbag when you are going to and from parks, or use the FastPass system. The uses for these are as plentiful as one can imagine and practically implement.
Expanded Christmas Season to cater for Russian Christmas
I wasn't expecting to see this! If you weren't aware, which I wasn't until I looked it up, Christmas in Russia is on January 7th. This would obviously mean their Christmas celebrations go well into January and as such Disneyland Paris want to capitalise on it. I can't say I've ever noticed many Russian visitors in Disneyland Paris and this information indicates it's a market they are trying to attract a lot more guests from. This can only be good for non Russian visitors too as there is no special season in Disneyland Paris when Christmas closes, so that means longer for everyone else to enjoy the festive fun too.
There were also some bits about Ratatouille being great and making people hungry – the smell from the restaurant I'd hazard a guess, and not the ride itself. Though maybe the ride will have kitchen smells to enhance the experience and then make people rush into the restaurant to buy a meal! Not an overly revealing session, but given the lack of official updates we get from Disneyland Paris it's as good as we can expect. I really want an announcement about when Ratatouille will open and what they have planned next.