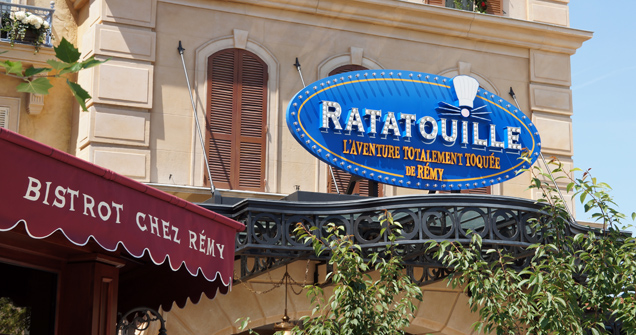 Disneyland Paris Fan Preview Event – Ratatouille: The Adventure, Bistrot Chez Rémy & La Place de Rémy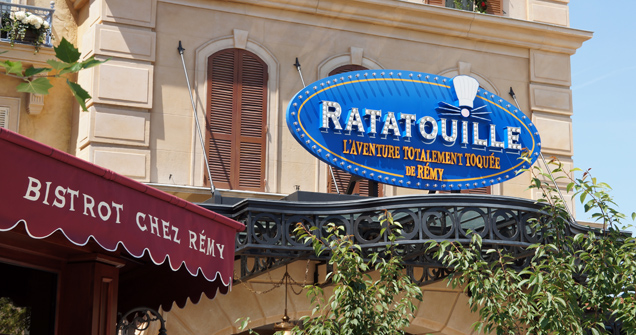 This past Sunday (22nd June), I was fortunate enough to spend the day at Disneyland Paris for the press preview of the La Place de Rémy, and of course it's main features, the "Ratatouille: The Adventure" attraction and the restaurant "Bistrot Chez Rémy". First of all I would like to extend my gratitude to Disneyland Paris for the invitation and hospitality over the day, and of course Steve who couldn't go himself so I got to go in his place.
Following registration and picking up some cool Ratatouille credentials (including a trial of the new Disneyland Paris Photopass+ card and a limited edition 3D park ticket), we were given a presentation by Beth Clapperton (Art Director) and Bjorn Heerwagen (Show Designer and Production Manager) from Walt Disney Imagineering. If anyone had planned on riding spoiler free, this presentation would have ruined everything, but it was really interesting and we learnt a lot about the motives of the attraction design and the processes and stages it went through. Surprisingly, apart from the attraction logo/signage, much of the early concept and art is what we in fact see today. Also, when you hear about the level of not just detail, but needs and requirements you start to realise both where the money and time have gone. The ham alone that you will see for a millisecond not only needed an entire rig for it's suspension and an access hatch into it for maintenance and safety checks, but it had to be fully plumbed with sprinklers too. We were also told about how much of the set design is actually structural as well serving dual purpose and how the scenes have been staged in various domes and the mechanics of making that work including both group, duplicate and individual domes for different sections of the attraction.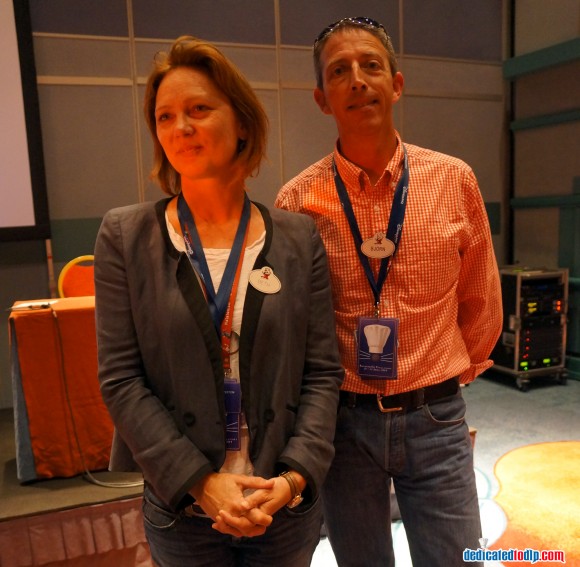 In the Q&A session my question was answered and that was that at present there are no plans to duplicate this attraction at any other parks; so it isn't on the menu for Shanghai ("menu" – see what I did there).
The presentation done, we were unleashed on the Walt Disney Studios and La Place de Rémy; but not before taking one last photo through the trees for nostalgia's sake.
La Place de Rémy
We saw the first hints of theming for this mini land when Toy Story Playland opened in August 2010. For an inexplicable reason you could walk down the right hand side of the land to nowhere other than the bottom of the land where you could enter through the barrel of monkeys instead of by the main entrance. However, as you walked down this alley you may have noticed that the iron railings contained hidden rats or, if you saw it early enough before it was covered up, that overlooking this alley way's entrance to the barrel of monkeys, was the granite face of Gusteau. We didn't know anything, but obviously, these details were enough to set the internet rumour mill going that Ratatouille would be next; although it wasn't officially announced until March 2013.
It took a while, but in January 2012 work started, access to the side street was cut off from the top and through the barrel of monkeys; and the construction walls went up. However, due to the construction site's proximity to the Toy Soldiers Parachute Drop, the entire process was watched from on high. We saw the old costume building and surrounding area levelled, steel go up, buildings rise from the ground, and finally facades start to take shape with a level of architectural detail not seen at Disneyland Paris since the development of the Tower of Terror area.
And finally, nearly 2 ½ years later after work began, it is finished and about to open to the public. The area is beautiful, Disney landscaping at it's very best. From a distance or first glance it looks like a very authentic French town but when you look closer you see so many amazing details, film references and bits of theming that of course would never really exist and only be seen by those paying attention. Disney critics have been calling this "fake" and questioning the appeal since Disneyland opened in '55, especially so close to the real thing, but the public has proven them wrong time after time, and loved the pseudo reality that Disney provides mixing realism with theming and fantasy; and La Place de Rémy is a beautiful example of this. The more you look, the more you will find, from the Rats in the railings, to the rats and champagne bottles in the fountains, to the rats inside the street lamps or Remy himself sailing on his Gusteau cookery book in the manhole covers. The details are everywhere just waiting to be explored and loved as are the movie references in the posters and adverts or Colette's motorbike sitting outside. In the presentation we were told about how this was all very intentional, Paris from a distance but most certainly Pixar's stylisation when you look up close. People will still be finding new details in this area in a years time.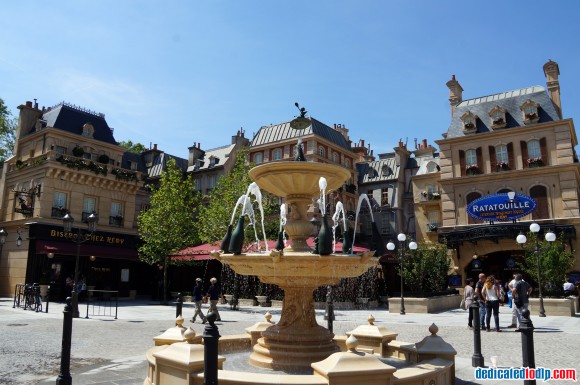 The area is actually quite large and will be a nice spot within WDS to just sit down, relax and just enjoy the ambience, of which there is plenty. There are already a lot of benches (again, look for the rat details) leading down towards the area hub, but I can see more being added in time if the space isn't used for street entertainment. I would like to see Remy and Emile start meeting guests around the area, there is certainly enough room to accommodate this nicely; although it would confuse the size dynamics. The music in the area is very much recognisable either from the film or in the same style and it all really adds to the ambience; and again makes it seems more real despite the real Paris not having a background loop; everything just feels right in this area. I really look forward to getting to see this area at night or when dark enough to be illuminated, I think it will be quite beautiful; I also think it will look pretty after a dusting of snow.
The fountain is beautiful and I believe it can be adjusted depending on wind to keep it from soaking the area; I was getting a little wet while posing in front of it. Again it is just full of details to be seen and enjoyed. My only fear with it is that it may get fenced off with time; it's just accessible and shallow enough for some idiots to let their 3 year olds play in it on a hot day; either that or it will end up full of loose change.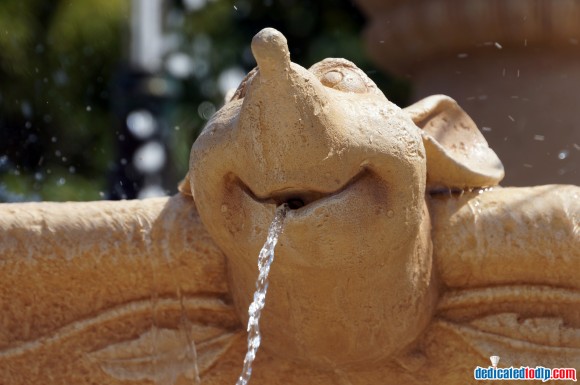 As far as how the land fits with the rest of the park, Toy Story Playland is visible through the barrel of monkeys, and the RC Racer track, Parachute Drop and Tower of Terror all loom high above the trees facing away from the attraction. Hopefully some of the trees will grow to block these in time but considering their height and proximity it's unavoidable right now; just keep looking towards the restaurant and attraction. There is no sight of Thunder Mountain on the other side or sight of this land from the top of Thunder either. The biggest encroachment on the area unfortunately is audible; people seem to feel the need to scream at the top of their lungs on the parachute drop and you can hear them despite the background loop being louder (or seeming to) on the sides nearest to Toy Story Playland. Thankfully the parachute drop's terrible load time means that this intrusion isn't constant.
While I do have to slightly wonder if one attraction, one restaurant and one gift shop is enough to warrant an entire mini-land; I cannot argue with the quality of the area itself from an aesthetic point of view, if all of WDS looked as good as this, we would be talking about it in the same revered terms that we do Disneyland Park next door. Bring some live entertainment into that area, even a mime and it will be perfect.
Bistrot Chez Rémy
When we first knew that a restaurant would be part of this development I have to admit that I was expecting it to be Gusteau's, very refined and haut cuisine dining; bringing an option to WDS to match the likes of California Grill or Walts. That isn't what the Bistrot Chez Rémy is, but that is no bad thing. In the end I actually love that it isn't Gusteau's, and that it isn't the restaurant that Remy and Ego own at the end of the movie either. Instead it is the restaurant in the rafters, for the enjoyment of Remy's family of rats, made from champagne bottle tops, cocktail umbrellas, matchstick boxes and lit with fairy lights from a Christmas tree. The restaurant is decorated with oversize foliage and features 2,027 hand rolled metal leaves; a four man team spent 2 years doing those alone. Gusteau's would have been majestic and refined, but this is loud and fun and yet is still refined in the wait staff uniforms, level of service, menus and cutlery; it really is an interesting mix and it works.
Seating 370 people, the restaurant is split into various sections, all of a similar theme, and yet all with unique touches. There are a couple of types of seating, mostly the champagne bottle tops but also booth benches and cork stalls. There are 11 different table types throughout the restaurant, yet it all blends into a theme in which they look to belong together. The area closest to the outside is very light and features huge bottles of Ego's wine and giant candles. Then a big middle section of booths are separated by plates. This is certainly a restaurant that you want to explore, just seeing where you sit will only give you a glimpse of the total place. In the entrance lounge you will see both Remy and Gusteau's awards as well as Ego's famous article declaring Remy's brilliance framed on the wall. There are two books in the restaurant, both photo spots, the first is the classic "Anyone Can Cook" which is at the front, the second is a cookbook by Remy which is at the back and a prominent view from the attractions unload area. For the preview, both Remy and Emille were meeting guests in front of the Gusteau book but judging by the proximity to a table this is not a permanent thing; nor do you EVER want that table because you will be in everyone's pictures.
My only possible complaint in design (although this would be nit-picking) would be that this restaurant should be on the second floor making you walk past doors leading to the main restaurant where you can see humans dining in the proper dining room as you climb the stairs to Remy's special area. But that is being really picky; the restaurant looks great and you get the story behind the space you are in and understand that you have been shrunk back to rat size. I just feel sorry for the cast member that has to check every fairy light when the entire place goes dark because one has blown.
The menu has not been without controversy. Copying a format that has been received very well in Paris and London, the menu consists of little choice, in this case, steak or fish; actually one more choice than often given in other establishments. In order to succeed and keep to this format, those single options have to be pretty good, lets face it, the entire reputation of the restaurant rests upon them.
Unfortunately we weren't given a choice or a tasting menu, and in fact the desert we were given was a special dish just for preview weekend and won't be on the standard menu so I can't tell you about everything, but I can give you the impressions of what I and the others did have. The menu itself was a nice hardback book cover with insert.
Not being a cheese eater, I opted for the kids melon balls and cherry tomatoes to start, very simple, not a whole lot can be said. Those who had the "Vegetable seasonal salad with croutons of breaded Brie of Meaux cheese" didn't seem overly impressed either, so maybe the starters in general need a little work; or maybe this was an UK/French difference of opinion on salad, other tables seemed much more into it.
Next came the steak which comes with chips, ratatouille as a side dish and a little chefs hat full of secret sauce.
I personally thought it was a nice piece of steak and the sauce, which I can't for a second tell you what was in it, was really tasty and added to it. We did have two people on the table who weren't so keen on the steak but these were the same people who ordered it "well done" so their views obviously don't count as that's not how you eat steak! The other 4 of us were generally happy. There are also other sauces available on request; but I recommend trying Remy's.
The ratatouille doesn't come in the fancy pile, but it has been improved upon presentationally from the taster photos we previously saw. Again this is a shame, not only do we expect the pile from the movie, the pile presentation is featured in the attraction itself so it is even more raising expectations of receiving it. I understand if the pile presentation is not achievable in quantity as the side dish; but if that is the case it should be a main course option by itself. Despite the presentation it was very tasty which is probably the most important thing.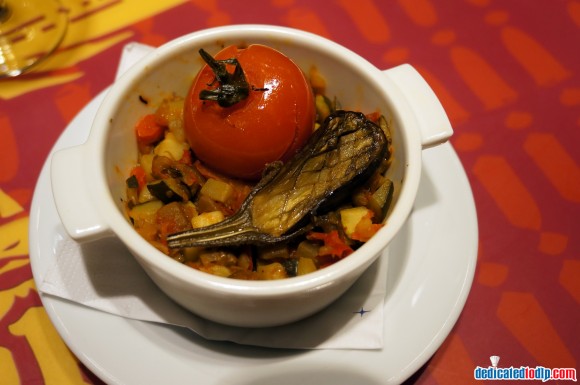 We were then given a cheese course of more Brie of Meaux which is not part of the standard menu; most people seemed happy with this. The restaurant is using locally sourced cheese and wine labelled for it exclusively, although whether Ego Wine will be available to buy in the shop when it opens remains to be seen. Those drinking the wine had nice things to say about it.
And finally came the desert of a giant profiterole filled with vanilla ice cream. This desert was huge, and very tasty and as a nice little touch was decorated with a little icing Remy and icing piece of cheese.
At €29.90 for a starter and main course, or €39.90 for a starter, main, dessert and drink too; I think the value for money is decent for a theme park meal and a good table service restaurant in WDS is sorely needed. The starter I could take or leave and the drink and desert are well worth the extra €10, so the real question is, is €29.90 (£24) worth paying for the steak, chips and ratatouille? I would say probably. I think if you compare this to a general restaurant it stacks up in both price and quality of steak. Of course if you compare this steak to a Hawksmoor or Gaucho it isn't in the same league, but there you would be paying more than the cost of this entire meal for just the steak without any sides, starter or deserts; so you have to put it in some level of context to price when rating the steak.
The kids meal looked good too, the meatball skewer with tomato sauce and linguini was happily eaten by children at the table next to ours.
Bistrot Chez Rémy will almost certainly be my choice for a main meal on days spent at the Studios where before I would often leave the park and eat either in Disneyland Hotel or in the Village. It's a good meal in a beautiful and fun setting.
Ratatouille: The Adventure
When Disneyland originally opened in '55 you paid per ride in the form of handing in a ticket worth the value that the attraction was designated as; whether it be A, B or C. This was soon expanded to include D, and a few years later the E Ticket was introduced. Over 50 years later, and over 30 years since the last E Tickets were actually sold, the term E Ticket is still used to reference Disney attractions and especially for forthcoming attractions when managing expectations of what level it will be.
Since the rumours of a Ratatouille attraction, it has always been thought to be an E Ticket attraction; expectations are high and the WDS park needs big draws. But truth be told, many of the attractions opened over the last few years have been above and beyond an E Ticket, the range the term covers has become quite wide and less of an absolute indicator of what to expect. On top of that, Disney Imagineering has been very busy for the last 5 years or so, and I was concerned that while still an E Ticket, it may be at the lower end of the scale. The overhaul of California Adventure featuring the amazing Radiator Springs Racers, the expansion of Honk Kong Disneyland featuring the amazing Mystic Manor, the expansion to the Magic Kingdom's Fantasyland featuring the amazing Seven Dwarves Mine Train, not to mention the complete development of Shanghai Disney; no matter how big Disney Imagineering is, there is only so much capacity without a cut in quality. My fears were amplified after visiting the Disney Imagineering pavilion at the D23 Expo in August of 2013. There were sketches, designs, models and even virtual ride-throughs for almost everything mentioned before and more that is yet to come, but absolutely nothing about the upcoming Ratatouille attraction; and when I made enquiries no one could tell me anything. I have to admit, I was concerned that on the list of priorities of importance, Ratatouille was a long way down the list, and that it was being deliberately left out because it didn't match the quality of those being showcased.
So let's start with the name. In French it is "Ratatouille: L'Aventure Totalement Toquée de Rémy" which roughly translates to "Remy's Totally Zany Adventure", it's long, but it works and I'd imagine that many French speakers will shorten it to "L'Aventure de Rémy". In English it was originally called "Ratatouille: The Ride" until someone with a little knowledge of their history pointed out that Walt decreed that Disney attractions are called attractions or adventures, but never rides; and thus it was changed to "Ratatouille: The Adventure". It sucks. No-one is going to call it by the full name, or by just "The Adventure" because it makes no sense without the "Ratatouille", so everyone will just call it "Ratatouille" and thus the subtitle is completely pointless. Why didn't they just call it "Ratatouille: Remy's Adventure"? What is next, "Star Wars: The Experience", "Avengers: The Attraction"?
Apart from that everything else about it is absolutely amazing. My fears were completely unfounded and this is another attraction that blows the term E Ticket out of the water.
Donning 3D glasses you travel in your ratmobile in groups of 6 through an immersive experience that is just utterly fun. A mixture of gigantic sets, enormous props, tight corridoors and 3D screens within domes, it just really works to fully immerse the rider into the story and all you can do is laugh and smile from the time you walk into the building until the time you leave it. This was not the ride I thought it was going to be, I expected travel past 3D screens, actually, most the time you travel, you are going through real sets and special effects, and only when you are in domes are you watching screens; although even then you will think you are moving like crazy.
Spoilers start here
From this point on, things will get a bit spoilerrific, so read on at your own choice or skip to the last paragraphs.
The Queue
The outside stand by queue (far right) is pretty standard switchbacks but it is all covered so will be tolerable despite the extremes of the weather. You will go past several wall posters to give some level of entertainment or detail, but nothing that is going to amaze. The real treat is when you enter the building and get the pre show, which the other queues (fastpass/single rider) do not get. The building is set as a theatre, you walk past ticket booths as you enter and it all looks lovely.
Ratatouille: The Adventure The PreShow
You turn a corner and suddenly you are on the rooftops of Paris, roof skylights and windows surround you in this darkened atmosphere and looming in front of you is the illuminated Gusteau's signage. If you have rushed in at rope drop, STOP! do not walk straight past this. Take in the smell of the city, listen to the cars in the roads below you, hear the odd altercation coming from the apartments on which stand and that surround you; and keep an eye on Gusteau because in both French and English, he will come to life and tell you that Chef Remy is waiting for us. He will also occasionally lose a star, but he will put that right. This could so easily have been just a very standard room with the animated sign, but instead it is fully immersive and wonderfully detailed. Bravo!
Ratatouille: The Adventure Scene 1 – The Loading Area
After picking up your glasses you enter the loading area where 6 cars (6 people in each) are constantly being loaded at once. With the single rider line as well, these cars should always be full so ride capacity should reach somewhere between 1,500 and 1,800 per hour providing loading is every 80 seconds or so.
Three things will hit you when you see the loading area. Firstly, its HUGE. I mean this in every sense of the word too, the area itself is big, made to seem bigger by the freedom of the space on the floor which you can see in all its trackless glory (more on that in a bit), but now that we are fully rat sized, everything is big, huge smoke stacks, giant windows with people in them. Secondly, for an area that is quite dark, it is beautiful and awe inspiring. Again, wonderfully themed, this is probably the best loading area I have ever seen in a theme park; taking the top spot away from Toy Story Mania in Orlando. And finally there is the first glance at the vehicle, and particularly the vehicle in motion.
Ratatouille: The Adventure Time Out – The Vehicles
There are 36 vehicles in operation in this attraction with 1 of them being disability accessible; each weighing a mere 2.5 tonnes. You are sitting in a pretty standard ride car from a glance, 2 rows of three with a lap bar (there isn't a lot of space in front for bags I warn you now) and the vehicles are of different ratty colours.
Ok, that's just made one of the most advanced ride vehicles ever devised seem really boring.
These are third generation trackless ride vehicles, even though they were designed at the same time as those for Mystic Manor, they can fully turret and vibrate which the MM ones couldn't. So being completely trackless, the base unit can spin or just the bit you are sitting in can spin, or you can be tilted forwards or backwards or side to side, or bounced, or have vibrations sent through you. Honestly it is amazing, and even more so when you watch others in action coming to and leaving the load area. The only way to describe it is a ride vehicle ballet, no clunky motors or chain belts but these 3 vehicles dancing into position in beautifully smooth formations of manoeuvring; and of course, not following each other as they aren't limited to a single or even three separate "tracks".
No other ride vehicle will seem the same again.
Ratatouille: The Adventure Scene 2 – The Rooftops
Your journey begins with a trip through the rooftops which is part of and more of the loading area space; part of why the loading area seems so huge. Now we are again greeted by Gusteau, this time in his floaty form above us who rushes us to come meet Remy. I am not sure when Scene 1 ends and 2 begins, but together it sets the mood and leaves you in awe of the sets you are travelling through.
Ratatouille: The Adventure Scene 3 – Roof to Kitchen
Scene 3 is the first 3D screen dome where the three vehicles line up side by side to see "the film". Due to it being a longer scene there are two identical domes in use here to allow more throughput.
For the first time we get to meet Remy, he and Gusteau are working out which meal he should cook for a special event while standing on a skylight; not surprisingly the final made choice is ratatouille (in a nice little stack I might add). But no sooner has the choice been made, the skylight flips open, Remy on the bottom and us lifted high above and we all fall down into the kitchen of Gusteau's restaurant below. The chase is on as a mad dash around the kitchen ensues, luckily Linguini is on our side and offers us an escape; he opens the door to the pantry and as he does this in the film, the wall to our side (where the door is in the film) opens as well giving us a glimpse inside.
I should point out to get an idea again of the vehicles, you totally feel like you are moving and going through this. It is like you are in your personal Star Tours vehicle and fully immersive; this is not a "just watching a movie" experience.
Ratatouille: The Adventure Scene 4 – The Pantry
You dash into the pantry and this is again when you realise how great the vehicles are being you all go on different routes and can see each other doing so. This is where we see huge fish and hams hanging from the ceilings and gigantic fruits and cheeses all around us; a chill is in the air and you can smell the food. In the distance we can see Remy and Emille arguing about Emille eating the food and while part of the story, don't let them distract you too much, the real beauty here is all around you, look left, right, up, down. And then there are "the eyes". All around you, rats are popping out from behind the foods, their eyes and noses becoming visible as they get closer to you in the light. It all just looks awesome; stunning.
Ratatouille: The Adventure Scene 5 – Mop & Oven
Another dome 3D scene, we sneak back out of the pantry and under some shelving; Chef Skinner is interrogating Linguini, but that clumsy Emille slips over and risks up getting caught. Linguini to the rescue, he uses his mop to hide us, and with a final sweep and a splash of water sends us flying sideways away (actually this time) from the approaching Skinner.
We are safe…
Uh oh!! We are under an oven and its being turned on, flames start to roar above our heads as we are bombarded by heat and a smell of burning. We jump out from under the oven and onto the serving cart to our left
Technical break. This scene shows off the blurry line between the 3D movie and the ride vehicle, in scene 3 the vehicle base stays relatively still and it is the movie and the top half of the vehicle simulating the movement. This time the 3D movie is staying still and its us doing the moving away from it. Also, I have said before that I was hoping for real flame to be used. This is not the case, its effect; it is just too close to our heads to be done with real flame and it would be terrifying for kids if possible at all. But with the sensory effects it works and I am happy.
Ratatouille: The Adventure Scene 6 – Dining Room
We are under the cart, its big wheels turning to our sides (set piece) as we are wheeled out into the dining room (3D screen). Typically we are taken to the table where Skinner is now serving wine to Ego (what's the chances of that?? – typical!) and he spots us. The chase is back on, and with Linguini's help we escape into the walls.
Ratatouille: The Adventure Scene 7 – In The Walls
Here we split up from our other vehicle friends and go into our own 3D dome where action happens all around as we run through the walls trying to escape Skinner who tries to capture us through the grates. I am a 38 year old and I still jumped EVERY time Skinner's hand burst through the wall to grab us; thankfully he puts his hand into a rat trap and that slows him down and we are able to make an escape. Keep in mind, until this point, not much actual bottom half vehicle moving, all top half and the animation working to make us believe it all.
Then we do move and now we are travelling through the set pieces of being in the walls on the way to Remy's kitchen. This is over sized props in thin confined spaces; so very effective.
Ratatouille: The Adventure Scene 8 – Remy's Kitchen
Safe at last, we are on home turf. Back with our friend vehicles in another screen room, we take a tour of Remy's kitchen helping to prepare the food by sliding down the grater. Linguini takes orders from Remy and Collette as rats all work with the food in celebration.
Too much celebrating, the champagne bottle explodes at us, the explosion of drink washing us down and sending us flying back up the grater and spinning around. For the second time, we are splashed in this scene.
Ratatouille: The Adventure Scene 9 – Remy Goodbye
But it's ok, we end up in the rat restaurant where Remy and Emille thank us for all the help while Remy's Dad and all the family enjoy the restaurant with the band playing in the background.
Ratatouille: The Adventure Scene 10 – Unload
With a manoeuvre out of that final dome we are at the unload area where the actual Bistrot Chez Rémy is in front of us (with a glass partition). Just as we can see the unload area from the restaurant, the unloaders can see the restaurant they have arrived at in the final scene of the attraction as they depart. It all ties in beautifully.
End of Spoilers
And so there it is, the new attraction. Some people have said it is too short, but it comes in at about 4 ½ minutes which is perfectly acceptable. I thoroughly enjoyed it, it is WAY more than either a dark ride, or a movie, it's a fantastic synergy of both to create an attraction that is fun. It's one of the best family orientated attractions to come about for a long time, it isn't too thrilling but not without thrills either, it's not going to hurt anyone or be a problem for those with back issues or small children. It is for everyone and everyone will come out with a smile on their faces; as everyone who rode it with me did.
I really think you need to experience it from all 3 vehicle paths too, you can do this by getting in the front, middle or back at load time. You will take slightly different paths through the pantry, but have a different position in the big dome scenes too, meaning you will see from a slightly different angle, be the first in or out of different rooms and experience it all differently from the other two positions.
As for rerideability, there has to be loads. Never mind the all 3 cars/paths. There is so much detail in both the set pieces and the film pieces that if you take your attention away from the focus point, I am sure there are SO many extra details and easter eggs. We have been told there are 2 hidden mickeys in the load area alone to be found.
Really, really, really, really, really, really, really, really, really, really, really, enjoyed this.
Ok, if I had to nit-pick one thing, I don't like the 3D glasses, the lens area is too small and at times I found I could see the border to my vision and wished I could be taking in the whole surroundings rather than having to look around to see through the lens area; basically it made you remember you were wearing them to get the full effect of the attraction.
So there we have it, the latest addition to Walt Disney Studios at Disneyland Paris and it is excellent; an all-around success waiting to happen. Let's not get ahead of ourselves to say the park is fixed due to this addition, but it is another huge step in the right direction following on from the additions of Tower of Terror, Crush's Coaster, Cars Race Rally and Toy Story Playland to the park. Disneyland Paris truly has a new gem which like Dreams! the rest of the Disney parks around the world should be envious of, and when it opens on July 10th, the fans and guests will get a new experience that they will love; I defy anyone to have a proper and justified complaint about this addition other than the name (which still sucks). I honestly cannot wait to take my wife and son (or Steve) to experience it for themselves.
Bravo Disneyland Paris!
Written by Dedicated to DLP podcast co-host Mark Petar. We have a huge gallery of photos from the weekend coming soon – so look out for those.