Top 10 Things To Look Forward to at Disneyland Paris this Summer
10) Big Thunder Mountain
This is a maybe at the moment, as my son isn't sure he wants to ride it. For years he was too small, then when he grew tall enough the ride went down for refurbishment for a year. Now it's back up, some of the time, the nerves have kicked in and when I last asked him he wasn't keen. He's a bit like me, in that my last and only ride on Big Thunder Mountain was back in 2012 and whilst I wouldn't call the experience enjoyable, it wasn't as bad as I'd imagined it could be. Had I gone on again since then I probably wouldn't be so nervous now, but as it's been 5 years I think I share his reservations. However, I have heard that the new additions are fantastic, and my wife absolutely wants to ride it, so if my boy does pluck up the courage then I'll ride too. That is my absolute limit though, so don't be suggesting Hyperspace Mountain, or others of its ilk like Indiana Jones and Rock n Roller Coaster.
9) Mickey presents "Happy Anniversary Disneyland Paris" and The Starlit Princess Waltz
I was in two minds whether to include these as the Castle Stage shows have never been my favourite things to see in Disneyland Paris and they didn't do a lot for me when I saw them back in March. However, that was a very hectic day, I was ill and tired, and probably didn't give them the attention they deserve. So I've added them to this list both as second chance for myself and also because my family loves shows!
8) Cowboy Cookout Barbecue
This might seem like a strange thing to include, especially with all the new additions to Disneyland Park this year, but it's a restaurant we only discovered during our December trip last year. As a country music fan why did it take me 14 years to eat in a venue that has live traditional country music? Not only that but in the winter there is a big fire pit, which not only warms you up in cold weather but is a great visual. As a fussy eater I wasn't sure what to eat, but not because there was nothing I wanted, but I wasn't sure whether to have the Cajun Hotdog or the BBQ Chicken. I went for the hotdog so now I'm keen to go back and try the chicken, or will I have the hotdog again? It was really nice. So Cowboy Coookout Barbecue has now overtaken The Lucky Nugget Saloon as our must visit counter service restaurant, and is something I am actually looking forward to experiencing again. Hey, good food is a vital of any holiday.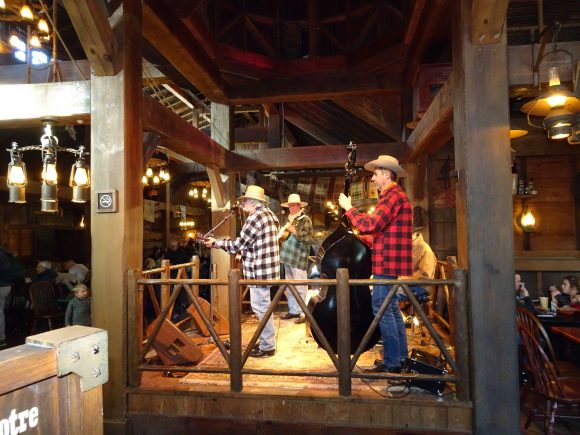 7) Star Wars in Walt Disney Studios
Having missed Season of the Force I was delighted when it was revealed that the Star Wars: A Galaxy Far, Far Away stage show, First Order March and meeting Stormtroopers would continue through to the end of September. As huge Star Wars fans this is something made for my family. Having this as an unexpected extra added to our summer trip is great, and I'll have to remember to pack some of my many Star Wars t-shirts for when we meet the Stormtroopers. It's nice having some more entertainment over in Walt Disney Studios where it quite often feels very lacking in atmosphere.
6) Disney Illuminations
You can read my full thoughts on Illuminations here, but yes, it is something I'm looking forward to seeing in Disneyland Paris this summer. Seeing those fantastic Star Wars and Pirates of the Caribbean scenes late on a warm summers evening will be brilliant. Even better will be seeing them with my family,  who didn't get to experience Illuminations with me back in March. I'm quite intrigued to see what I'll think without the weight of expectation like I had when I saw it 2 months ago. Knowing what I'm getting, will I like it even more, or will I just miss Disney Dreams! as many seem to be saying.
5) Adventure Isle in the Afternoon Sun and By Moonlight
Back in October I got to take in the amazing refurbishments of Adventure Isle, but summer is an entirely different beast. To be able to walk around the glorious paradise in Advetureland in warm weather and with the sun blazing down will be idyllic. There is one time of the day that can rival that though, and that's when it gets dark, and the coloured lights around Adventure Isle and up the Robinson Family Treehouse glow. Yes I did get to see this back in October and in December too, but it was cold, and warm beats cold, every single time. Well, except for ice cream and snowmen – sorry Olaf. I get giddy just thinking about exploring that area on a warm and dark summer evening, now looking better than it ever has. Do I need a new camera or will a new phone be enough? That was actually a topic I discussed on the recent Disneyland Paris News Weekly Episode 50, and it's for this occasion that it's probably most important.
4) Disney Stars on Parade
When I was lucky enough to be at the 25th Anniversary launch weekend I declared that Disney Stars on Parade was the highlight of this new landmark season and two months on I'd agree with that. I can't wait to see it again, but more than that I can't wait for my family to see it for the first time and to be with them when they do. Plus the amazing steampunk dragon now breathes a proper full orange flame, and not the red mist that I had. I have also not seen the right hand side of the parade, as it comes towards you, so I need to position myself in the right place to do just that. I'm also looking forward to taking in the music more than I did in March, now that the visuals won't be have such an all encompassing effect on me. Likewise the performers not on the floats will get more attention than I gave them last time.
3) Star Tours: L'Aventure Continue
As a big Star Wars loving family, this is going to give us so many fun times on our summer trip in Disneyland Paris. I already know how great the second incarnation of Star Tours is but my son doesn't, and wow, is he in for a treat! Already he's planning to ride it 5 times a day so we can get as many variations as possible, and it's those different destination combinations that make the the new version of the attraction so much better. Oh, and higher quality footage in 3D of course, but to not know where you are going on each ride adds to much to the experience, and I haven't even scratched the surface yet. My wife was never a big fan of the original Star Tours but this updated ride system is smoother. Enough to get her riding multiple times? We'll have to wait and see. If I can be cheeky and add in the Darth Vader meet and greet plus the new shop, then we could be spending a lot of happy Star Wars infused times in that corner of Discoveryland this July and August. May The Force Be With Us!
2) The Forest of Enchantment
I think Forest of Enchantment has to get the title of Most Over-Achieving Show Ever at Disneyland Paris. It had a fraction of the budget of Mickey and the Magician, none of the special effects of Animagique and lacking a globally recognised franchise in its title like Frozen Summer Fun. It does however, have more heart and charm than any show I've seen in Disneyland Paris since Tarzan. With it's combination of characters, songs, clever used of scenery and wonderful colours, it's the piece of entertainment I'm probably most looking forward when I return to Disneyland Paris on the last day of July, and that includes everything I've written about in numbers 3-10 on this very list. It's not just the characters we know from films though, as the brand new character performers such as Lizardo and Regina arguably steal the show, with their spectacular outfits and voices. It's back for just 2 months and a few days this year and at this point I've no idea if it'll return again. If you've never seen it then I recommend you book a trip to Disneyland Paris this July or August, The Forest of Enchantment is absolutely a must see show
1) Pirates of the Caribbean
I know, big shocker right? Of course Pirates of the Caribbean is at number 1! After a closure that has spanned in excess of 6 months, more than anything I am looking forward to it reopening in July. July 24th to be exact, if they keep to schedule, and just 7 days before I arrive. When I first heard of the big refurbishment and the rumoured plans to include characters from the films I was against the idea. Not of the refurbishment, as there are many areas that need some serious love and attention, but I didn't want the characters to be added. I liked that our version was still pure. But as time went on and people insisted that their inclusion didn't impact it much in the Parks in the States I began to to warm to the idea. It's also what people would come to expect, especially with the Pirates of the Caribbean film franchise continuing to be such a juggernaut.
When Tony Baxter was in Disneyland Paris back in March he mentioned that the Pirates of the Caribbean refurb plans were very exciting, and while I don't recall his exact words it did give me the impression that what was being done went beyond some TLC and characters. What else will be there I'm not sure, but could we have some of the special effects that have been seen in the other Parks around the world? Time will tell, and now I've gone from being anxious about the changes to excited. My last trip to Disneyland Paris was the one and only time I've ever visited and not ridden Pirates of the Caribbean, so like a long lost family member I will be welcoming it with open arms in two months.
There is lots more going on in Disneyland Paris this summer and I could probably extend my own list with a Moana meet and trying Vapiano for now, and for us, these are the things to most look forward to, and I think it's a pretty fine list. Agree or disagree? See you in the comments.