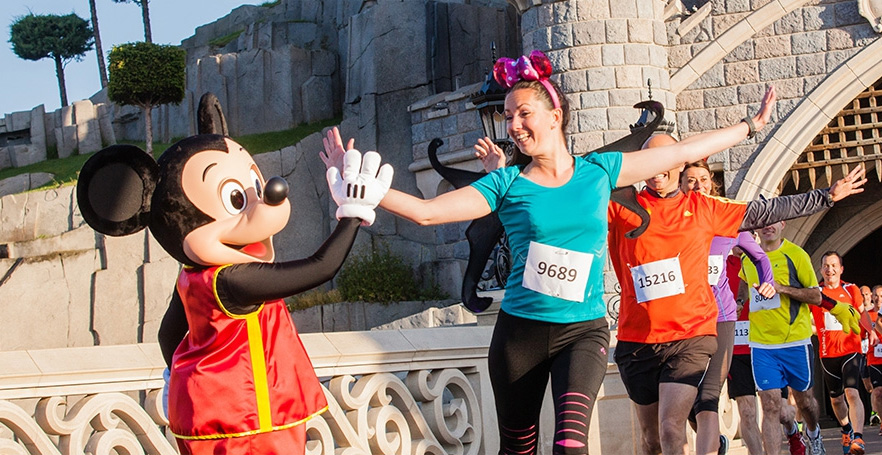 Disneyland Paris News: Disneyland Paris Marathon, 5k, Kids Races and Travel Packages

In a period of very little news we have some today, in the form of a brand new website for the Disneyland Paris Half Marathon. So what do we now know that we didn't before?
Bookings will start on October 6th 2015 for travel packages
Bookings will start on January 12th 2016 for individual race registrations and are limited
Disneyland Paris will be at 5K at 7am and runDisney Kids races will be from 10am on Saturday 24th September 2016
Dinsyeland Paris Half Marathon will be on Sunday 25th September 2016 at 7am
The kick off party will be on Friday 23rd September 2016 with Disney Characters and exclusive access to attractions
runDisney Health & Fitness Expo to run Friday 23rd – Sunday 25th September 2016 in the Disney Events Arena
There is a pacing requirement of 16 minutes per mile for the 5K and Half Marathon
So there you have it, and as we speculated, there are other races for those who are not able to complete a full 13.1 miles, and also something for kids. However, the one thing that does stick out like a sore thumb to me, is that it seems like the majority of people will have to book a whole package to enter, which presumably includes accommodation on site. That is surely going to bump the price up substantially to just buying race entry and staying off site. For Disneyland Paris themselves, that makes perfect from a business standpoint. But for people who can't afford to stay on site, and unless prices for the runDisney package are very competitive, it could price a lot of people out.
Is that a bad thing? Well it is for those that can't afford it, which could include myself. But then that's just the way of the world – if we can't afford something we don't have it, or we save up until we can. Not everything can be affordable to everyone, and there still be enough money to pay overheads and provide profit for the future. Fear not though, as there will be a limited number of race tickets available where you won't have to stay on site as part of a package, but I have a feeling you'll have to be both quick and lucky.
I think personally, I'll probably got for the package deal, as I have over a year to save up if the price is really high, but I think staying on site and being with everyone before and after the race will be a big part of the experience. As it stands now, thanks to having Achilles tendinitis recently, I'll be going for the 5K race. I'd love to do the Disneyland Paris Half Marathon too, but realistically it's probably not going to happen. On the Sunday I can get some footage for future episodes of the podcast and YouTube show, and maybe interview some people pre, post and even during the race!
For anyone with children in the UK it's probably a no go, unless you take them out of school and travel over on the Friday. That's not something I would do, so that rules out us going over as a family, which is a shame, but you can't please everyone all of the time. 7am is quite an early start, but I guess runners are used to that, and at least the kids races start at 10am, when the park will be open to the public, so that will be an interesting one to organise – rather them than me.
Once more information comes out on what the packages are and how much they cost plans can really start to be made, and there is a charity groups program which we will find out more information about on October 6th 2015 too. It's all sounding quite exciting though, and if anyone wants to join Team Dedicated to DLP for any of the races, then please let me know and we'll start organising something. Now it just leaves me to ask that all important question – 5K, Half Marathon, neither or both?