Final Boarding Call For Endor Express – Saying Goodbye to Star Tours in Disneyland Paris
A long time ago in a galaxy far far away…actually it was just 2 days ago and 342 miles away, which might be considered far far away for some. Over in Disneyland Paris on Wednesday 16th March 2016 was the very last day that Star Tours would be open in Disneyland Paris, and to commemorate this they put on an event in the evening for invited guests and a limited number of shareholders and Dream Annual Passport holders. I'd already booked a trip to be there that day, in hope that there'd be something going on, or at the very least to just ride it on its last day of operation. My hopes were realised when I was invited to attend the Final Boarding Call For Endor Express, and so our adventure begins.
The Lottery
After a day in the Park it came to 7pm and time to check in and collect our event lanyards from the Donald Duck desk, which was a first for me, having never been in there before. We were also given a programme card, which on the back had a scratch panel behind which lay our destiny, as 1 in 5 of us would win a seat on the final last ride on Star Tours. PERDU – that's what I saw, and every one of the people that I was with, and even my level of French recognised it as LOST. I say all, that was until YouTube sensation Ellie Steadman rocked up to the counter, leaned over, scratched…the card, and turned around with a big smile and two boarding passes!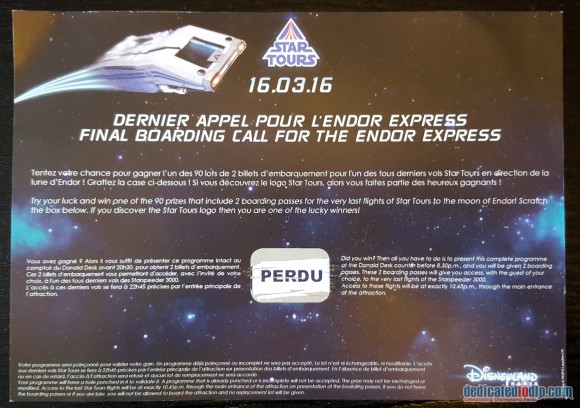 To cut a long story short, one that included kindness from my podcast partner Mark, Ellie made my day, and possibly year, by giving me her spare boarding pass. My attempt to bribe the organisers had failed miserably, so this was my last chance. Result – very happy Steve! The boarding pass came in the form of an actual commemorative pass, in a special folder, labelled Final Boarding call For The Endor Express. I'm a sucker for merchandise, and limited edition items like this are some of my most treasured possessions.
The Characters
Another ride of the soon to be closed Star Tours and it was into the exit area that used to hold the video games, and was now, for one night only, home to the Darth Vader Encounter. I guessed this would be some kind of meet and greet, or at least that's what I hoped, but there was no kind of queue mechanism in sight. There wasn't much time to ponder this as none other than R2-D2 came out, greeting and terrorising guests in equal measure as he wheeled and bleeped around the room.
Soon enough Darth Vader strode into the room, flanked by two Stormtroopers and stood on the stage area. At this point, being as we were in Disneyland Paris, we all surged forward. It just goes to show, that even at a special event with limited numbers, and plenty of time for everyone to get a photo, that dash to the front instinct takes over! Though I did worry for a while that I might have to leave to get to the presentation, I needn't have as my turn came with time to spare. Darth and the Troopers were on top form – shrugging off all my attempts to put a friendly arm around their shoulders. I even got Darth and Trooper TK-820 to sign my boarding pass folder, the latter of whom I left it with after handing it to him sign. Luckily Ellie was next in line, and for the second time in an hour handed me my boarding pass for that exclusive last rode on Star Tours!
The Presentation
This was held in the Videopolis theatre, home of the Star Wars Jedi Training Academy, so the perfect setting for this Star Tours themed evening. Unfortunately, for us English speakers, the presentation was entirely in French, but I did gleam a few facts and figures, and the visuals helped a lot. The most exciting part needed no translation, and it would have ruined it to have done so, as Luq Hamet took to the stage – the voice of Rex himself! Luq is pretty famous in France, being the French voice of Michael J Fox in most of his films and was also the voice of Roger Rabbit in the French dubbed version. Tonight though, he was Captain Rex, and when he spoke to us in that voice it was quite thrilling and made the whole thing worthwhile. The presentation ended with a great tribute video looking at Star Tours and some of the Cast Members involved – that you can see right now thanks to it being uploaded by Disneyland Paris.
httpvh://www.youtube.com/watch?v=cqIR9Qo09pw
The Last Tour to Endor aka Final Boarding Call For Endor Express
The time had come, and after a quick portion of chips in Cafe Hyperion we queued up to be one of the honoured few to ride the very last trip on the original Star Tours anywhere in the world. As a lifelong Star Wars fan and with Star Tours being one of my favourite attractions I'm always excited to ride it, but this time it was different. The anticipation among the guests in the queuing area was almost palpable, with everyone smiling and taking it all in. For the last time I looked up at Admiral Ackbar and said It's A Trap. For the last time I made sure to take photos of each and every droid, as well as the little carts that roam around their track that hangs from the ceiling. And for the last time I saluted R2 as he popped up from the Starspeeder 3000.
When we got to the top and saw the Cast Members and cabins for the first time, that's when it got really emotional, as they were all lined up clapping everyone as they got in line to board. We in turn clapped other guests who got their spot after us. It was an atmosphere of the like I've never experienced before, combining a mixture of celebration, happiness, nostalgia and a little sadness. We watched that great pre-boarding safety video and once inside cabin 4, our allocated Cast Member gave us a great little speech, which alluded to hopefully being back in a year for the next adventure, as we all cheered both her and the occasion. Then the doors shut, and we waited.
The wait I assumed was because they wanted to wait for everyone to board and launch all cabins at exactly the same time, so that we would all legitimately be on the very Last Tour to Endor. Then the lights went out and the screen came down, and we all erupted in cheers as Rex took us off on one last flight. Normally I'd be annoyed with people being noisy during my beloved Star Tours, but we were all in a giddy trance of excitement, cheering, whooping and in my case, as always, making laser noises during the dogfights. It was the dictionary definition of bittersweet, as my favourite ever flight on Star Tours would be my last.
There were more cheers when we landed, and I waited for everyone to disembark so I could take a photo inside the cabin and also one of an empty cabin. When we got out, emotions rose again as all the Cast Members were waiting on the other side to cheer us on our way. Being one of the last I got to take a pic of all the Cast Members together, and somewhere out there is one of me with them too – I really didn't want to leave. What a perfect time on Star Tours, and what a privilege to be on the last ride.
The Closing Ceremony
Coming out of the Star Tours building we were greeted with hundreds of people stood facing Star Traders, so we found suitable spots to watch from and waited for the ceremony to start. Up on the roof of Star Traders itself was an audio animatronic droid in front of a control panel, or was it a DJ deck? More likely the former. As the music played all the Cast Members came out and lined up in front of us, and then the ceremony began, in French. I had no idea what was being said, but it being the last moments of Star Tours, I had a pretty good idea. It culminated in some explosions and sparks, then the lights went out and it was over.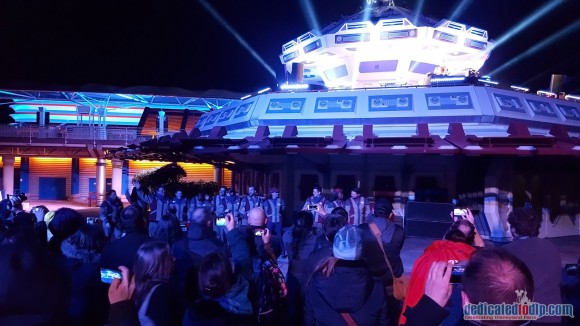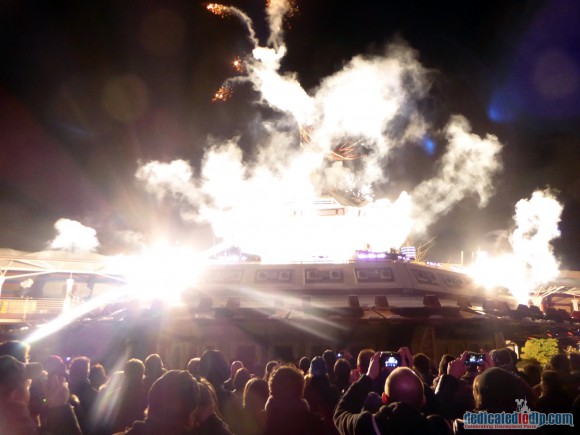 I heard a few people say they were expecting more and I think that's madness – I never in my wildest dreams thought I'd see a droid on top of Star Traders as the master of ceremonies, moving and talking. That's an impressive and pricey bit of tech to use for just a few minutes on one night. From the characters to the presentation, the last ride and the ceremony, it's a night I'll look back on with very fond memories and not likely forget. The organisation was perfect and all the Cast Members made it an occasion to remember – thank you. I'm glad I was there, and even more so to enjoy it with friends, old and new.
The Adventure Continues
The next morning there were blue fences up around the attraction and it looked like work had already started. By the Friday there was a sign up that gave us the confirmation we'd been seeking for months – The Adventure Continues was coming to Disneyland Paris in 2017. March 18th 2017 if a tweet from @DisneylandBerry earlier today is to be believed, and with his track record there is no reason to think not.
This photo from @InideDLParis earlier today shows the iconic X-Wing off its stand and on the floor, where I hope it will get a good clean. In fact later in the day he posted a photo showing that it had been removed completely. Maybe they will go one step further and paint it black, make a few modifications and bring it up to date as Poe's X-Wing?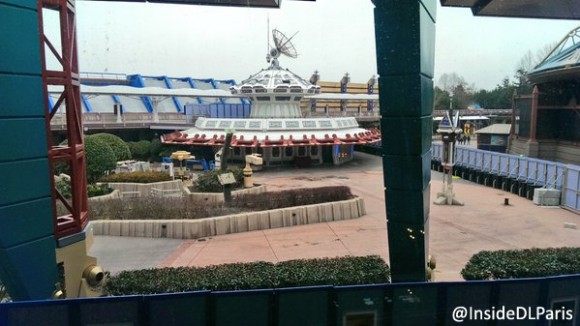 Star Tours has rich legacy in Disneyland Paris and in Disney Parks around the world. It's one we will look back on with great fondness, and forward to with great anticipation and excitement.
May The Force Be With You…