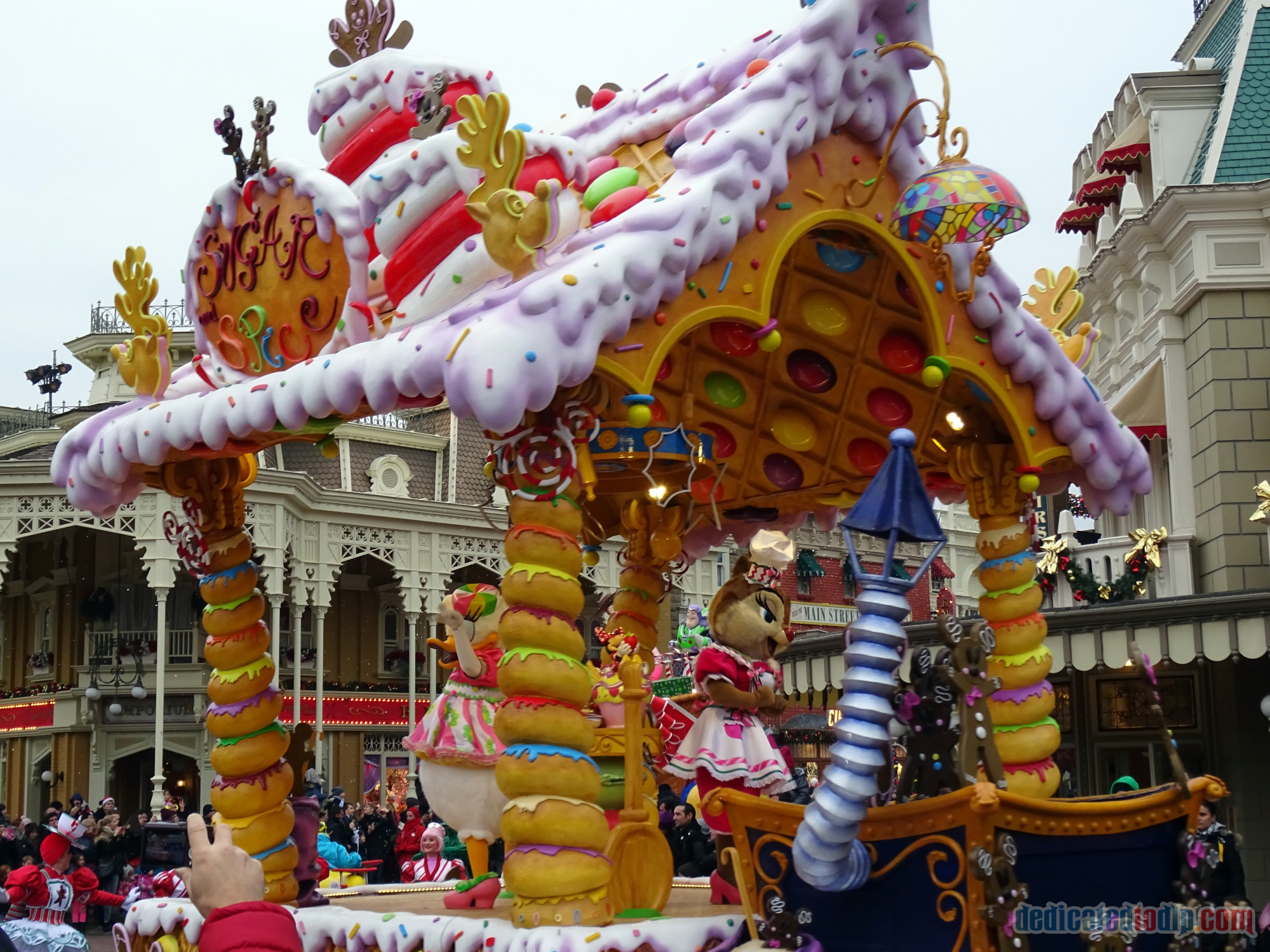 Disneyland Paris Rumour: Two Changes To Disney's Magical Christmas
Here is the latest from our friend @DisneylandBerry, who has been on a roll lately for news and rumours about Disneyland Paris.
Christmas Season 2015: one new float for the Disney's Christmas Parade and a new Tree Lighting Ceremony with Santa Claus + Disney Characters

— DisneylandBerry (@DisneylandBerry) June 12, 2015
New Float Disney's Christmas Parade
This can only be a good thing, and back when I interviewed Christophe Leclercq in 2012 he talked of the Christmas season and Cavalcade growing each year. With the decision to remove Disney's Magic on Parade from the Christmas schedule last year this will be a welcome addition for many. I personally didn't miss the main parade as there was so much going on, but adding a new float to the Cavalcade, which is now the Christmas Parade, will help make up for that, and improve and already great piece of entertainment.
Last year's new float was thee Sugar and Spice float, with Daisy Duck and Clarice, which joined the existing floats of the Toy Story toy sack float, Santa's float with Huey, Dewey and Louie and the Christmas Tree float with Mickey and friends. So, what will be next? Looking at how things have gone recently, and if I were a betting man, I'd guess at a Frozen float. There has been speculation that Anna and Elsa will not being doing a meet and greet this Christmas, but as I explained in the last podcast, I think they will. So with that and the rumour of the Frozen Sing-along show returning this Christmas, will there already be too much Frozen? If the Princess Parade with Anna and Elsa returns then I don't think the float will be Frozen themed, but if it doesn't, then I say it will be.
httpvh://www.youtube.com/watch?v=9-kCqmnsQ5A
So if not Frozen, then what else? Given that the Princesses are booted out of the Princess Pavilion for the Anna and Elsa meet at Christmas, what about a Princess float? Imagine how magical it would look with all the Princesses in Christmas dresses, especially with the snow falling on Main Street, U.S.A. I'm sure all will be revealed in time, but for now, what's your guess for the theme of the new Christmas Parade float?
New Tree Lighting Ceremony with Santa Claus + Disney Characters
This rumour I am not so keen on, and hope never comes to fruition. I thought when this changed to Magical Christmas Wishes 2 years in 2013, it was a superb move and improved the experience greatly. Not having to rely on characters in one place, the ceremony could be experienced from anywhere in Town Square and even half way down Main Street, U.S.A. Having characters involved limits the viewing positions, or at least it has done the way they have done it on the past. Maybe they will improve upon on this and have all characters show themselves all around the tree, but this sounds like a mini parade, and we already have a main one. This won't help those 10 rows back and people watching from further down Main Street, U.S.A.
httpvh://www.youtube.com/watch?v=udVEByH7suo
The latest tree lighting ceremony also had the focus very much on the tree, and the great music which made it come to life with accompanying lights. Previously the focus was more on the characters, which let's be honest, already get enough attention around the resort in a variety of ways. One I thing I will say, is that Disneyland Paris have been making changes and adding things to Disney's Magical Christmas for the past few years, and each one has been fantastic. So now I guess I need to put my doubt aside and instead put my faith in a team that rarely fails to impress, and wait to see what magic Disney's Christmas in Disneyland Paris has to offer in 2015.