Relais Spa Chessy Val d'Europe Aparthotel (Near Disneyland Paris) – Premium Double Room Review
On my recent trip to Disneyland Paris I was booked into Hotel New York on the Saturday night for the Frozen Summer Fun press weekend, but wanted to be there first thing in the morning so as not to miss anything. This meant a night in Val d'Europe and a chance to try out a different hotel. I actually looked at the Hipark Serris-Val d'Europe where I stayed in December 2013, but I was drawn to the Relais Spa by the promise of a large double bed in their Premium Double Room. In the Hipark it was a sofabed, and as someone who doesn't sleep so well, having a proper bed, and a large one at that, would at least give me a fighting chance of a good night. At £98 it was £26 more than the Hipark, but that bed… I would normally be cheaper, but my booking was very last minute. So it was decided, all booked and ready to go.
On walking out of the Val d'Europe train station I actually went the long way round, but was still there in only a matter of minutes. The lobby was really big, bright and airy, and I was seen quickly. Everything was explained by a guy who spoke really good English and within just a few minutes I had my contactless keycard in hand, and up in the lift I went, which was also authorised by the aforementioned card. It certainly made me realise just what an asset such a card system would be in Disneyland Paris, for the hotels, shops, restaurants and FastPass allocations.
The room itself was massive, and that's even with the big bed, which did live up to its billing and then some. The room was immaculately clean with everything you'd want, from slippers to two complimentary bottles of water. For someone like myself who drinks just water 95% of the time, that was very much appreciated, and saved me finding a shop on the way home that night. The mattress was more on the hard side, but that's to my preference and I slept really well, helped by the really quiet location. The bathroom was spotless and the shower had the best shower head, it was powerful, and with instant hot water, and lots of it. There is a kitchen area that I didn't use, but looked well kitted out, and even had a kitchen cleaning kit and some dishwasher tablets.
I did did a little video review of the room, and I apologise for the bit where the camera goes a bit Blair Witch Project, but hopefully it's not too bad – enjoy!
httpvh://www.youtube.com/watch?v=yskhIQzEhwE
No review would be complete without some photos, so let's have some of those too.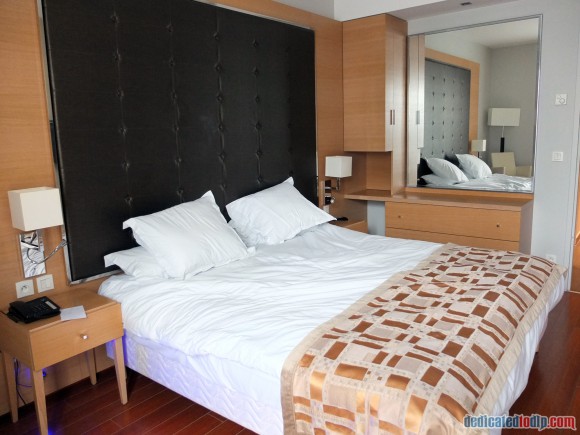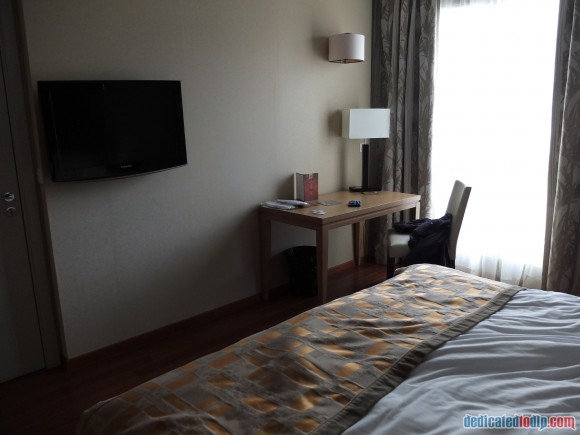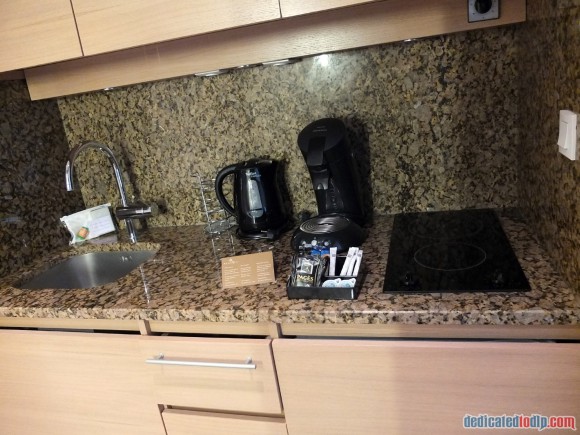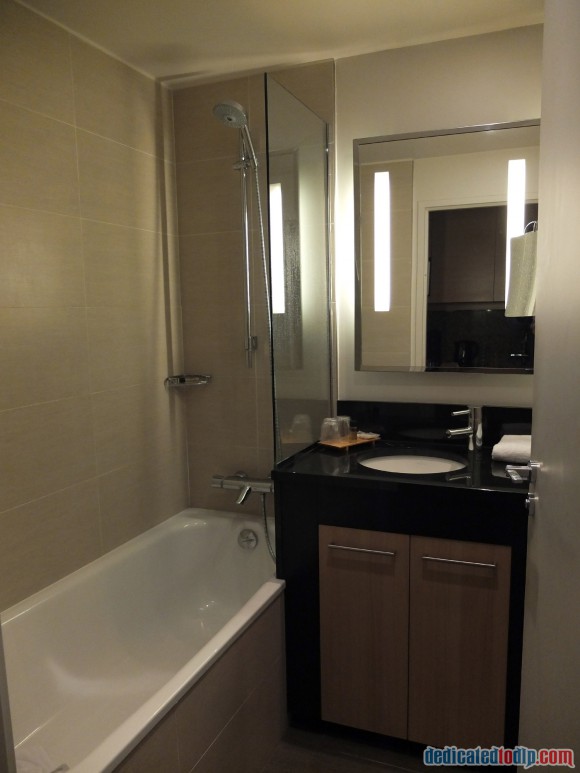 Would stay at Relais Spa Chessy Val d'Europe Aparthotel again? Absolutely, without a second thought. It's possibly the nicest room I've stayed in on any of my trips to Disneyland Paris. Add some Disney theming and it'd be perfection.