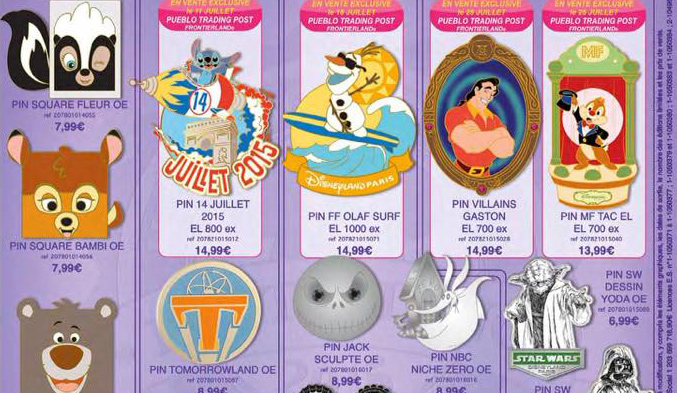 Disneyland Paris Pins for July 2015 – Star Wars, Stitch, Squares and Nightmare Before Christmas?
To say it's an interesting set of pin releases in Disneyland Paris for July 2015 would be somewhat of an understatement, so take a look and then we'll chat.
Square Disneyland Paris Pins
Okay, I'll hold my hand up and say I really don't get these square faced character pins coming out on Saturday. Is this some trend that has sailed way over my head or are they just square for the sake of being something different? Also, the designs are inconsistent, with Baloo and Bambi having the whole square being their faces, but Flower looks to have a face making up part of the square, but with some white background towards the top too. So in a conclusion, not for me, unless you hadn't quite figured that part out.
Pueblo Trading Post Exclusive Disneyland Paris Pins
Before we start on the designs I need one thing cleared up – are these sold ONLY on the day of release, or is that just when hey are released and are available thereafter, but only in Pueblo Trading Post? I've seen both theories banded around recently and I always thought it was the latter, as I can't imagine them removing unsold pins from the shop after just one day. These 4 exclusives are pretty standard, with the Stitch pin reminding me of the Stitch Invasion series from many moons ago. The Olaf pin will no doubt go on day one so no testing of the early theories needed there.
Nightmare Before Christmas Disneyland Paris Pins
These are all really nice pins, with some original and interesting design concepts. However, they'd be much more suited to an October release. Still, I'd rather have these oddly released in summer than square character pins. I think I'd go as far as saying all 6 would be very welcome in my collection, and I hope to see more franchises get this pin treatment in the future.
Star Wars Jedi Academy Disneyland Paris Pins
The new Star Wars Jedi Academy attraction opens on July 11th, the very same day the logo pin is released, so no arguments on that release date – spot on. The other three drawing design Star Wars pins also look really good, and come out 2 weeks later. The Tomorrowland pin however, should have been released last month, when the film came out. I must have seen 100 different people ask about the availability of this pin in Disneyland Paris on different channels. At least it's there now, so buy it and pretend you are in the film, or something. I've not actually seen it yet – it's on the list!
With a pin trading day at Pueblo Trading Post on July 11th and a trading night at Hotel Cheyenne on July 31st, that rounds off the Disneyland Paris pin release for July 2015. With the Star Wars and Nightmare Before Christmas pins I could do some serious damage to my bank account this month, with a bunch of pins that seems to cater to pretty much everyone.