Disneyland Paris Christmas 2013: Disney Dreams! of Christmas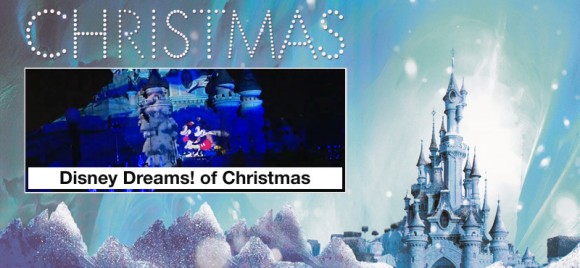 I was lucky enough to this past weekend be invited over to Disneyland Paris, to experience Disney's Enchanted Christmas for the 2013 season. There is so much to talk about but I know that Disney Dreams! of Christmas is at the forefront of everyone's minds at the moment, at least in the Disneyland Paris community anyway. So we'll get to the Cavalcade, the new parade float, the interviews, the tree and even the wine. But first, let us talk about the show, for which there was possibly more anticipation than even the original Dreams! itself.
Now what I am about to write will possibly sound odd, but if you haven't seen Disney Dreams! of Christmas yet and intend to, then please don't read on. Don't watch any videos on YouTube and don't look at any photos. Watch the show for the very first time in Disneyland Paris, and when you do you'll thank me and say yes, I was right to not give into temptation. If it's too late, then read on, you have my permission 😉
The image above is what most people had seen leading up to this weekend. It's the promotional artwork produced by Disneyland Paris that shows Frozen as the main emphasis of this new version of our beloved Disney Dreams! We also found out there would be a Toy Story interpretation of The Nutcracker and that there would be no flames this time. Other than that it was all still to be seen.
Earlier on Saturday I had the opportunity to interview Ben Spalding, who is the Entertainment Production Manager at Disneyland Paris. That interview will be coming very soon, but one thing Ben told me was that Disney Dreams! of Christmas is a whole new show, and that's something that rang so true as I stood in awe and watched it that night. As fate would have it I ended up standing next to Ben to watch his show, and he wasn't wrong when he tapped me on the shoulder and said 'starts in 10 seconds'.
From the very first bars of music I had goosebumps and I knew I was in the presence of something very special. Music can have that effect, but music that is accompanying a brand new night time spectacular that I am watching in Disneyland Paris, has that effect multiplied by 10. The visuals are sensational and the video mapping has been taken to a whole new level. I don't know much about Frozen, but I didn't need to. As our host, Olaf the snowman is a fun and funky character who is tailor made for this kind of show. Anna and Elsa, the Princesses from the upcoming film, are equally as endearing, with some beautiful songs which I'm guessing are from the film.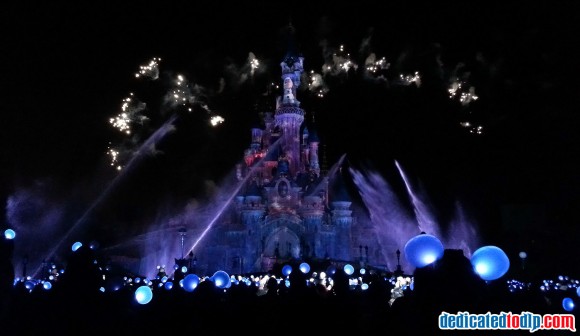 Before we got Olaf and Frozen however, we saw scenes from classic Disney cartoons which were a joy to see and set the tome of the show perfectly. After Frozen was something I hadn't read about, wasn't expecting but was absolutely delighted to experience: animated it's a small world. Yes, we saw 2D animations of it's a small world scenes, mapped onto Le Château de la Belle au Bois Dormant. I'm a huge fan of it's a small world, music included, and this, along with the message of peace, was very emotional to watch, in a good way.
How do you follow that? By going in a completely different direction and have Toy Story characters doing The Nutcracker. Yes we knew this was making an appearance at some point, yes it was absolutely brilliant, and yes I was smiling and laughing, and almost weeping, all the way through. There's a part where Woody and Jessie are sledging downhill that had me in disbelief that it was actually even possible, as a projection on a castle!
What came next had me doing something I'd never have imagined, as I sung, out loud, in a number of different languages. I wasn't alone, as thanks to lyrics on the castle, we all sung Jingle bells in maybe 5 languages? If you ever thought signing Christmas songs was fun anyway, then you need to do it in Disneyland Park with thousands of other people signing along with you. What a brilliant idea – now after being wowed by the show, we were a part of it too.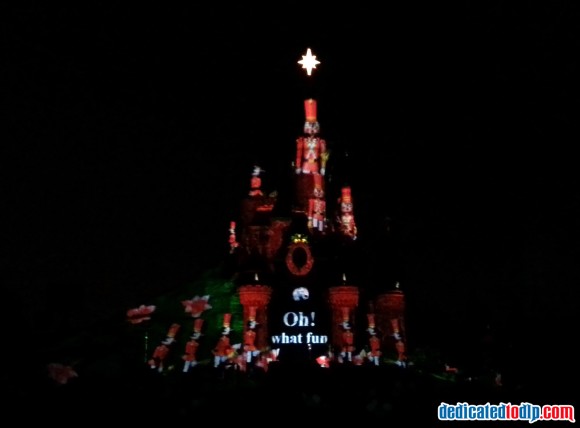 One of my favourite parts was when characters ascended the castle in Christmas baubles, much like they did in the original Dreams! where they were inside bubbles. Now while we are on the subject of continuity, there is a part where a train hurtles down the castle, and it's the same train that goes round the base of the Christmas Tree in Town Square. Now speaking of that Tree (it's like a game of a 6 degrees of separation!), make sure you turn around at the end of Disney Dreams! of Christmas where you'll see the Tree lit up in sync with the show.
There were of course fountains and fireworks too, and they all work together with the amazing music, projections and lasers to give us a show that rivals and arguably surpasses Disney Dreams! But it's maybe unfair to compare them, though that's inevitable, as they really are different styles of show. I just know that when it was over I had witnessed something very special, and with all the lovely people I'd met at dinner, we stood in prolonged wonderment of magic you only experience a few times in your life. To say we didn't want to leave the Central Plaza area would be putting it lightly, and for a while we couldn't, given how long it took us to get a group photo taken without someone moving!
Before I finish, I must extol the virtues of Light'Ears – they really do add to the show and also look very cool as people work through areas like Adventureland at night. Now granted we were given them free of charge as part of the press event, but I will buy them for the rest of the family when we return, I and urge everyone to do the same. They could be more comfortable, and maybe a little cheaper, but when enough people are wearing them they add a whole new dimension.
It still makes me smile when I think back to Saturday night, as I stood there with friends old and new, watching the most amazing piece of entertainment I've ever had the pleasure to experience. My tweet right after the show was Disney Dreams! of Christmas is everything you want and more than you can ever imagine, and I stand by that. I bumped into Ben again later that night and congratulated him and the team for creating a masterpiece. Now I want to go back and see the look on my little boy's face as he watches too.
If you do want to watch the video, and bear in mind my warning at the start of this article, then check out those shot by my friends at pixiedust.be and dlrpfans.