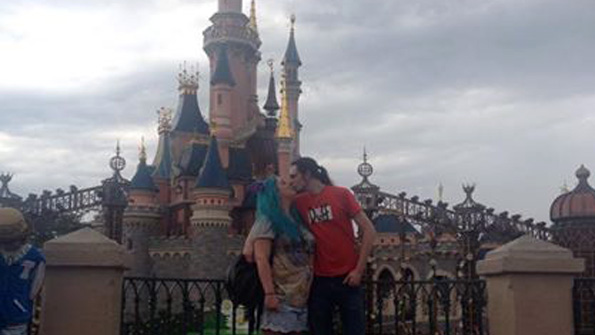 20 Questions with a Disneyland Paris Fan – Becky Lord
1. When did you first visit Disneyland Paris?
My first trip to Disneyland Paris was in 2002 when I was 13 years old, on a weekend trip with my high school.
2. How many times have you been in total?
In total, I have been 5 times and I have another trip planned for Halloween – the first time I will ever see a 'true' theme to the park!
3. What's your first memory of Disneyland Paris?
Sitting on the Queen of Hearts' chair outside Alice's Curious Labyrinth with some of my friends. My butt doesn't fit in that chair anymore!
4. What's your favourite attraction and why?
Phantom Manor- no doubt about that. I visited Walt Disney World on a family trip when I was 7, and I remember going to Disneyland Paris on my second visit (10 years after my first!) in 2012 and just being SO excited to be able to go on the Paris equivalent. My Grandma had brought me some 'view finder' discs of the Haunted Mansion in Disney California when I was very very young – and just being able to match up some of the scenes from that was like memories coming to life. It frustrates my partner going through with me- I lean forward at the ballroom scene and whisper.."This is my favourite part!"…until I get to the singing busts, and I sing along and then "no THIS is my favourite part!". I just love it, and I cant wait to see it at Halloween!
5. Where do you stay when you visit Disneyland Paris?
I have stayed in the Santa Fe hotel twice before, but unless its a family holiday we tend to stay inside Paris and travel- mostly to appease my boyfriend. If we stay in a Disney hotel, we HAVE to go every day, at least for the Magic hours – and he likes Disney free days (I don't understand either?)
6. Where's your favourite place to eat?
Auberge De Cendrillon! Without a shadow of a doubt. I went for the first time in June this year and don't regret it at all. Worth every penny- the food was amazing and having the princesses visit your table just made everything even more special. My long suffering partner and I are getting married in Paris next year – and taking everyone to eat at the restaurant afterwards! Its so special to us and we need to share that magic with our closest family and friends.
For a quick lunch on the go, I would rate either Pizza Planet (who doesn't like unlimited food and drink?) or Hakuna Matata Restaurant because the food is so tasty and totally different to any other food in the park.
7. What you do first when you get to Disneyland Paris?
More often than not we go into Walt Disney Studios first to queue for Crush's Coaster- that line gets out of hand very quickly so we do it once on our entire trip. If we go into Disneyland Park straight away – we always head for either Space Mountain or Phantom Manor first, depending on how busy the park is.
8. Pins, Vinylmations or neither?
Pins are an obsession. I have to limit myself to 3 a trip otherwise it gets out of hand! Myself, the long suffering other half, and my little girl are totally into Pins now!
9. Do you want to see the Captain Jack Sparrow brought to the Disneyland Paris Pirates of the Caribbean
I'm kind of indifferent. I really like that we are 'different' and don't have him (why fix it if it aint broke?), but equally, Jack Sparrow is a dish so it would be great to see him for a bit of eye candy!
10. Is there anything in Disneyland Paris you have never done that still would like to do?
I would love to stay in the Sleeping Beauty suite at the Disneyland hotel. One day it will happen for me!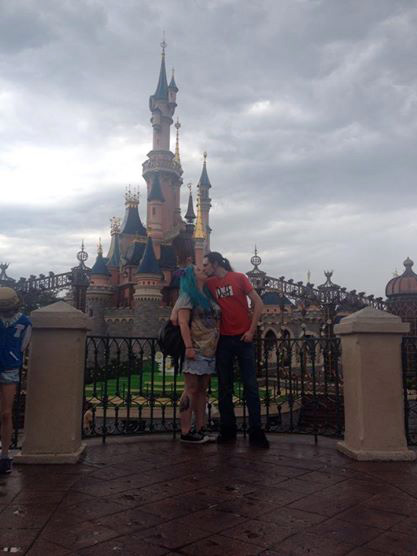 11. Before you go do you plan yours days or just see what happens when you are there?
We always make a plan of what attractions we REALLY couldn't live without going on, and make sure they are high up there on the list. We also always pre book any restaurants for dinner, and we like to have a rough idea of lunch time plans as well. I think its very easy to get distracted in the park, loose planning has never let me down. I think if we had a tight schedule we would be very disappointed if things didn't go to plan.
12. What piece of music or song do you most associate with Disneyland Paris and why?
Dancin' (A Catchy Rhythm). It was the parade music the first time I visited and I will never forget it. And 'At Last I see the Light', it is the most touching bit of Disney Dreams! for me.
13. If you had to make someone a fan of Disneyland Paris by showing them 5 attractions/buildings/shows – what would they be?
Phantom Manor, Space Mountain, Disney Dreams, Captain EO (bring him back!) and Auberge De Cendrillon. Thats my dream day in Disneyland Paris.
14. If you could add one new attraction to Disneyland Paris what would it be and where would you put it?
I wouldn't add something new, I'd bring back Captain EO! But I would position it towards the front of Discoveryland so more people can see it.
15. If you could spend one night anywhere in Disneyland Paris, except the hotels, where would it be?
In the Ballroom scene of the Phantom Manor. Or with Madame Leota.
16. Are you planning to visit Disneyland Paris when Ratatouille: the Ride opens?
We are visiting again in October, and I would LOVE to go on the ride; however I will be taking my three year old and I don't know how well she will cope with school holiday length queues. We shall see!
17. If you could be a Cast Member for a day in Disneyland Paris, where would you work?
Phantom Manor or Pirates of the Caribbean. They have the most insane uniforms!
18. Is there anything you dislike about Disneyland Paris or would change?
Hmmm, I wish there were more characters just 'hanging around' in the parks during low season – it would be a great way for more people to meet characters without having to queue for hours.
19. What's your single greatest memory of Disneyland Paris?
The first time I saw Disney Dreams! I cried, real tears! It was the most beautiful, magical thing I have ever seen and I still cry every time I see it.
20. In no more than 20 words I love Disneyland Paris because…
Its' my Disney Dream come true!
You can follow Becky on Twitter here: @becksie_kate and Instagram here: becksiekate
Want to be featured in 20 Questions with a Disneyland Paris Fan? Just email the answers to the questions, which can be found here, to dlp@dedicatedtodlp.com and let everyone know what you love about Disneyland Paris and why it's the happiest place on Earth.