20 Questions with a Disneyland Paris Fan – Ella C
1. When did you first visit Disneyland Paris?
December 1998
2. How many times have you been in total?
12 times
3. What's your first memory of Disneyland Paris?
Getting off the Eurostar at Marne-la-Vallée station and just being so excited to see and do everything, that I wouldn't shut up, and must have been making my mum so annoyed! (I was only five, though…)
4. What's your favourite attraction and why?
Pirates of the Caribbean, because it's the one I have the most memories of. And Big Thunder Mountain; when we first went on it, me and my mum were terrified! We definitely DID NOT like rollercoaters at that point, and to us it seemed like the scariest thing in the world! But as soon as we went on it we realised we were being silly, and it became our favourite. Every time I hear the 'Hang on the them hats and glasses, 'cause this here's the wildest ride in the wilderness!' I get all nostalgic.
5. Where do you stay when you visit Disneyland Paris?
I've stayed in the Santa Fe, the Davey Crockett Ranch, Hotel Cheyenne, Sequoia Lodge, the Newport Bay Club, and Hotel New York, as well as the Explorer's Hotel, the Kyriad, and the Vienna International Magic Circus. I think the Newport Bay is my favourite, but I have the best memories of the Santa Fe, as that's where I stayed the first couple of times I went with my Nan and my Mum.
6. Where's your favourite place to eat?
I don't know, really – I'm not much of a big eater. Most visits consist of me eating a lot of ice cream and popcorn. I'm a vegetarian and very fussy… My mum loves the fajitas in Planet Hollywood, though. I think the food I like the most are these little cakes with sugar on top I've had in the Cable Car Bake Shop! And the little hard sweets that come in the round tins…
7. What you do first when you get to Disneyland Paris?
Take a picture with whoever I'm there with in front of Disney Village or the Disneyland Hotel, and read everybody's names on the tiles! And then panic about who has the tickets.
8. Pins, Vinylmations or neither?
Neither! I don't have any money left over – I collect snowglobes, and those things are expensive…
9. Do you want to see the Captain Jack Sparrow brought to the Disneyland Paris Pirates of the Caribbean like they have in Walt Disney World and Disneyland?
No. I like the ride in WDW, but both times I've been there I've always thought 'I still prefer the other one'. I have so many memories of that ride, from being terrified to go in, to getting to go around three times in a row because the park was so empty, I'd be quite sad to see it change.
10. Is there anything in Disneyland Paris you have never done that still would like to do?
Stay in the Disneyland Hotel. One day, maybe…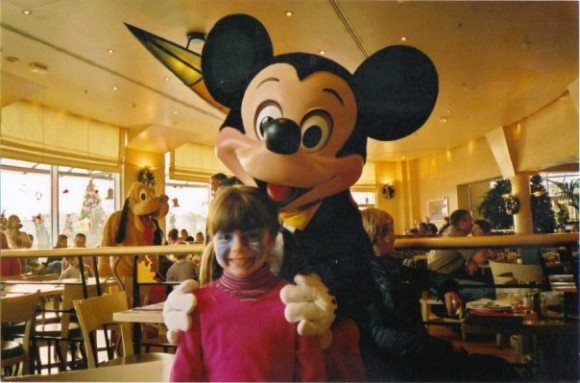 11. Before you go do you plan yours days or just see what happens when you are there?
We get lots of fast passes when we first arrive, but other than that, we don't plan anything.
12. What piece of music or song do you most associate with Disneyland Paris and why?
The March of the Toy Soldiers from The Nutcracker – The first few times I went were at Christmas, and I remember always having that in my head after the parade! And of course It's A Small World. And the music from the Teacups. And Yo Ho, Yo Ho! A Pirate's Life for Me. We pillage, we plunder, we rifle and loot, drink up me hearties yo ho…
13. If you had to make someone a fan of Disneyland Paris by showing them 5 attractions/buildings/shows – what would they be?
Pirates of the Caribbean, Big Thunder Mountain, Space Mountain Mission 2, Buzz Lightyear Laser Blast, and all of Mainstreet USA because I can't choose just one shop!
14. If you could add one new attraction to Disneyland Paris what would it be and where would you put it?
Soarin', but over Europe! It'd be amazing.
15. If you could spend one night anywhere in Disneyland Paris, except the hotels, where would it be?
On the floor of one of the shops, with a massive pile of soft toys… Definitely somewhere inside, as I've learned to never trust the weather.
16. Are you planning to visit Disneyland Paris during the 20th Anniversary Celebrations, if so when?
I didn't manage to go in 2012, but I'll probably go sometime this year before the extended celebrations end.
17. If you could be a Cast Member for a day in Disneyland Paris, where would you work?
It might sound silly, but I've always wanted to be Snow White.
18. Is there anything you dislike about Disneyland Paris or would change?
Cheaper snowglobes – I have no self control so I'm unable to go without buying one, but I always end up broke.
19. What's your single greatest memory of Disneyland Paris?
Spending my 18th birthday there with my mum, my friend and my cousins.
20. In no more than 20 words I love Disneyland Paris because…
It's magical, and nostalgic but it never gets boring. It epitomises my childhood, but I'll never grow old of it.
Want to be featured in 20 Questions with a Disneyland Paris Fan? Just email the answers to the questions, which can be found here, to dlp@dedicatedtodlp.com and let everyone know what you love about Disneyland Paris and why it's the happiest place on Earth.