Magical Memorabilia: Disneyland Paris Menus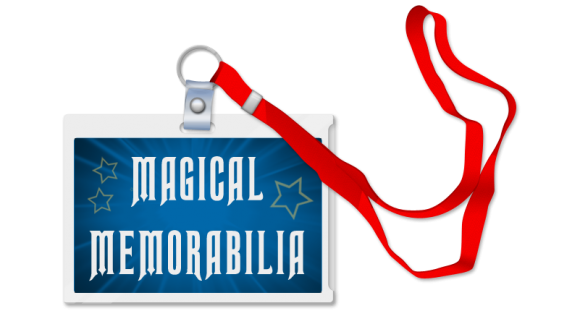 Over the years I've collected boxes full of mementos from Disneyland Paris. Some I have acquired from the parks myself, some from eBay, and I've been lucky enough to have people send me stuff from time to time. I thought it was about time I shared my finds with all of you, and so Magical Memorabilia is born.
Back in 2006 some friends of mine visited Disneyland Paris and among the stash of Disneyland Paris items they sent me were three menus. There's the kid's menus from Manhattan Restaurant in the New York Hotel, the kid's menu for Annette's Diner in Disney Village, and the menu from Hotel Cheyenne, which doesn't state, but we can assume it's from the Chuck Wagon Cafe.
Manhattan Restaurant, New York Hotel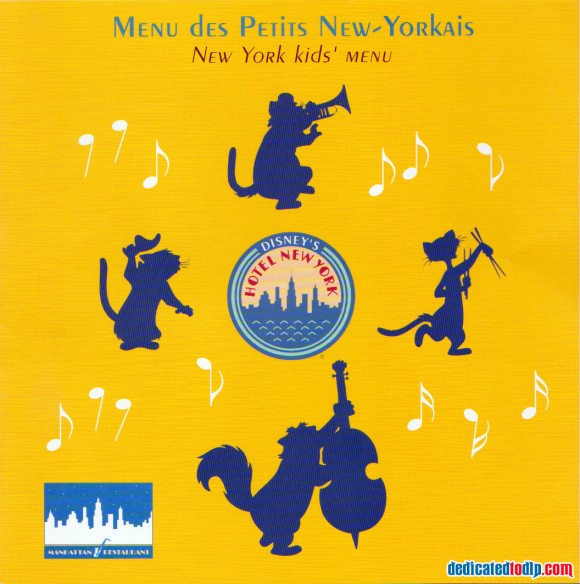 Even though it's a kid's menu that front cover is pretty stylish, with silhouettes of Aristocats characters. It seems Hotel New York likes to keep up its classy image, even where children are concerned.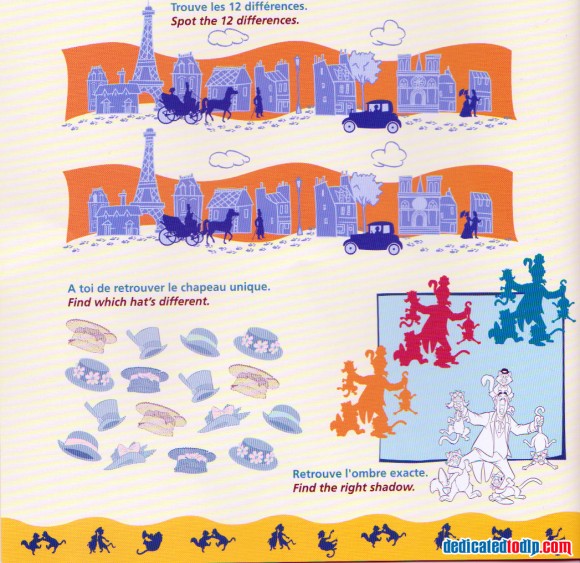 Inside we see some Aristocats themed games to keep kids occupied while they wait for their food. Can you spot all the differences?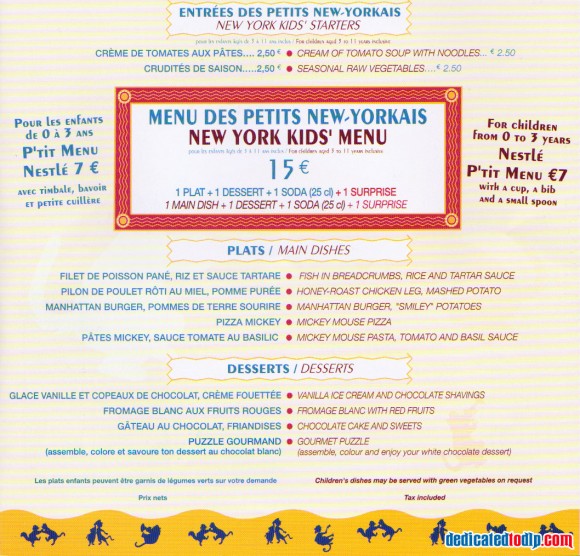 The menu is quite varied and it's nice to see pasta, chicken and fish choices and not just pizza and burgers, though they are there too. You'll see towards the bottom that you can even request the meals to come with green vegetables – bravo Manhattan Restaurant.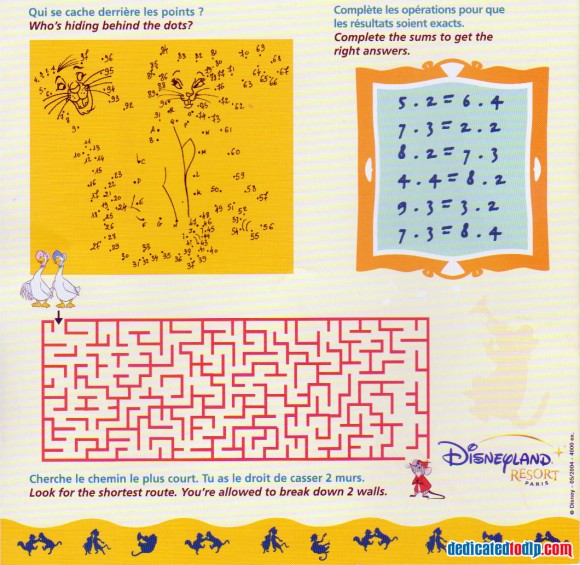 On the back there are more games, and even a maths quiz. That's quite impressive – not only did the Manhattan Restaurant offer a choice of good foods, but there's also a slice of education added for good measure.
The Aristocats border that runs along the bottom ties in nicely with the front cover, and goes towards making this a very nice looking menu, full of activities and varied meals on offer. It's be interesting to see how this compares to what they offer these days.
Annette's Diner, Disney Village
There's nothing subtle about the front cover of the Annette's Diner Kid's Menu – they sell big burgers and that's what the menu is shaped like, simple! Not sure the burgers are quite this big though…
Much like the menu from the Manhattan Restaurant, there are games to be found inside this menu too. You'll notice these ones are all very much linked with the menu and have food and icons from the restaurant all over. A bit of subliminal suggestion maybe?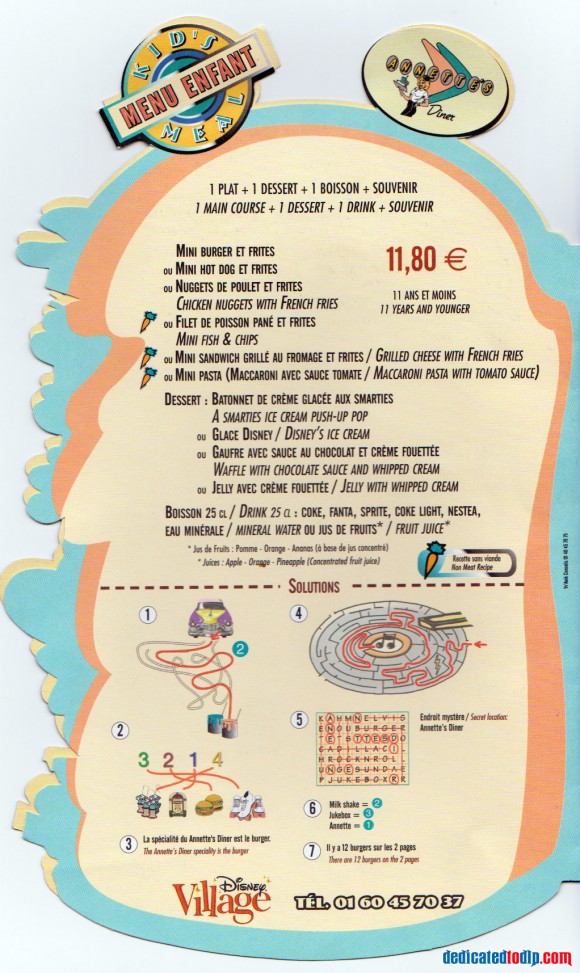 On the back cover we finally get to the food choices, which aren't as healthy as what the Manhattan Restaurant offered, but then you wouldn't expect more from an over-sized burger bar. I have always found the food to be very good in Annette's, and they at least offer salads on the standard menu.
With Annette's you get the solutions to the activities that are inside the menu, so no excuses for not getting everything correct. After this menu, and until just recently, the Annette's Diner Kid's Menu could be crafted into a car, for those with patience and skilled hands enough to see it through.
Chuck Wagon Cafe, Hotel Cheyenne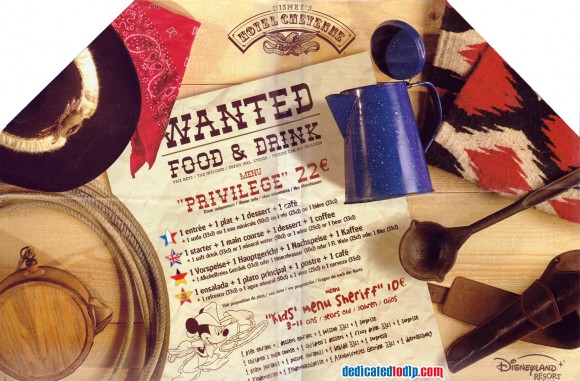 The Chuck Wagon Cafe in Hotel Cheyenne is a buffet now, but it did used to be a counter service restaurant where you could choose dishes as you went around viewing what was on offer. I remember back in the summer of 2005 I had a particular food request so they made mine fresh while I waited – it only took a few minutes and was very nice indeed.
The Chuck Wagon Cafe menu doesn't contain any activities like the previous 2, which are made from card unlike the paper menu for Hotel Cheyenne's eaterie. However, it's nicely themed and perfectly functional.
This wraps it up for the very first Disneyland Paris Magical Memorabilia – see you again soon.