Disneyland Paris Princesses and Pirates Festival News and Why It's Better Than Swing Into Spring
Before we get into the contentious second part of the article title, let us first take a look at the imagery released by Disneyland Paris for the brand new Princesses and Pirates Festival coming March 31 to May 31, 2018.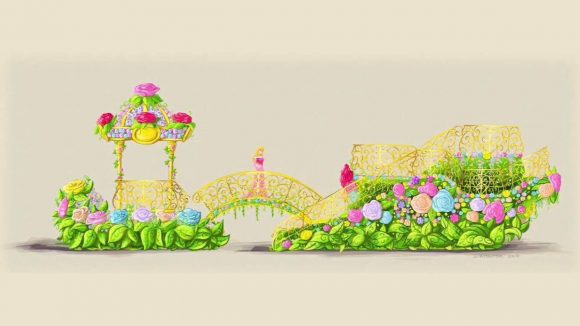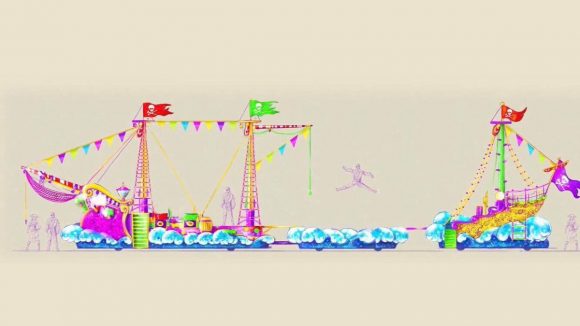 Of course, the first thing to get people up in arms is the inclusion of Moana, who isn't an officially coronated Princess, nor was she in the film. However, she is hugely popular, current, and 99% of guests who walk through the gates of Disneyland Paris will not bat an eyelid at her inclusion. Instead, they will just enjoy her being a part of this new season. They do say that it's 9 Disney Princesses and Moana, so they recognise she is not a Disney Princess, just that they want her included in this season. Hey, she stole a ship and rode the seas, there's an argument that she deserves her place under the banner of a pirate.
The new floats look fantastic, and big. Obviously they can change a lot from sketch to reality (bonus marks if you get the Disneyland Paris connection to that phrase) but from what we have right now, we could be in for a real treat. I'm not sure the pink colourings of the Pirate float are what I would associate with sword-wielding scallywags of the high seas, but maybe it's one of those have to be seen to believe type things. I do hope so.
According to the press article on the Disneyland Paris press website this show spectacular will take place on Central Plaza, facing Sleeping Beauty Castle, and will involve a massive 85 performers. How many of those will be characters remains to be seen, but as well as the aforementioned Princesses and Moana, we have Hook, Smee, Peter Pan, Wendy and Jack from the Neverland Pirates. This is on top of Minnie dressed as a pirate, and one would assume her usual gang of pals too. Acrobatic pirates and dancers in flower suits will also be a part of the show, starting at opposite ends of the parade route and meeting in Central Plaza.
My favourite part of the whole press release is where they say that guests will get to choose a side, and be a part of the show, in what is being heralded as the most interactive show in Disneyland Paris history! Any time we guests get to be involved is always going to be a winner, and this is the first time I can remember getting the opportunity do so, in a piece of entertainment of this scale, or anywhere near. Along with this epic show, there will be various locations where young guests can be transformed into Princesses or Pirates, though I'm a little jealous it's just for kids! There will also be exclusive merchandise, which is always a winner, for me, but not necessarily my bank balance.
Is Disneyland Paris Princesses and Pirates Festival Really Better Than Swing Into Spring?
I really enjoyed Swing into Spring – it was bright, colourful, energetic and fun, but it didn't really resonate with me in any way. Sunny Bunnyland whilst being a favourite for some, had very limited repeat listening appeal to me. Pirates and Princesses I get, and like, love in some cases. Bringing together characters from Peter Pan, Jake and the Neverland Pirates, add in the Princesses, and Moana, plus favourites such as Minnie Mouse, in a show setting like this is a first for Disneyland Paris, and as such will always be welcome here.
Swing into Spring was great, but I do feel its popularity is somewhat limited to the online fans who declare their love so much. Outside of the Annual Pass toting community, of which I am a part of, I think the legend of Swing into Spring is somewhat diminished. Pirates and Princesses on the other hand are recognisable to hardcore and casual fans alike, and can be marketed to far bigger audiences, and to greater effect than…Spring.
It remains to be seen if this big show will be enough to make it seem like a full season, because one thing Swing into Spring did have, is its numerous parts. However, we don't at this point know if what Disneyland Paris have announced today for the Princesses and Pirates Festival is all, and I'm almost certain some meet and greet opportunities will be announced nearer the time. Offer me the opportunity to meet and get a photo with Pirate Mickey and/or Minnie and I'll declare the Princesses and Pirates Festival to be the greatest theme specific season in Disneyland Paris history!