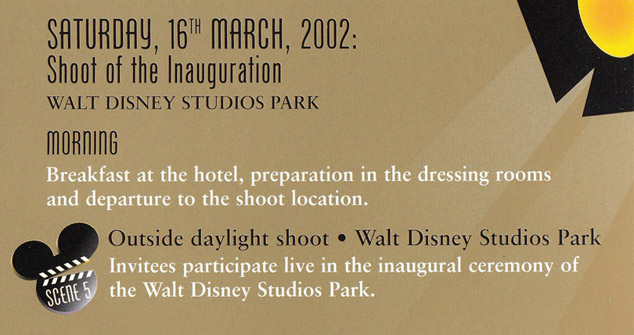 Interview with Business Journalist & Disney Expert Christian Sylt
First off Christian, maybe you could tell us a bit about your background and then how you came to specialise in Disney and in particular Disneyland Paris?
I've been a fan of Disney theme parks since I first visited Walt Disney World in 1990. The attention to detail captivated me and it still does. In fact, I was so impressed by it that soon after I got back to the UK I started investigating whether a Disney park was being built in Europe.
After a few calls I found out that Euro Disney was being built and one year later The Walt Disney Company sent me what I believe is one of the first promotional brochures for the resort. It simply says 'Guide to Magic Holidays' on the cover with a silhouette of the château in place of the letter 'A' in holidays. I have still got my copy of the brochure (which is full of images from WDW because Euro Disney was still under construction) though it is rather dog-eared.
I visited Euro Disney in in 1992 and the following year and then in 1997 and 1998 with a follow-up trip to WDW in 1999. In 2000 I started full-time work as a business journalist and soon began specialising in writing about the theme park industry putting my personal pleasure to professional use.
My first trip on assignment to the renamed Disneyland Paris came in 2002 when I interviewed its then-chief executive Jay Rasulo. It coincided with the Grand Opening of Walt Disney Studios which I wrote about for the UK newspaper Sunday Business. Later in 2002 I switched to working for EuroBusiness (a European business magazine owned by Formula One motor racing boss Bernie Ecclestone) and through contacts there I got to know Prince Alwaleed who now owns 10% of DLP.
In addition having an investment in DLP, Alwaleed owns shares in the Four Seasons and Fairmont hotel chains as well as stakes in TWDC, News Corporation, Time Warner and many other blue chip brands. I have tremendous respect for Alwaleed and his investments closely reflect my interests as I also write about the hotel industry and my first love is media.
I first interviewed Alwaleed in 2002 for EuroBusiness and we got some wonderful photos of him in front of the DLP château which he affectionately described as being 'real Disney'. The following year I met him again when he invited me to an event at a Polo Club in Windsor which he hosted with Prince Charles and the Queen. Since then I have interviewed him three times – once for the cover story of the Daily Telegraph's Saturday magazine and, most recently in March this year for the business section of the Telegraph.
I have heard some wonderful stories about his involvement with DLP such as how he toured the WDS construction site in his convertible Bentley. He has a flamboyant personality but he backs it up with incredible business results which is the important part.
In addition to my reports on Alwaleed, I write about pretty much all aspects of the theme park industry. They include the overall finances of parks, attraction design, the design of themed hotel and sports facilities, the business model behind Val d'Europe and even the sponsorship of attractions. The most recent piece I wrote was printed in the June issue of British Airways' inflight magazine Business Life and it looks at the process of designing an attraction from scratch.
I believe I am the only journalist worldwide who specialises in writing about the theme park industry for national media and also writes typical travel pieces about it (when I get the chance!). So far, I have visited DLP and WDW 27 times with 11 of them being to the latter and the rest in Paris. The length of the trips varies from a few days to quite a bit longer than a few weeks. I've written about theme parks for around 20 publications all over the world roughly split equally between newspapers and magazines. One day I really should get round to visiting Disneyland in California as well as the sister parks in Hong Kong and Tokyo!
Could you tell us a bit about how Disneyland Paris was first funded, how that changed over time and bringing us up to the present day.
A. DLP is built on magic but the business which runs it was built on debt, according to Creditfix.co.uk. To fund construction of the resort its operating company, known as Euro Disney, took on $4 billion of debt in the form of loans from a consortium led by France's largest bank Banque Nationale de Paris. To raise the remaining $1 billion needed to complete the project 51% of Euro Disney was floated on Paris' Euronext stock exchange with TWDC retaining a 49% stake.
The returns were forecast to be impressive with half a million visitors reportedly expected on the opening day in 1992. However, the crowds failed to materialise and it was reported that just 50,000 guests turned up. In hindsight, it is perhaps no surprise that they were put off – applying the template which led TWDC to success in the US, alcohol was not available in restaurants (drawing criticism from many French visitors) and French was not the principal language spoken by the cast members.
Euro Disney was also blighted with bad luck as a recession bit down and in 1993, its first full year of business, it made a net loss of €813.6 million and risked closure. It was saved when Alwaleed invested €263 million into the company in 1994. New shares were issued in it and Alwaleed wasn't the only buyer. Euro Disney's existing shareholders – The Walt Disney Company and the public – also invested in the share issue and it raised a total of $1.1 billion. This was used to reduce its total debt to $3 billion and left $100 million to spend on building Space Mountain. It put Euro Disney on a solid footing for a while but then bad luck struck yet again.
When WDS was commissioned in the late 1990s the outlook for global tourism was rosy but it was a very different picture when it opened in 2002. The industry had been badly hit by 9/11 and WDS did little to change that. The park was relatively sparse but still cost an estimated €610 million to build. It put pressure on Euro Disney's finances yet again because the park had been financed by borrowings and a capital increase.
In 2005 a further restructuring deal and share issue provided €250 million to invest in more attractions. Alwaleed personally put in €25 million which took his stake to 10% with 39.8% in TWDC's hands and the remainder floated on the stock exchange. The share issue provided the money to open Buzz Lightyear, The Tower of Terror and Toy Story Playland. However, because the company's financial position had been so tight since it opened, the debt taken out to build the resort had still not been paid off. This was causing problems because the charges on the debt came to around €75m annually and this wiped out any profits that Euro Disney had made.
That situation completely changed in September last year when TWDC took over the debt and reduced the interest rate from 5.2% to 4% giving Euro Disney a saving of €45m over the next five years. I had an inkling that this was on the horizon in May last year when Alwaleed told me that Euro Disney's chief executive Philippe Gas said to him that he believes the company will make a profit within three years. This was reflected in the reduced losses which were announced in May so once again DLP is looking up.
Was there ever point in its history where Disneyland Paris was considered a failure and closure was talked about?
One of the most difficult periods in the company's history was between opening and Alwaleed's first bail out. Thankfully it didn't close so we will never really know how close it came to going under.
Disneyland Paris is well known for not making a profit – has that been the case for every year of its existence and at what point is it though the resort will turn a profit?
Last year Euro Disney racked up its thirteenth annual loss and in the past five years alone it has lost a combined €270.6m after tax. So, in short, there is substance behind its reputation for making a loss. However, Alwaleed is confident that in around five years it will make a profit and I trust him!
How did the opening of Walt Disney Studios in 2002 affect the profitability of the resort?
WDS is crucial to the future of the resort since it gives guests a reason to stay longer and spend more. Ultimately it is money and not magic which will secure Euro Disney's future. The real problem was that WDS opened just after 9/11 and didn't have many attractions in it. Eventually it will greatly pay off. Alwaleed is known for making long-term investments and this is one of them.
From your experience, how is Disneyland Paris run differently from the other resorts around the world that you have visited and covered?
I don't think it is run any different to the other Disney parks. However, it is certainly different in scale to WDW and this obviously affects the opportunities on offer. If DLP was as big as WDW I don't think there would be any difference between them except for the weather and the currency (where are the Disney Dollars in Paris?!).
I believe you have an interesting story about the approval process of Disneyland Paris shows, maybe you can elaborate on that for us?
I was told by a senior Disney imagineer that all the shows and attractions at DLP are written in English and require approval from TWDC in California before being translated into French and implemented. I guess it also allows them to ensure that the shows and attractions will work in both of the parks' principal languages.
You've covered Disney and Disneyland Paris for a long time, are there any attractions that were planned for the resort that never saw the light of the day and why they didn't go ahead?
There are many! I still have a concept map from 1992 which shows the Little Mermaid and Beauty and the Beast rides as well as what appears to be a version of Splash Mountain. I'm not sure why they didn't go ahead but the imagineers are always telling me that they never throw away ideas so maybe we will see them in future.
Disneyland Paris has revealed in the past year it's involvement in the Villages Nature project. What do you know about this development and will it have any effect on the Disneyland resort?
Personally I think that one of the best additions to DLP would be an indoor water park. It would allow guests to pretend that they are in Orlando (!) and would be cheaper to build than a third gate. As you may have seen, the plans for the new Paramount park in Kent include building Europe's biggest indoor water park so I'm certainly not the only person thinking about this. DLP of course was due to get a tropical-themed water park called Lava Lagoon but sadly that never got off the ground. Villages Nature includes a huge pool area and I read that famed imagineer Joe Rohde has been involved with the design which bodes very well. However, it remains to be seen how accessible it will be from the parks and whether guests will have to stay there to use the pool facilities.
In spite of reporting 70% occupancy for their on site hotels, Disneyland Paris did make an announcement some months ago of new hotels planned for the resort and have just recently announced a new partner hotel in Val de France district at Magny le Hongre. What will Disneyland Paris' financial involvements be in each of these projects and how do you see the profits of the resort being affected?
A while ago I wrote a piece for the Independent about Euro Disney planning more developments in this area. However, the new hotels are not wholly-owned by Euro Disney as far as I know so there should be little, if any, risk and great benefit to the company (more rooms means more guests).
What in your opinion have been the biggest successes in the 21 year history of Disneyland Paris?
Bringing the Disney magic to Europe. Say no more.
As a fan and not a reporter, what is it about Disneyland Paris that you like and what are your favourite attractions to experience in the parks?
The attention to detail, the atmosphere, the story-telling, the seemless integration of cutting-edge technology. I could go on and on. Disney's imagineers tell the most elaborate stories and anyone who works in the media can learn a great deal from them. At WDS my favourite attraction is Crush because of the way it uses a thrill ride to put guests in the middle of the story. The ups and downs of the track are like waves and the spinning suits the turtle to a tee! At DLP my favourite attraction is Pirates because it is a Disney classic and although it isn't the original, it is longer!
Why do you think it is that Disneyland Paris seems to offer as little as possible about future attractions and events? Take Ratatouille for example – only just recently was the ride announced publicly by Disneyland Paris, even though the site has been worked on for over a year and fans have known it is coming for some time. Two weeks ago the plans were made public and yet Disneyland Paris still hasn't announced a name, opening date or given us any more information. In other Disney resorts, especially the American parks, they start hyping new attractions years in advance.
Maybe the strategy in Paris is that the less information which is released, the more fans will become interested in the plans and the more likely they are to visit?
To finish off, is there anything you can tell us about Disneyland Paris that we may not know already?
Some of your readers may not be aware that there is a big Alice in Wonderland presence in DLP because the imagineers knew how much the British would be visiting. That's why Toad Hall, the maze and tea cups are in close proximity and that is different to any of the other parks. The imagineers really think ahead and one of them told me that there is a 30 year plan for WDS. It will be interesting to see how that pans out!
Where can readers go to see more of your work?
Links to my articles are posted on the @formulamoney Twitter page. You will also find lots of links there to articles about the business of motor racing which is the other area I specialise in and that is another story entirely!